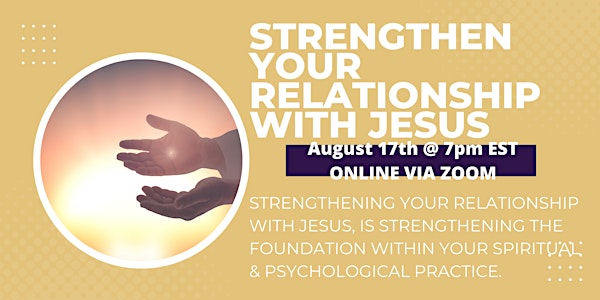 Strengthening Your Relationship with Jesus
Jesus is a FREQUENCY we can all tap into and receive Messages...
About this event
Strengthening your relationship with Jesus, is strengthening the foundation within your spiritual and psychological practice.
When you strengthen your spirit on a solid foundation nothing can knock you off, it may be able to shake you, but remove you, not if God is involved.
When you understand the teachings of the Almighty One, you start to surrender the hurt, give away the pain and trauma and start to walk towards inner peace and self-fulfillment.
In this workshop I will channel messages from Jesus and be guided as to what the conversation will be the day of the event.
Typically I will be given a story from the bible, which I view as an energy frequency with biblical main characters.
The conversation will have you observing life with new lenses.
Feeling renewed, baptised and reawakened to new opportunities and self awareness.
Please be aware all workshops are recorded for other teachings throughout our BFU umbrella..