Location
Norristown, PA Families on ZOOM
N/A
Norristown, PA 19401
Free, Virtual, Family Strengthening Program for African American Families residing in Montgomery County, Pennsylvania. Sign up today!
About this event
This family program is only available for Montgomery County, Pennsylvania families at this time.
SAAF consists of 7 family-fun sessions in which youth and families will be given tools to succeed as youth transition through the pre-teen/teen years often associated with stress, peer pressure, choosing friends, discrimination, etc. While youth are learning and growing amongst their peers, parents/caregivers are learning and growing amongst other parents/caregivers caring for the same aged youth. Program outcomes can be found at: https://cfr.uga.edu/saaf-programs/saaf/.
All families who attend will receive free prizes/giveaways such as family-fun gift cards, small appliances, electronics, board games, etc. Families also receive $25 meal stipends each session attended toward any restaurant you choose.
Come learn, grow, and have fun with us! We hope to see you and your youth on Zoom soon!! 😊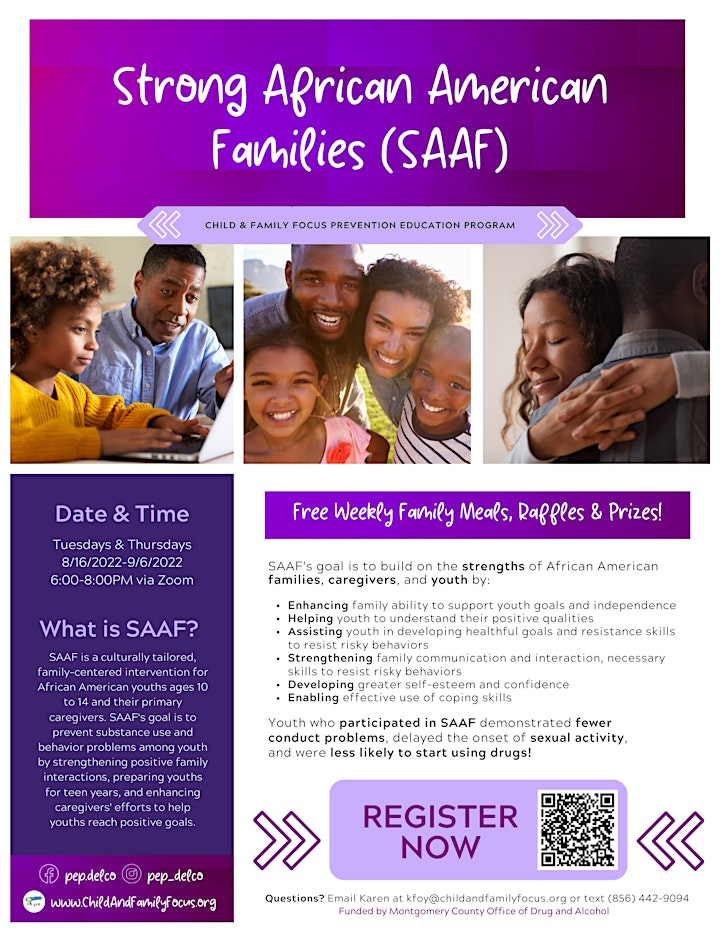 As mentioned, you must live in Montgomery County, Pennsylvania to join our family programming. If you live in Montgomery County, PA, please also register here to receive the Zoom Link, https://us06web.zoom.us/meeting/register/tZcod--qrDMqHNMnorihrLPTwVnXDMCF8EFn