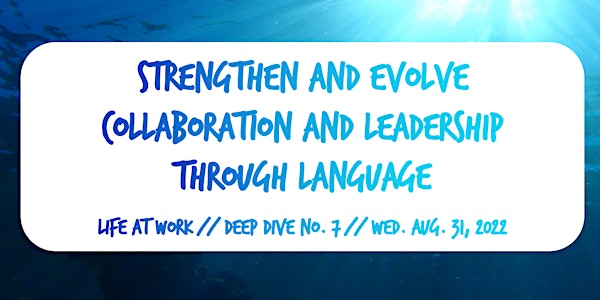 Strengthen and Evolve Collaboration and Leadership Through Language ~ DD #7
Co-Create your desired team and collaboration – word-for-word
About this event
Are you and your colleagues mainly stating facts or asking questions?
Are you working in a fear and blame culture or embracing mistake and learning from them? Is it about proving or improving? Competing or collaborating?
Do you choose our words consciously to cultivate a thriving work environment?
The language we choose to think, speak and write expresses our level of consciousness.
It influences how we are and act in this world.
Or to quote Anaïs Nin: 'We don't see things as they are, we see them as we are.'
So is your language in harmony with your organization's purpose?
Does it really express the values promoted on posters in the hallways?
Are the words you choose as human as the people in your team?
In this Life at Work // Deep Dive #7, you are invited to dive deeper into seven practical examples and the influence they have on our minds and behaviors, individually and collectively:
☑️ Get deep insights into the power of language, especially regarding your team, organization, and business.
☑️ Realize what messages you are currently sending to your team members and clients and how to further improve and up-level them.
☑️ Reflect on the influence of your communication on leadership and collaboration.
☑️ Discover the positive effects of questions, reframing, and reformulating.
☑️ Up-level your personal and your team's constructive communication patterns with small and easy micro-shifts.
☑️ Get energized to apply your insights immediately and
☑️ Take with you practical ideas and inspiration on how to strengthen the consciousness of your written texts, website copy, materials, and even emails.
Ultimately, we are the responsible and conscious authors of our own lives, as well as our collective experiences.
Let's transform our work environments, teams, and organizations – day-by-day and word-for-word!
I'm very much looking forward to hosting this live and interactive Deep Dive session for you.
Register today and secure your seat today.
Join us for a Deep Dive full of insights, information and inspiration!
Bring your team members and colleagues from your networks too!
In case you cannot make it to the event, register anyway and receive the recording plus additional links and resources to deepen your understanding and inspire you to take action.
Let's amplify the power of business as a source for common good with the language you choose!
Holistic businesses for people, planet, and purpose!
#LifeatWork #HumanityatWork #FutureofWork #FoW #NewWork #WorkEvolution #WorkRevolution #HUMANFutureofWork #HumanRevolution #HumanEvolution
This Life at Work // Deep Dive is strongly inspired by my 2nd heart project speakGreen which promotes an intentional, life-affirming language to contribute to the change we wish to experience in the world, day-by-day and word-for-word.
Find out more about speakGreen on its website and on the Facebook page.
#speakGreen #languagematters #wordsmatter #wordscreateworlds
This Life at Work // Deep Dive is part of a series of thematic sessions. Other recent/current sessions include:
Deep Dive No. 6 ~ Moving from Job Descriptions to Role-Based Collaboration ~ Wednesday, 27.07.
Deep Dive No. 8 ~ Taking Actions & Accountability in Teams & Projects ~ Wednesday, 28.09.
Deep Dive No. 9 ~ Peer Valuation: Giving & Receiving Feedback in Teams ~ Wednesday, 26.10.
Deep Dive No. 10 ~ Reinventing Change: From Change Management to Co-Creating (R)Evolutions~ Wednesday, 30.11.
Register your participation and join us in all of them!
Join us, subscribe to the Life at Work // Newsletter, like the Facebook page and stay tuned for more events and updates!