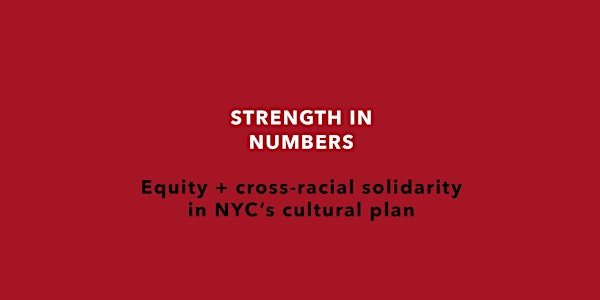 Strength in Numbers: Equity and Cross-Racial Solidarity in NYC's Cultural P...
Location
CUE Art Foundation
137 West 25th Street
New York, New York 10001
Description
Strength in Numbers: Equity and Cross-Racial Solidarity in NYC's Cultural Plan
Friday, March 24, 2017, 6:30 – 8:30 PM
What does an inclusive and equitable NYC cultural landscape look like? How can artists of color and white allies work in solidarity to create better art worlds? What is the role of the Department of Cultural Affairs in making this happen? Join 'artists of color bloc' and Michelada Think Tank in talking through these issues. Grab a michelada, meet new colleagues, and engage in a discussion around actionable steps we can take to work towards racial equity and cross-racial solidarity in the arts.
For more information on the NYC cultural plan, please visit this helpful link on A Common Project's website.
artists of color bloc is a group of cultural workers coming together to address the intersectional conditions of artists, workers, and communities of color. We understand that our oppression is intersectional—interconnected through race class and gender—and specific to our history within capitalism. In order to begin to liberate ourselves from such oppressions, we must address various points of inequality such as ongoing discrepancies of support that can improve our collective livelihoods and quality of life as cultural workers and producers.
Michelada Think Tank is a group of socially conscious artists, educators, and activists of color who host conversations with other people of color (PoC) and allies who include socially-engaged artists, educators, activists and anyone interested in creative ways of making change happen. MTT is interested in facilitating conversations and creating community around issues faced by people of color while promoting action beyond the discussion.
---
This event has been organized by Antonio Serna with support from A Common Project, with research support from Common Field.