Strength in Diversity -- Faces of Justice in Florida's Courts
Description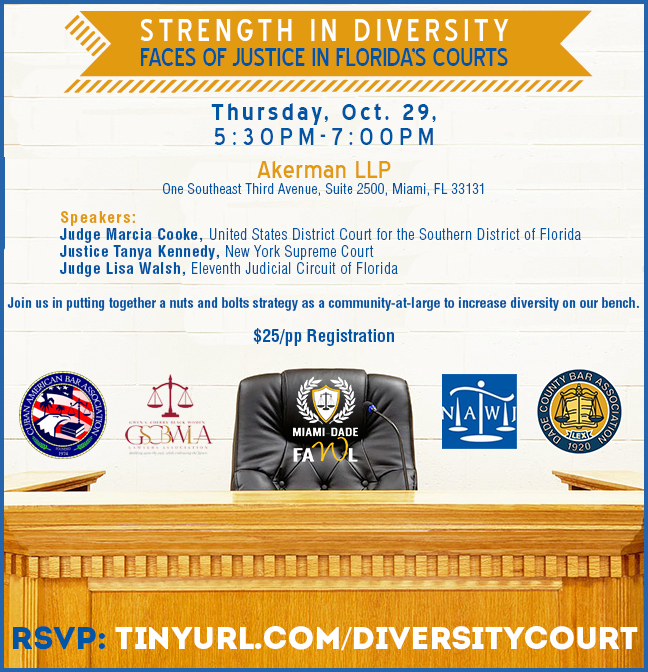 If you are a person with a disability and may require accommodation to fully participate in this activity, please contact Stephanie N. Moot to request an accommodation at (305) 539-3373 or stephanie.moot@klgates.com.
Organizer of Strength in Diversity -- Faces of Justice in Florida's Courts
ABOUT CABA:
CABA is a non-profit voluntary bar association in the State of Florida. Founded in 1974, CABA's members include judges, lawyers and law students of Cuban, Cuban-American descent, as well as those who are not of Cuban descent, but are interested in issues affecting the Cuban community. CABA's mission is to promote equality of our members; serve the public interest by increasing awareness to the study of jurisprudence; foster respect for the law; preserve high standards of integrity, honor, and professional courtesy among our peers; provide equal access to and adequate representation of minorities before the courts; facilitate the administration of justice; build close relationships among our members; support the Cuban-American indigent community; and increase diversity in the judiciary and legal community.
Learn more at http://cabaonline.com/.
---
ABOUT DCBA:
The Dade County Bar Association (DCBA) is a local voluntary bar association with approximately 4,500 members. The association was founded in the early 1900's and incorporated as a non-profit organization in 1920.
In addition to services provided for members, the DCBA provides services that benefit the general public. 
Learn more at www.dadecountybar.org.
---
ABOUT GSCBWLA:
The Gwen S. Cherry Black Women Lawyers Association (GSCBWLA), formerly the National Bar Association Women Lawyers Division Dade County Chapter, was formed in 1985.  The association's mission is to address the concerns of women lawyers, and to address the legal, social, and economic needs of the Black community, and the community-at-large.
Learn more at http://gscbwla.org.
---
ABOUT MIAMI-DADE FAWL:
MDFAWL is a volunteer bar association dedicated to actively promoting the advancement of women in the legal profession, expanding the leadership role of its members in the community at large, and promoting women's rights.
Learn more at http://mdfawl.org.
---
ABOUT NAWJ:
NAWJ's mission is to promote the judicial role in protecting the rights of individuals under the rule of law through strong, committed, diverse judicial leadership; fairness and equality in the courts; and equal access to justice.
Since its formation in 1979, NAWJ has fought to preserve judicial independence, to ensure equal justice and access to the courts for women, minorities, and other historically disfavored groups, and to achieve fairness and equality for vulnerable populations. Led by two visionary women – Justice Joan Dempsey Klein and Justice Vaino Spencer – 100 brave and intrepid women judges met and formed an organization dedicated to the above ideals. Throughout its history, NAWJ has been providing judicial education on cutting-edge issues; striving to develop judicial leaders; increasing the number of women on the bench at all levels in order for the judiciary to more accurately reflect the role of women in a democratic society; and improving the administration of justice to provide gender-fair decisions for both male and female litigants.
Learn more at http://nawj.org.