Description
Streetz 945 & Live Life Headphones Presents:
"Silent Party ATL" Hosted By DJ Holiday
Friday May 25th , 2018
At Aurum Lounge (Livest Friday In The City)
EVERYONE THAT CAME TO THE FIRST ONE HAD A GOOD TIME !!!!!!!!!
21+ Event
THIS ONE WILL BE DIFFERENT AGAIN B/C
STREETZ 94.5 ATL WILL BE BROADCASTING Live On 1 Channel
500+ Last time so dont miss this classic!!
How it Works: You turn in your id for a set of headphones upon entry!!
-When you get your headphones you can tune into three different DJs!
-Each DJ Will Be Assigned a Color either Red, Blue , or Green
-Don't like the music DJ1 is playing?
-Just flip a switch and see what DJ2 or DJ3 is playing - you're in control of the music!
-Colored LED lights let you know what your friends are listening to.
It's not only fun to be a part of, but exciting to watch and listen to everyone as they dance and sing together.
The DJs will be spinning your favorite R&B , Slow Jamz, Old Scool , Reggae & Trap Music
For Sections contact 9125716529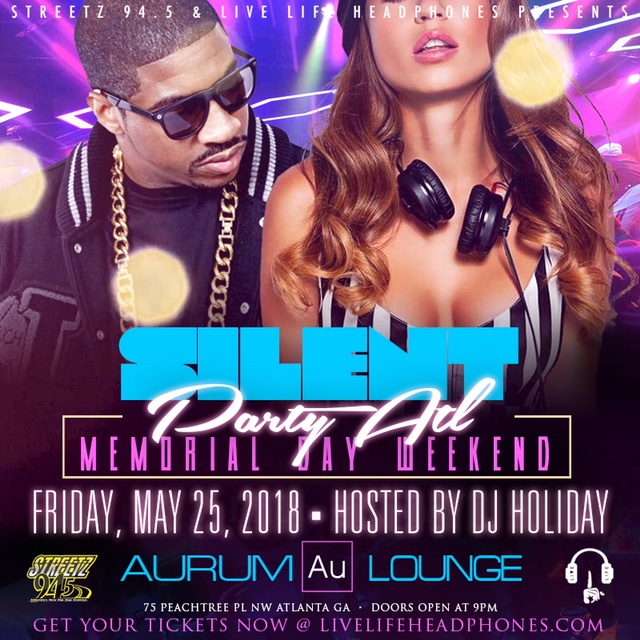 No refunds will be issued
CHECK OUT THE PICS FROM THE LAST MONTHS EVENT AT ARUM
https://jesserobinson.smugmug.com/Aurum-Lounge-Silent-Party-41418/i-w9Mzz6J
Disclaimer Statement
" By attending this event I give Live Life LLC, permisssion to use my photograph and /or images in its promotional materials and publicity efforts. "