Description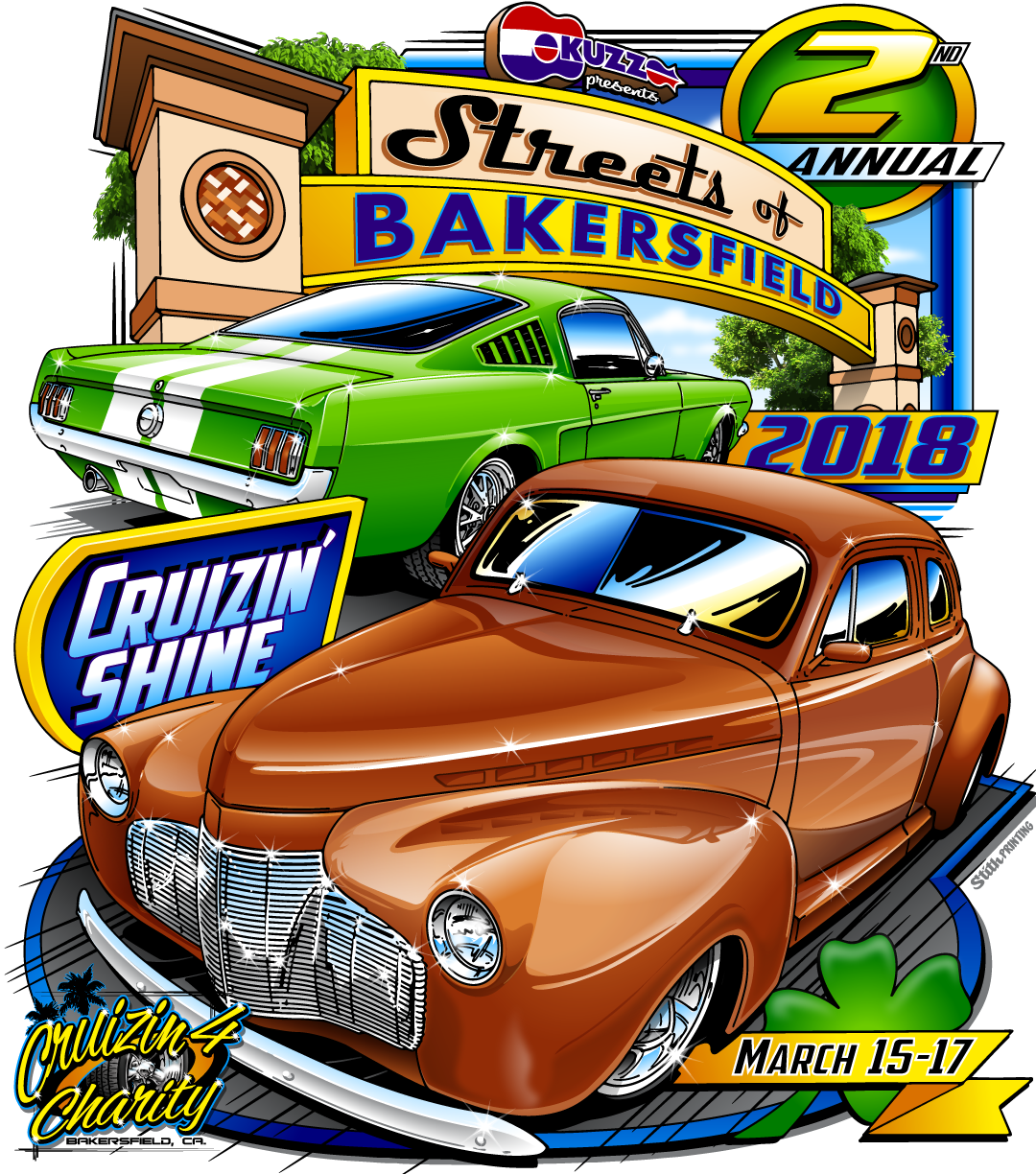 KUZZ & CAMERA ADS presents
STREETS OF BAKERSFIELD 2018 (MARCH 15 - 17, 2018)
$60 Early Bird Registration Fee Expires FEBRUARY 15, 2018
$70 ON-LINE REGISTRATION CLOSES MARCH 11, 2018
REGISTRATION AFTER MARCH 11TH WILL BE ACCEPTED ALL THREE DAYS OF THE EVENT
**** SEE ON- SITE REGISTRATION SCHEDULE BELOW *******
---
---


OPEN TO ALL CARS, TRUCKS & MOTORCYCLES ANY YEAR - MAKE - MODEL
NEW THIS YEAR!!!!! INVITATION ONLY FOR THE ELITE VEHICLE FOR
"STREETS OF BAKERSFIELD ULTIMATE BUILD AWARD"
"Ultimate Buid Award" is intended for those that want to compete with the Elite Builders. This special and secured area will be limited to the top 30 Ultimate Build picks and is an additional FEE.
Send us some pictures and Vehicle details for approval to be accepted in this area to INFO@Cruizin4Charity.com
---
**********SEE DETAILS BELOW*****************
Do you remember the times when Cruizin Chester Ave or your local Cruize Route was allowed every week? How about the days of going to a Drive In Movie in your Hot Rod? HOW WOULD YOU LIKE TO HELP SUPPORT LOCAL CHARITIES?
This will be an Annual Event to remember! Please come join us and help promote raising funds for our local charities. This 3-day event could not be possible if it were not for the Generosity of our Local Community and Sponsors along with all of the great volunteers. Cruizin-4-Charity is a collaboration of local Car Enthusiast that wants to bring the days of the Old and New together on the Streets of Bakersfield.
Our goal is to bring everyone together to give back to our Local Charities such as Mindenburu Magic Foundation, Kern County Honor Flight, Boys and Girls Club of Kern County, D.B.D.C, Alzheimer Disease Association of Kern County, & Kern County Honor Guard
There are many levels of sponsorship available. Please contact us for how you can get invovled and give back to our community. Contact Tony at Tony@Cruizin4Charity.com
Show Limited to the First 800 Entries with over 200 Awards given out
---
---
Early Bird Registration Fees Expire FEBRUARY 15, 2018
REGISTRATION IS ALSO AVAILABLE IN PERSON ON THE FOLLOWING DAYS AND TIMES:
- THURSDAY (MARCH 15TH) 3PM -8PM @ CRYSTALL PALACE
- FRIDAY (MARCH 16TH) 5PM - 9PM @ 21st Street and H (Behind the Bank)
- SATURDAY (MARCH 17TH) 6AM - 9AM @ 21st Street and H Street (Behind the Bank)
Pre-Entry Includes: (End MARCH 11, 2018)
Thursday Meet & Greet Event at Buck Owens Crystal Palace
Friday Night Downtown Cruize (First 400 Entries)
1 Event T-Shirt
Dash Plaque
Goody Bag
Saturday Show-N-Shine
Saturday Night After Party
*********REGISTRATION IS AVAILABLE AT THE EVENT AND INCLUDES THE ABOVE PRE-ENTRY EXCEPT THE EVENT T-SHIRT.
REGISTRATION ON THURSDAY IS LOCATED AT CRYSTAL PALACE. FRIDAY AND SATURDAY REGISTRATION WILL BE AT 21st Street and H Street.
All Cars, Trucks and Motorcycles.........Any Year, Make or Model
********All Sales are FINAL.....NO REFUNDS***********