Description

I use parties to teach. I present...

Reducing Friction for Startups. 5 Tips for Founders to Sell at SXSW
What They DO Teach You at Stanford Engineering School is How to Sell
Friction is something engineers are familiar with.

In businesses attempting to get up and off the ground, getting the all-important first sales in the door is a massive challenge. There is friction, drag and a heap-load of inertia.

Buying from startups is dangerous.
Remember, a person buying for a large company can get fired if they buy from you, the new entity. There is a saying, "No one ever got fired buying from Nalco Chemical". Nalco is #1 in chemical water treatment and was a Fortune 100 company before its merger. Startups benefit greatly having a street smart engineer head up sales.

Eliminating sales friction is what they teach at Stanford Engineering school. I know because I teach there.

Here are five deliciously awesome, legal and scandalously hilarious techniques to reduce sales friction:

-1- Do a Rebate.

Free died in the tech bubble of 2002.

Freemium was out of fashion well before 2007. Now it is the "Larry Chiang Rebate Model" (LCRM). So sorry I just third person-ed but I need the phrase google-able. I also need to differentiate from the sleezy rebate model that relies on breakage. Here is how LCRM works by killing five birds with one stone.

Five birds:
- Problem: free services or free product is unused
- Problem: Zero mental energy is expended accepting free anything
- Problem: No scarcity. It is free so how can it be scarce and valuable??
- Problem: Free is equated with worthless
- Problem: What if the free is actually good. What's my price after? Never mind-don't-care-LEAVE-MY-
OFFICE.
The one stone remember is the LCRM.
Execute the Larry Chiang Rebate Model by
- Identifying a clear problem and approximate cost.
- Charge approximately 12.5% in a refundable rebate
- When they use it once, they get their money back
You successfully have hacked to conjure up three critical inflection points; money transferred to you, problem solved, money transferred back to you. Lets look at a really basic live action case study.
We will examine specifically the reduction of sales friction for a real world event.
Lets look at the launch of the franchise "
Reverse VC Pitch
". I sold tickets via
Eventbrite
using a LCRM. Specifically, I sold tickets for VCs to attend a party and to pitch by selling themselves to entrepreneurs to take their money (welcome to Silicon Valley, right??). The tickets cost $95. If and when the VCs showed up, I refunded them their $95.00. I sold out of tickets completely. Study and pattern recognize. Maybe when you're feeling frisky, go from pattern recognition to pattern replication and pattern iteration.
-2- One way letters of intent
Contracts move through bureaucratic organizations fast.
Contracts move especially fast like the ones that include pre-incorporated organizations currently getting incubated, catalyzed and accelerated inside of Stanford's StartX startup accelerator.
I joke. I forget that via the written word sarcasm doesn't work.
Reduce sales friction by doing a one-way letter of intent. It is what I learned in Engineering Law while I was an undergrad. I perfected my mastery of one-way letters of intent under my mentor, "Mark McCormack". He graduated Yale law. He was also the world's first sport agent, representing Arnold Palmer. McCormack roped the storied franchise Wimbledon to do the world's first sports licensing deal.
Yes, that Wimbledon in England. There must have been a lot of friction selling into an English organization started in the 1600s.
A one-way letter of intent is where you, the officer of a startup, commit in a one-way fashion a one way obligation of you to transfer goods or services. To put it in plain English, you commit to them and put that in writing.
It is like going out with a male supermodel that is out of your league. You commit and pledge faith. And exclusivity. Later, he sees your value and the one-way becomes two-way.
-3- Allow a 72 hour out clause.
I love doing deals at conferences. I will even broker deals between entire conferences. I am a connector like that. For example, I brokered a deal between NY Fashion Week and the Oscars for 2012. It is a live action case study inside Stanford Engineering. Harvard sells antiquated history for lots of money. I sell you a Stanford Engineering case study for a rebate :-)
At these conferences, I do verbal deals.
Awesomely awesome deals that you cannot say no to (Who wouldn't wanna buy' a live action S.E.C.S. (stanford engineering case study) for $15 that gets fully rebated to you after you tweet @me what you learned in under 140 characters.
-4- Reduce sales friction by centripetal forcing around a road block
I engineered this method to circumvent barriers.
I literally go around my bottleneck, pick up centripetal (and the
fake centrifugal force
) and sell them from the flank. All enfilade, no defilate. Enfilade is where you fire openly on a military target. It is What They Teach at West Point.
Here is exactly how to reduce defilade and remove sales friction:
Step a) You publish a Slideshare presentation, "How to Do What Duck9 Does, Without Having to Hire Duck9". Of course replace Duck9 with the company that you are the CEO of versus me being the CEO of Duck9.
Step b) You shop that slideshare preso to a conference producer at an industry show that your future customer and current prospect will attend or/and might speak at.
Step c) They ask: How do you benefit sharing all your secrets. You answer. We innovate so by the time someone copies about 70-80% of Duck9, we will already be 20-30 percent improved... Making us about doubly better. (Conference people are soft, people skill types. Math is for engineers) Plus, we get to meet cool people that you pay you real money. And they will benefit from our slideshare preso. No?! They say YES and fly you out
Step d) People read your preso and most seasoned executives come to one conclusion. I don't want to do all that. It seems compicated, genius and intricate. Lets just hire Duck9.
Step e) One way letter of intent them right on the spot. Collect a rebate on the spot. Get them to initial a cocktail napkin with a 72-hour cancellation clause, and this
street
smart
trick...
-5- Internal Escrow
What is internal escrow?! I made it up. Nope, I didn't learn it from my mentor,
Mark McCormack
. No, I did not learn it from my ENGR145
Street
Smart
Legal
co-founder Ted Hollified of Dorsey.
I engineered up "Internal Escrow". It works like this. You identify a problem in the $300k ball park. The prospective customer has no trust of an upstart young founder such as yourself. You ask to charge $80,000 with a 50% pre-payment. It is
street
smart
of you to use future revenue financing versus venture capital or angel financing where you lose equity.
So you are stuck at an impass because the seasoned executive is not parting with $40,000.00. Period. Just like centripetal force bypassed the barrier above and eliminated sales friction, so will internal esrow. You say, "So here Mr Chiang, lets do this. I am confident that we can deliver this Duck9 solution to solve your $300,000 problem. Pay us into an account that your lawyer controls 100%. The account can even be in your name. Other people are doing third party escrow. This is internal escrow with your attorney as the judge and arbitrator. No risk for you, Larry. I can call you Larry now that we are partners right?!"
Combine internal escrow with a one-way email of intent and money should be deposited and funded in internal escrow before you google my cell phone number and text me, "thanks dude"
And that is how you remove sales friction in Stanford Engineering technicolor detail.


Text me, Larry Chiang, at 650-283-8008



P.S. Tell an undergrad engineer to take ENGR 145 this summer with me at Stanford University.

Organizer of Street Smart Legal Series Taught at Stanford University's Summer ENGR 145 Class and Silicon Valley Experience at SXSW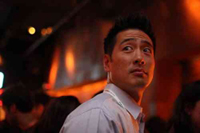 Asse9 stands for Austin Secret Society of Entrepreneurs 9. It means if you're not striving to be entrepreneurial, you're asinine.
No we don't have a website or else it would not be very secret now would it
All we have is a hashtag that we rarely use '#asse9' but what we do have is a huge rolodex.
Brands we love: