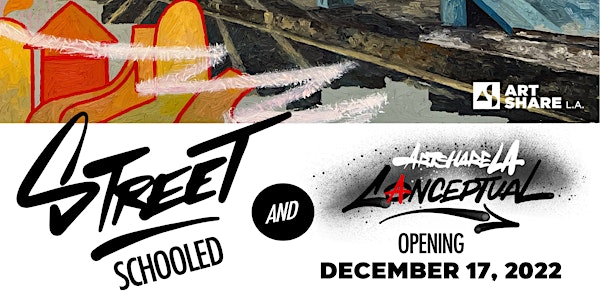 Street Schooled and ART SHARE L.A. CANCEPTUAL exhibition opening + party
JOIN US FOR ART SHARE L.A.'s DECEMBER 17TH EXHIBITION OPENING EVENT
When and where
Location
Art Share L.A. 801 East 4th Place Los Angeles, CA 90013
About this event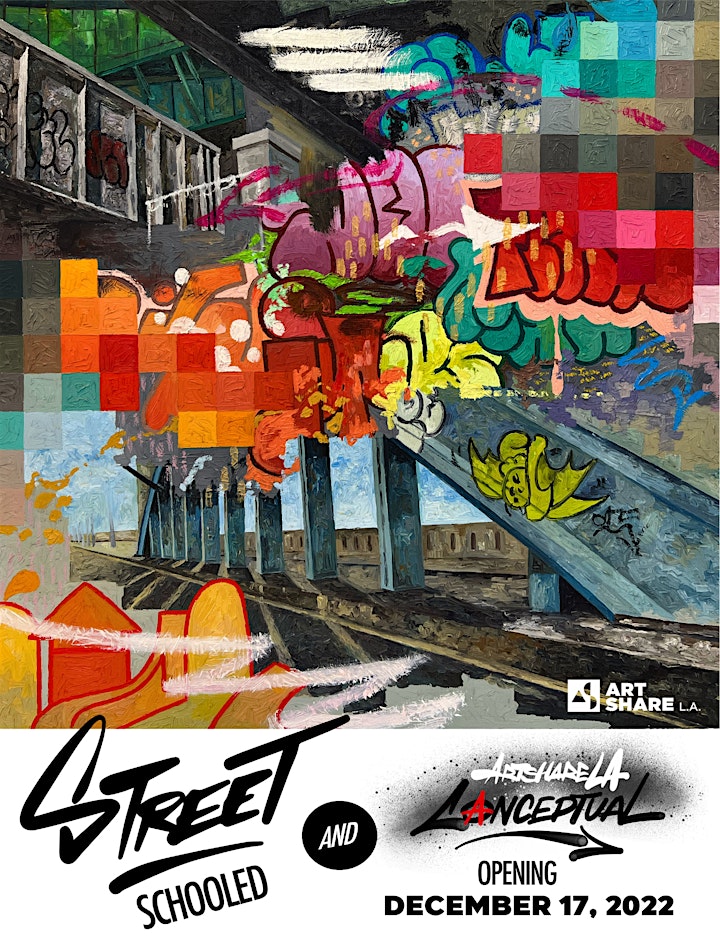 Art Share L.A. is hosting an exciting opening event for our upcoming exhibitions Street Schooled and ART SHARE L.A. CANCEPTUAL, both curated by renowned street artist Man One. You are invited to join us December 17th at 7 PM for a celebration including live art activations, poetry, music, and refreshments until 10PM!
Live Art Activations
Angel Once
Mr. B Baby
Pablo Damas
Poetry
Mike the Poet
Music
DJ Phyz Ed
ABOUT STREET SCHOOLED EXHIBITION
Street Schooled is an exhibition highlighting the work of 12 Los Angeles artists:
Paul Botello, Fabian Debora, John Zender Estrada, Jesse Fregozo, Wayne Healy, Mary Lai,  El Mac, Wenceslao Quiroz, Rebornz, Showzart, Obed Silva, Jacqueline Valenzuela.
These emerging and established LA based artists are inspired in one way or another by the streets of LA. The emerging artists are sharing the gallery walls with several more established creators by whom they've personally been influenced. These more mature masters of their craft have also influenced countless young painters, graffiti artists and muralists throughout the city over the last few decades. They are respected as street mentors by many. The exhibition aspires to showcase the surfacing talent of these emerging artists while giving flowers to the living maestros that came before them.
ABOUT ART SHARE L.A. CANCEPTUAL EXHIBITION
ART SHARE L.A. CANCEPTUAL is a large group show with over 100 original pieces of art on a spray can on view. In street art, the spray can is usually the medium but in this new exhibition, ART SHARE L.A. CANCEPTUAL it's the CANVAS!
ABOUT THE CURATOR
Man One is an LA native, multi-award-winning artist, illustrator, curator, entrepreneur, and prolific muralist. He has worked with the U.S. Center for Disease Control, the Mexican Consulate in the U.S., and received a Speaker and Specialist Grant by the U.S. State Department to work with the U.S. Embassy in Panama. His work is recognized internationally, exhibited in the LA Museum of Contemporary Art, Pasadena Museum of California, LACMA, Pacific Asia Museum, and Parco Museum in Tokyo. His work is in collections at the Getty Research Institute and the Smithsonian Institute as well. He has exhibited extensively across the U.S., Australia, Germany, New Zealand, Mexico, United Kingdom, Japan, and Switzerland. He also founded Crewest Gallery in 2002, Los Angeles' first full-time graffiti art gallery which later helped shape the Downtown LA art scene as a member of Gallery Row and the infamous DTLA Artwalk.
ABOUT ART SHARE L.A.
Art Share L.A. creates equitable access and opportunity for emerging artists by providing a creative environment for them to live, work, develop, perform, and exhibit. We believe artists, as individuals, must be valued and supported as a vital part of a culturally rich, vibrant community.
HOUSING: Providing 30 affordable lofts relieves working artists of their fear of displacement as they develop their craft into a marketable enterprise.
CREATIVE ECONOMY: Connecting artists to paid opportunities, from selling their visual artwork to public art commissions.
ART SHARING: Providing this 30,000 sq. ft building as a platform for artists to share their work from visual art exhibitions to showcasing performances, we are here to help an artist's voice be heard.