Street Ritual & Temple SF Present: Free The Robots and Virtual Boy

Friday, March 9, 2012 at 10:00 PM

-

Saturday, March 10, 2012 at 4:00 AM (PST)
Event Details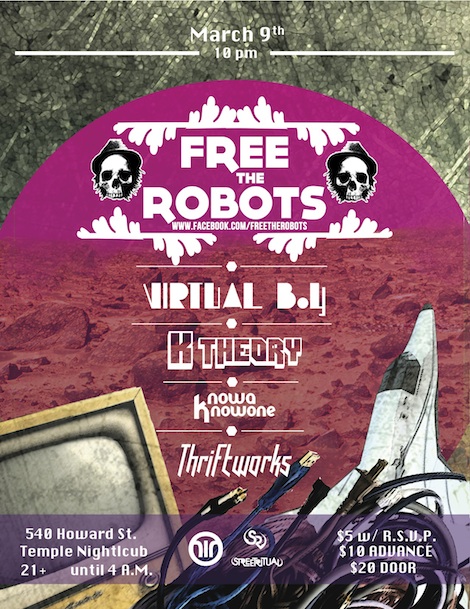 Music Featuring
Main Floor
Free the Robots
Virtual Boy
K Theory
Knowa Knowone
Thriftworks
Catacombs
Deejay Tone
Von Wooster
Free the Robots
Chris Alfaro is Free the Robots. The genre-defying artist pulls together heavy doses of traditional jazz, Psych, Electronic, Hip Hop, with progressive melodies and devastating drums into a rich pot of sound. His techniques create harmony between genres with the blending of obscure samples with analog and digital compositions.
Based out of Santa Ana, CA, Free The Robots started as a side project by Alfaro in 2003 while also playing with different bands, producing MC's, and DJing full time. Having worked with so many different styles of music, Free the Robots brought everything together under one roof, allowing further exploration. With the use of samples, Controllers, and other live instruments, Alfaro creates a balance between the sounds of the past, present & future.
Dine at Ki, our new Izakaya Bar, now serving fresh Japanese cuisine and sushi! Dine at Ki on Friday or Saturday and receive free entry to Temple ($25 minimum per person for free entry). 

Parties larger than six that wish to receive free entry to Temple Nightclub must purchase pre fixe meals. Reservations are required two days prior. For Reservations call (415) 278-0495 or click here. For more information on Ki, visit ki-sushisf.com. Large parties receive free tickets to the nightclub and avoid long lines. 
Organizer
Temple Nightclub
Temple promises to bring quality & integrity back to the Bay Area scene, with a venue that is run by artists, for artists. Dedicated to the education, preservation and evolution of the electronic music scene, our business provides a functional, flexible and creative work environment for everybody that truly believes in social responsibility, forward thinking and a passion for the environment. 

At Temple, our values drive us to create a space that has a minimum negative environmental impact. Combining innovation with environmental awareness, all our events are "low to zero" waste.  

Stay informed by checking out http://www.templesf.com 

Temple features three rooms, three dance floors, and unlimited possibilities.

20,000 sq ft | 3 Levels | 3 Dance Floors | 6 Bars | 4 VIP Rooms
Street Ritual & Temple SF Present: Free The Robots and Virtual Boy