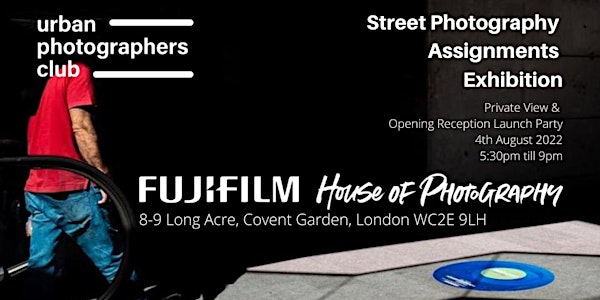 Street Photography Assignments Exhibition - Private View & Opening Launch
Location
FUJIFILM House of Photography
8-9 Long Acre
London
WC2E 9LH
United Kingdom
Sales Have Ended
Registrations are closed
Thank you for registering and we can't wait to welcome you to our private viewing and launch event! Any questions, please do email hello@urbanphotographersclub.com
Private view and official launch party for the Street Photography Assignments Exhibition by photographers of Urban Photographers Club.
About this event
Hello!
Welcome to our event!
Here is our story of what the exhibition is all about.
In October 2020, when the UK entered a second Covid lockdown, 11 amateur photographers united to start a street photography project. Initially collaborating online, they used the 52 Assignments: Street Photography book written by Brian Lloyd Duckett who is also a Fujifilm X photographer as their inspiration and influence. They made it their mission to complete all the assignments over 12 months, with the ambitious aim of producing their own book and exhibition at the end to showcase their achievements.
The photographers are of mixed abilities from beginner to very experienced. They used the 52 Assignments: Street Photography book because they found the book accessible and easy to follow, no matter what stage they were at in their photographic journey. It provided a clear and focused brief, tips, techniques, and guidance. It supported them to continue learning and developing as photographers.
Adhering to lockdown restrictions made shooting a challenge in the early days. However, they were committed, and they used their designated "exercise time" to hit the streets and complete the assignments.
Word soon got out, and photographers from all over the world asked if they could join in the project. The core team realised that this initiative benefited them in several ways during the lockdowns. Most importantly, it supported their physical and mental health. They agreed to open the group up to anyone who wanted to join, and the project quickly grew to over 400 members on their Facebook group with over 1,000 followers on Instagram. The project was free to join and participate in.
The project was spearheaded and run by Jovis Leigh Howieson in a very structured and organised way with a programme that included a weekly online video walkthrough for new members and a monthly online critique session to review their assignment work. The core team provided email and video support to the wider group, and when Covid restrictions eased, they organised monthly photo walks in London, Bristol, Cardiff, Liverpool, Manchester, Paris and Lisbon.
The participants have shared something very special during the darkest of times and forged many great friendships. It is a diverse and inclusive group with people from all walks of life who are like-minded and deeply passionate about street photography.
They have successfully completed the project which took them through to December 2021. As planned, they have produced a book of their favourite images which will be launched on 4th August 2022 at the private View event, and launching the exhibition curated by Brian Lloyd Duckett to showcase the very best in show from the project. (The images in the exhibition are mostly different to the book).
With the expansion of members and success of the project, two members of the core team have founded a community group called Urban Photographers Club which is not for profit and completely self-funded by Jovis Leigh Howieson and another photographer, Paul Nezanedonyi. They will continue to run more projects in the future, which will always be free to join and participate in.
The exhibition guide on the website will go live on 4th August 2022.
In addition, we are sponsoring the GCSE photography students of Eden Park High School where they have also made images from the same book to exhibit their best in show during the exhibition.
Do come join us and we would love to see you there!
Jovis & Paul
Co-founders of Urban Photographers Club
-------------------------------------------------
Photographers:
Adam Ramjean ♦ Alun Morgan ♦ Andy Parker ♦ Barry Bottomley ♦ Becca Luger
Ben Elvidge ♦ Benito Mpangi ♦ Brian Boyce ♦ Carlo Carboni
Chris Eustace ♦ Enrique Navas ♦ Gail MacIndoe ♦ Ginny Wren
Ian Harrop ♦ Jon Addecott ♦ Jovis Leigh Howieson ♦ Katie Sivier
Kenny McRae ♦ Les Fraser ♦ Lucy Agius ♦ Matthew James Phillips ♦ Matt Croxall ♦ Neil Johansson
Paul Nezandonyi ♦ Paulo Dias ♦ Phili Turnbull ♦ Philippe Raevens ♦ Riccardo Sai ♦ Sarah Twelvetree
Simon Finch ♦ Steve Barnard ♦ Thomas Pal ♦ Tobias Riedl ♦ Vicente Jungstedt ♦ Wendy G Davies
-------------------------------------------------
Special addition:
GCSE Photography students of Eden Park High School
-------------------------------------------------