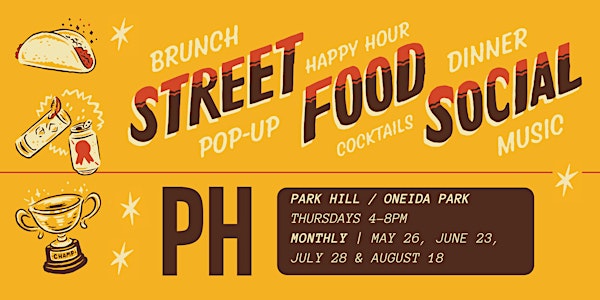 Street Food Social: Park Hill | August 18
Street Food Social: Park Hill brings the traditional food hall dining experience al fresco, monthly at Oneida Park!
When and where
Location
Oneida Park E 23rd Ave & Oneida St Denver, CO 80207
About this event

Street Food Social is popping up monthly at Oneida Park, May through August! Enjoy live tunes in the courtyard, delicious bites and local sips.
Here's the deets:
Monthly | Thursdays 4PM - 8PM
May 26 · June 23 · July 28 · August 18
Park Hill / Oneida Park
Featuring...
Free entry!
20+ street food vendors & food trucks, each session!
Small bites, handheld snacks and apps
Artisan packaged food vendors
Live DJs & bands
Craft beer, cocktails & more
Weekly FanFav competition -- voted by YOU!

Each session, vendors compete for their chance to win the Weekly FanFav award, voted by YOU!
Look for the Weekly FanFav sign at each street food booth or food truck and ask them about their competing bites! Taste and shop your way through the market until you your tastebuds determine the winner. Find a Weekly FanFav QR code (all competing vendors will have them) and scan it to head to the Street Food Social Instagram story to vote!
Look for the winners every Monday on our social media channels and SFS Newsletter. At the end of the season, the vendor with the most wins overall will be awarded a $5,000 scholarship to invest in their growing business!

Thursday, August 18 Music Lineup:
Daniella Katzir Trio | 5:30PM - 7:30PM
About Daniella Katzir Trio
Daniella Katzir is an accomplished singer-songwriter, born in Israel and grew up soaking in the sounds of the Middle East. As a teenager, Katzir fell in love with the songwriting of Bob Dylan and other traditional American folk artists. This combination of influences colored her musical upbringing, and continues to surface in her singing and writing.
After 20 years of playing, Katzir is focused on a blend of claw-hammer banjo and Piedmont style finger-picking, complemented by a variety of vocal approaches from gypsy-jazz inspired blues to Americana folk to East Coast funk and soul. A talented lyricist and musician, Katzir's rhythmic authority on the guitar is solidified by years playing the drums. She is the former front-woman of the Boulder-based band Magnolia Row, and has shared the stage with many different nationally and internationally touring artists.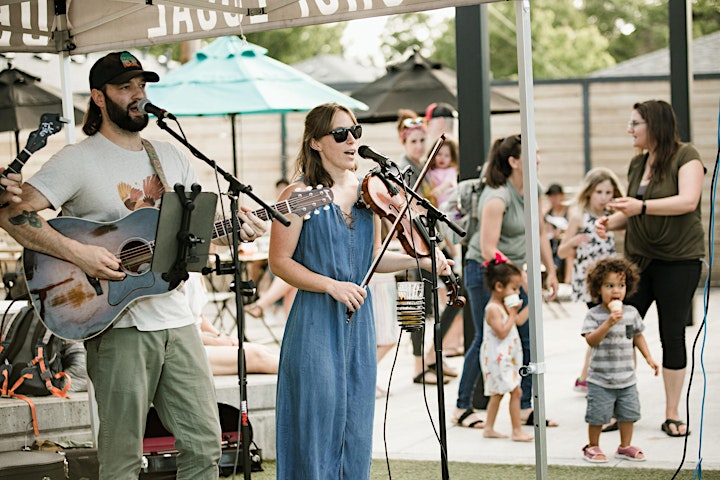 It's the only one we got, y'all! Street Food Social is proud to be a Zero Waste market, partnering with Compost Colorado to reduce our carbon footprint and offer cost-friendly compostable options for our vendors.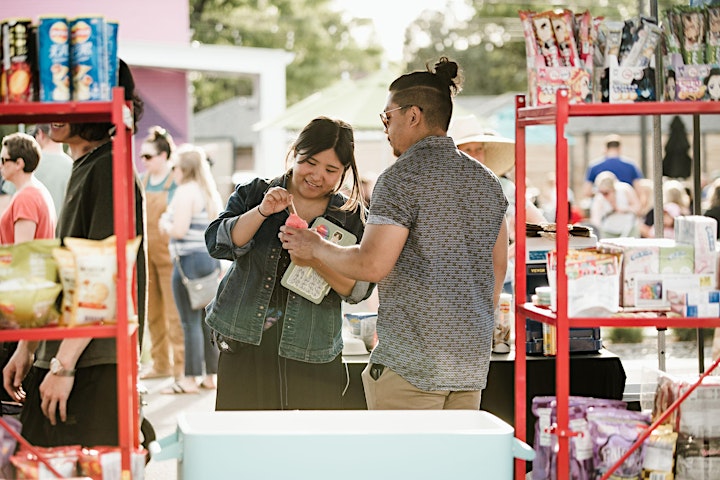 Street Food Sampler Update:
To allow guests such as yourself to sample even more tasty bites in addition to Weekly FanFav items, we have updated the Street Food Sampler program and will no longer be offering the tokens package. If you have previously purchased a Sampler package, a refund will be issued for your purchase. Don't worry! You'll have the same awesome lineup of food vendors serving up both bite-sized eats ranging from $5-10, with even more options to choose from. We can't wait to see you there!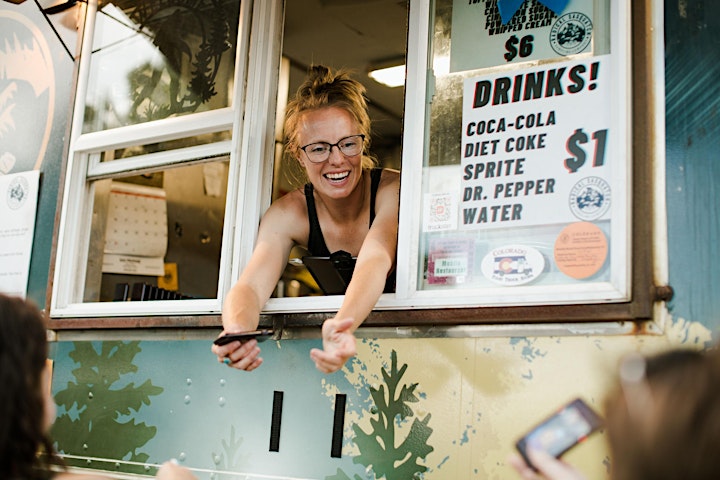 Visit streetfoodsocialco.com for more details and follow along @streetfoodsocialco for weekly vendor lineups, music calendar, and Weekly FanFav winners!
Park Hill
Monthly Thursday | 4PM - 8PM
May 26 · June 23 · July 28 · August 18
Every Friday | 5PM - 9PM
June 3 - September 30
Every Saturday | 11AM - 8PM
June 11 - September 24