| | |
| --- | --- |
| Street Dreams Independent Art Series | |
Event Details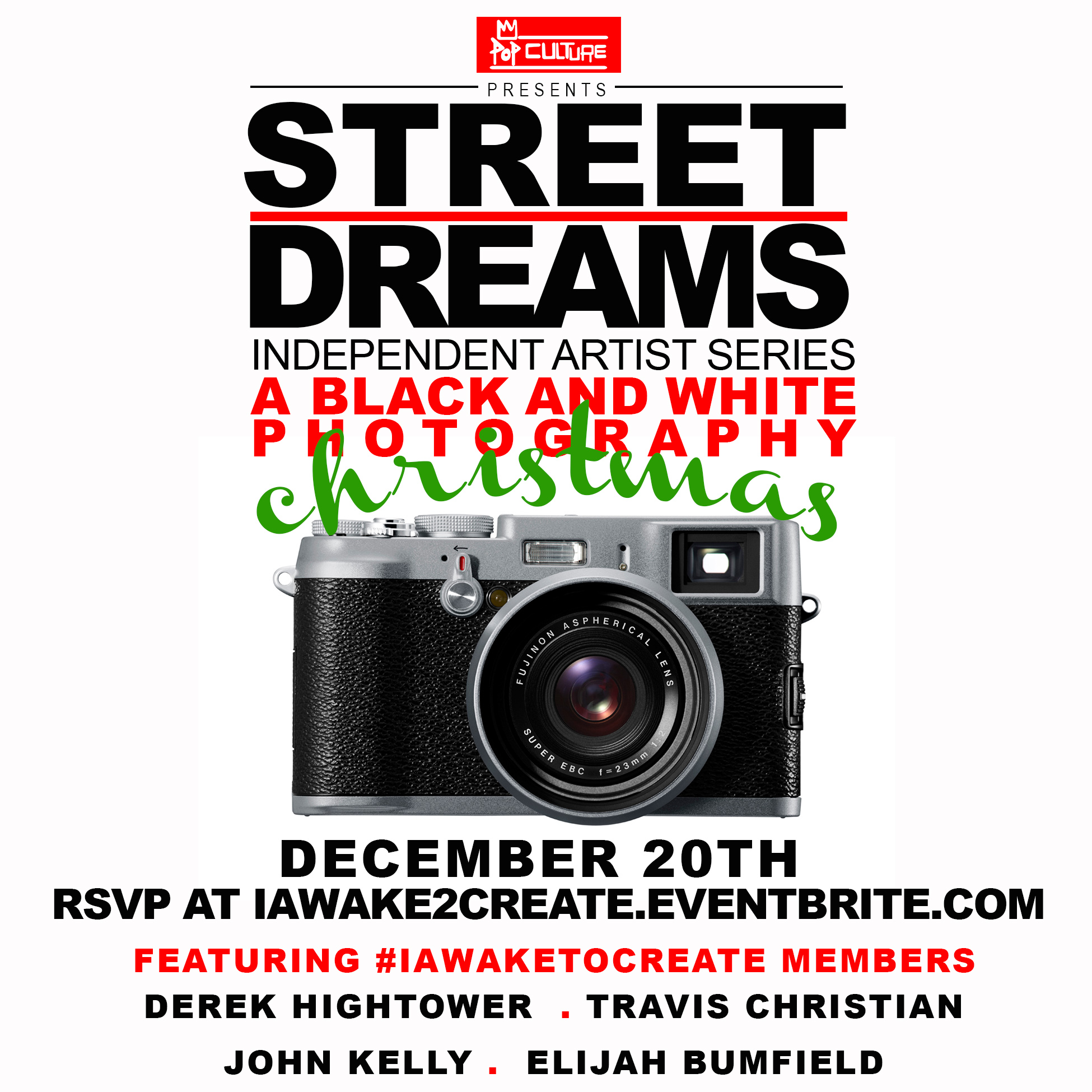 Street Dreams
A Black And White Photography Christmas
"Christmas Edition"
Special Guest Live Performances
Limited Pop Culture Clothing Releases 
December 20th , 2014
7pm-11pm
Bring a unrapped Toy or Clothing and recieve a Limited KingPop Print
Pop Culture Clotihng Design Studios 675 Metropolitan pkwy suite 2059 Atlanta, GA 30310
Whether you dream of escaping, glorifying, or representing the streets, we all live out our dreams in the same place: in the streets. In the streets are where ambitions brew, where seeds of the "hard knock life" are sown…fueled not only by a desire to want more, but a yearning to create more. On Thursday November 20, 2014, artist and designer,William "KingPoP", will reboot Street Dreams independent popup art series at PoP Culture Clothing Flagship store located inside Royal Flush Studios (675 Metropolitan Parkway, Suite 2059, Atlanta, Georgia). The show will feature an independent pop up exhibit celebrating artists who have created their own lane in art, music, and fashion, entitled, "Street Dreams". The collection offers a visual interpretation on how today's artist in pop culture have defied the mainstream, and overcome the politics of the streets only to realize their own "Street Dreams" through organic and authentic appreciation for artistic expression. In addition to new pieces from KingPoP himself, the lineup also includes 4 other national artist that include Derek Hightower, Travis Christian, John Kelly, and Elijah Brumffield.  In addition to our amazing independent artist KingPop willl release limited Pop Culture Designs.  It's never an easy process for one to realize his or her dream. It takes hard work, dedication and persistence. What began as an earnest dream, to paint and design, manifested into an urban couture fashion line, art studio and now KingPoP turns to host his "Street Dream" into reality along side serval other talented creatives. Join us as we hit the decks hard to debut "Street Dreams" independent art series, titled A Black And White Photography Christmas on December 20, 2014 and let us show you how we live out our Street Dreams.
Street Dreams exhibiting Artist
 Derek Hightower, Travis Christian, John Kelly, and Elijah Brumffield
When & Where

Pop Culture Clothing Design Studios (Royal Flush Studios)
675 metropolitan pkwy suite 2059 Atlanta, GA 30310
suite 2059
Atlanta, , GA 30310