Actions and Detail Panel
Street Art for Mankind
Fri, Feb 10, 2017, 10:00 AM – Mon, Feb 20, 2017, 10:00 PM EST
Description
Street Art for Mankind is the most meaningful street art event ever, featuring 35 of the most famous street artists on a mission to help stop child slavery.

The first edition will take place in Miami, February 10-20th 2016. Attendants will enjoy:
- A unique artistic masterpiece made out of 16 containers.
12,000 sq. feet of murals as a gigantic tribute to the children of the world.
- A very fun exhibition where you will see, but also touch, hear and even smell things.
- Creating your own street art piece using the same techniques as the artists.
- Learning from Art gurus about the graffiti world (technique, artists…)
-----------------------------------------------------------------------------------------------------------------------------------
MORE THAN A EXHIBITION... A ONE-OF-A-KIND EXPERIENCE
More than 30 talented and well-known graffiti artists will be gathered in a single location to work collaboratively. They will create an unprecedented spontaneous masterpiece. They will build a 12,000 square feet "exquisite corpse" made out of 16 containers, reviving the surrealist technique of the 1930's. Artists work side by side not knowing and seeing what the other artists are creating… A great challenge in perspective!

Discover our artists from all over the world:

Abstrk / Cuba & Miami – USA
Ador / France
Agostino Iacurci / Italy
Binho / Brazil
Boogie / Italy
Btoy / Spain, Cataluña
Clandestinos / Shalak Attack - Canada & Chile + Bruno Smoky – Brazil
Claudio Ethos / Brazil
Claudio Picasso (CP1) / Miami – USA
Crash / USA
Dave Bonzai / UK
Eduardo Kobra / Brazil
Eltono / France
Gaia / USA
Hoxxoh / Miami – USA
Hyuro / Spain & Argentina
Icy & Sot / Iran & USA
Kashink / France
Kazilla / Miami – USA
KinMx / Mexico
Mr Cenz / UK
Mr Thoms / Italy
Nate Dee / Miami – USA
Onur / Switzerland & Turkey
Remote / Miami – USA
Surge / Miami - USA
Trek6 / Miami – USA
Victor Ash / France

Yuhmi (Michelle & Victor) / Miami, Cuba & Brazil
Zurik / Colombia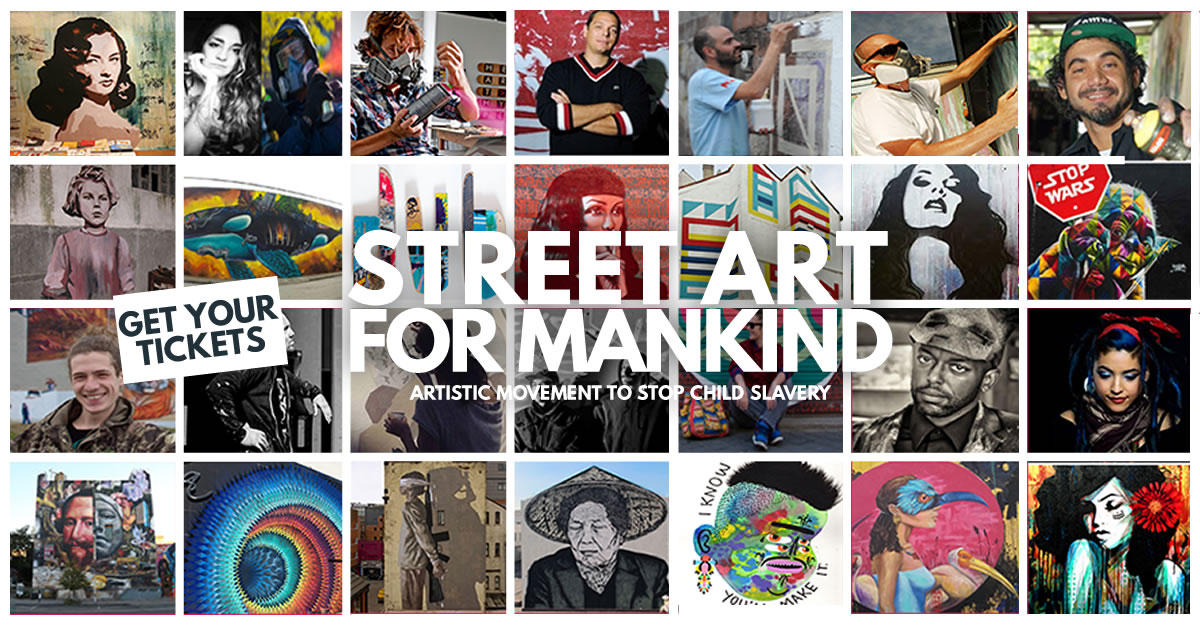 This united performance of Art will educate, inspire, and ultimately be auctioned to raise money for the fight against child slavery. During the event, we will raise awareness and funds for the foundation of the Nobel Peace Prize winner Kailash Satyarthi to help rescue and rehabilitate enslaved children across the world.