Street Art and Cultural Value: the place of art in a public city
Description
What is street art? Who is the street artist? Can street art exist within a gallery or museum or must it be located in public space? Since the late 1990s, a distinctive practice has involved the placement of uncommissioned artworks in public places. Sometimes considered to be a variant of graffiti, sometimes conceptualized as a new art movement, the practitioners of street art engage in often illicit activities while at the same time exhibiting works within galleries and museums, and the resulting artworks can command high prices at auction and have become collectable aesthetic commodities. In multiple ways, street art presents challenges to commonplace assumptions about culture, law, cities and art. This lecture presents research funded by the Australian Research Council, on the intricacies of street art as a cultural practice, the complexities of the reception of street art within the art world, and asks, where is the place of street art in a contemporary city?
This talk will be followed by a panel discussion, consisting of:
Jane M Jacobs (Chair) - Professor of Urban Studies, Yale-NUS College

Nick Smith - Assistant Professor of Urban Studies, Yale-NUS College

Nina Ernst - Associate Director of Programmes, ArtScience Museum (Please note that Ms Honor Harger is no longer able to attend. Ms Ernst will be stepping in on her behalf. We apologise for any inconvenience caused.)

Priyageetha Dia - Local Artist
PROGRAMME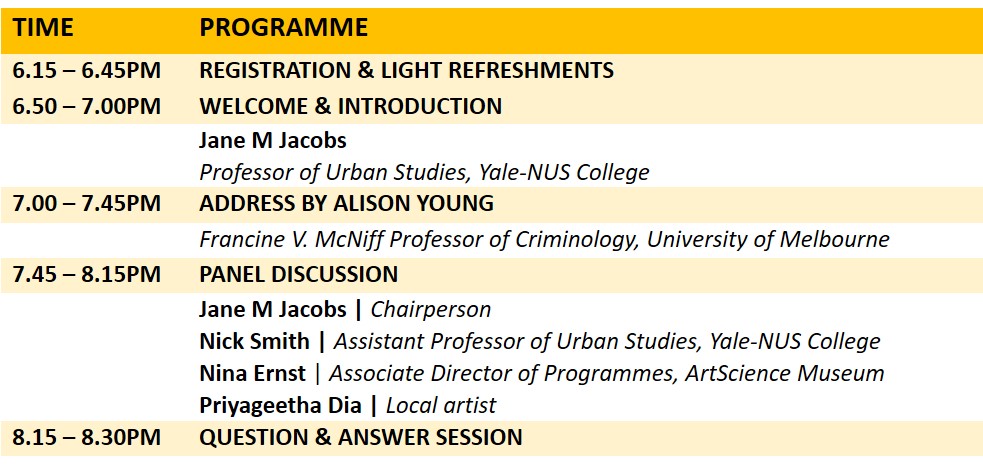 NOTE: Registration begins at 6.15pm. Please be seated by 6.45pm.
---


ABOUT THE SPEAKER
Alison Young is the Francine V. McNiff Professor of Criminology at the University of Melbourne, and a Professor in the Law School, City, University of London. Alison is the author of Street Art World (2016), Street Art, Public City (2014), Street/Studio (2010), and Judging the Image (2005), as well as numerous articles on law, crime, and culture. Alison is the founder of the Urban Environments Research Network, and is currently researching street art and gentrification, urban atmospheres and neighbourhood change, and visible homelessness and urban aesthetics. She is part of the University of Melbourne Research Unit in Public Cultures and is a Convenor in the Future Cities research cluster, Melbourne Sustainable Society Institute.
BOOK SALE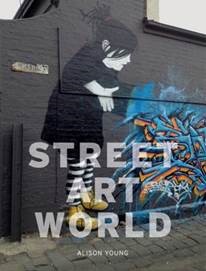 Street Art World by Alison Young, will be sold at a SPECIAL PRICE of S$38.00 (inc. GST)! (Original price $48.00)
LIMITED STOCKS!
(Books will be sold on a first come first serve basis!)
Mode of payment: CASH ONLY