STREAMING FORWARD: MALAYSIA EDUCATION DURING A PANDEMIC AND BEYOND
STREAMING FORWARD :Nation Education During Pandemic
About this event
STREAMING FORWARD is an Education Webinar series where for each session we will invite Panels from various industries; both of government and private sectors to share their thoughts on our national education issues. For our first Webinar, 3 experts are invited to share their views on our current education landscape during this pandemic.
Topics of discussion include:
1. Pandemic Reshaping Education
2. The Implementation of PdPr: Are We Ready?
3. The Challenges of PdPr to Educators and Learners
4. Moving Forward- Education Post Covid
Panel1: Cikgu Ooi
Background: Cikgu Ooi received his Master Degree in Chemical Engineering from University of Malaya, UM. Before joining Kementerian Pendidikan Malaysia (KPM), he was a Chemical Engineer in one of well known MNC in Malaysia.
Due to his interest in sharing knowledge to the community, he embark his teaching journey through Teach for Malaysia (TFM). He graduated from Institut Pendidikan Guru Teknik, Nilai and since then he had been teaching Reka Bentuk & Teknologi (RBT) and Science in SMK Seksyen 19, Shah Alam.
Panel 2: Mr Ahmad Zaim Hussin
Background: Ahmad Zaim Hussin received his Bachelor Degree in Electronic System Engineering from Malaysia-Japan International Institute of Technology (MJIIT), UTM. Before joining Leave A Nest Malaysia, he was an RF Optimization Engineer.
At Leave A Nest Malaysia, Zaim is with Education Development Division. He is interested in Internet of Things (IOT), Smart Farming and agriculture technology. He joined Leave a Nest with a mission to encourage or influence the younger generation towards science and technology, so that we can create the better future for the world.
Panel 3: Ts.Darween Reza Bin Sabri
Background: Darween is a highly motivated and dedicated individual who believes the local community is the key innovation for the future of making. He establish My Conceptual Robotics Sdn Bhd in 2016, a company that focus on assisting SMEs and organization creating new groundbreaking innovations. He holds a Bachelor Degree in Computer Aided Design and Manufacturing Engineering from University of Malaya, UM and currently hold several advisory position in few private and government organization.
Moderator: Mr. Muhd Basril
Target Group:
✅ School Teachers
✅ Students
✅ Educators
✅ Parents
Any inquiries, please call @ whatapps :
www.wasap.my/+0162181315(Mr.Basril)
for more details.
See you soon!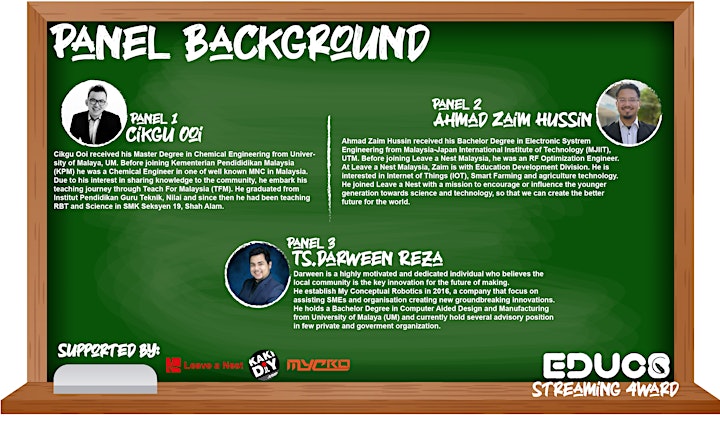 Organizer of STREAMING FORWARD: MALAYSIA EDUCATION DURING A PANDEMIC AND BEYOND