Description
Header photo credit: DIY House Building
Long ago, in rural communities, when someone needed a new home, the whole village would come together for a day of building and fellowship. In historical barn raisings, participants would share tools, stories, and a meal, building a stronger community with each piece of lumber secured. One drawback of modern building techniques is that this type of collaborative event has become increasingly rare. But supporters and volunteers of Crown Point Ecology Center will soon have a unique opportunity to come together and raise the walls of new housing for the seasonal interns who live and work on this local, organic farm.
Volunteers who participate in the straw bale housing workshop will have a unique opportunity to learn from local natural building experts. Building with straw involves a very small carbon footprint, because straw bales are a product of cultivated fields, not forests. They are also light and easily transported from field to construction site and produced locally in Ohio.
Local architect Charles Robinson will lead the project, made possible through "Fund-a-Need" donations at Crown Point's 2016 Taste of Earth fundraiser.
This two-day workshop begins at 9:00 am. No small children, please. Reccomended for adults and teens who can work independently.
Register for one or both dates:
CLOSED (Oct. 28)
Saturday, Nov. 4, 9am to 5pm, Lunch Provided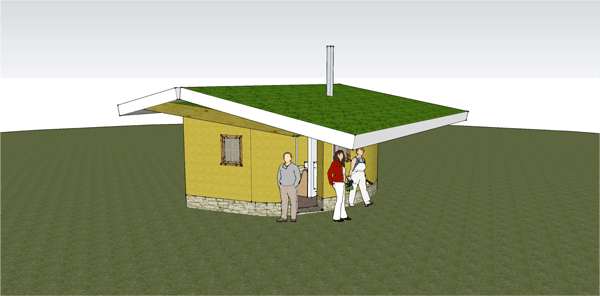 Sample before/after straw bale house (below). Photo credit to Building with Awareness.