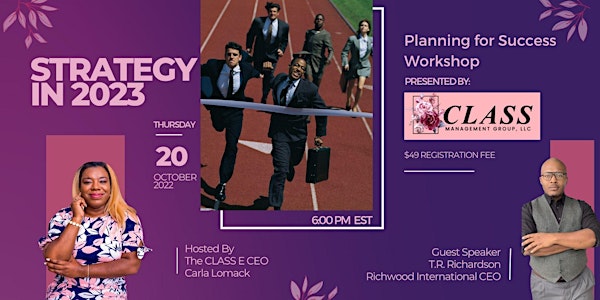 Strategy in 2023: Planning for Success Workshop
An interactive learning session to plan for success! Hosted by Carla Lomack with special guest T.R. Richardson providing tools & resources
About this event
This workshop is an e-learning session from Class Management Group with guests. CLASS E CEO, Carla Lomack is bringing leading experts in the community with specific techniques to grow, move forward, and learn how to succeed. T.R. Richwood is a returning guest by popular demand! His last workshop was a success in delivering content for attendees that are fueling their 4th quarter initiatives. You don't want to miss what will take you further into the new year and be ahead in your business, career, and goal planning for 2023. If you can't attend, reach out to learn more about how you can purchase this recorded session at Contact@classmgmtgroup.com.
About Special Guest T.R. Richardson | Leadership & Communication Skill Expert
-Chief Training Officer|Richwood International: Speaker, Coach, Consultant, and Trainer on Leadership, Communication Skills & Team Building
-The $1,000 Start-Ups Consortium|Board Member
-Executive Director|The N.R.E.C.
-2006 TIME Magazine "Person of The Year"
-Author: "Overcoming: Top Tips For Conquering Speech Anxiety"
-Certified Professional Life Coach
-University of North Florida – Center for Entrepreneurship and Innovation|Swisher Start-up Cohort for Underrepresented Entrepreneurs 2022|Pitch Winner
-Jacksonville Chamber of Commerce|Jax Bridges Cohort 16|Pitch Finalist
Presented by Class Management Group
Class Management Group is a professional service provider specializing in management and consultation for business operations, public programming, organizational development, project leadership, and support for professionals. Our firm is not just a business, it is a collaboration of professionals on a personal mission to demonstrate a lifestyle of leadership that extends beyond the boardroom and influences lives. Our team has over 25 years of experience leading companies and supporting professionals throughout Florida and Georgia. We thrive in creating strategic plans for growth, project planning to accomplish work, and developing programs for success.