Join Tea Pad and & Senator Brian Feldman on strategies for equity and cannabis industry legalization success.
About this event
Join us at Tea Pad on February 24th in Baltimore when we celebrate Black History Month with a keynote by Senator Brian Feldman. We'll be at Bus Boys and Poets in Baltimore, Maryland with the live jazz and provocative conservation that Tea Pads are famous for. It's our mission to build our advocacy community to ensure that the cannabis industry provides equal opportunity for all - no matter gender or race. We're demanding social change and equity in the cannabis industry.
2022 is the year when adult-use (recreational use) of cannabis will become law. Maryland State Senator Brian J. Feldman joins us as the keynote and will share what his strategies for success will be in 2022 so that Maryland's cannabis industry is truly one that is equitable. How will Maryland become a model for the U.S. with a cannabis industry where the communities of color will be restored from the impact of the 50-year old War on Drugs?
Senator Feldman represents the 15th Legislative District in the Maryland State Senate. He is the Vice Chair of the Senate Finance Committee and chairs its Energy and Public Utilities Subcommittee. Additionally, he is the Senate Chair of the Maryland Health Insurance Coverage Protection Commission and serves as a member of the Executive Nominations Committee and the Joint Committee on Legislative Ethics. He is also a member of the Maryland Economic Development Commission. Senator Feldman sponsored SB 708 "Cannabis – Legalization and Regulation" in the 2021 Maryland General Assembly. He's been a multi-term member of Maryland legislative work groups focused on adult-use legalization. Most recently as Chair of the 2022 Senate Marijuana Legalization Work Group.
Senator Feldman will discuss how he and his legislative colleagues will address social equity, criminal justice reform, and economic parity in Maryland's cannabis industry. How will Maryland cannabis entrepreneurs will be protected in an industry with billions in revenue? How will the existing medical program be protected?
Your ticket includes one drink ticket for a premium adult beverage, food, and incredible music by Eric Scott. Eric is a Washington, D.C.-based singer/songwriter and bassist who's toured the world and performed with B.B. King, Mavis Staples, Aaron Neville, REO Speedwagon, Roger Walters, and Deanna Bogart. Eric's original music is an evolving brand of funky, upbeat, and socially aware music.
"Live jazz, plentiful libations, good eats & provocative conversation at every Tea Pad!"
Refund Policy: No refunds are offered instead, 100% of the ticket will support The Tea Pad Fellowship Program.
COVID-19 POLICY: We will follow and comply with CDC guidelines and Maryland state COVID-19 policies as well as those of Bus Boys and Poets.
We request all Tea Pad attendees to present proof of at least two COVID-19 vaccinations with driver's license or federal i.d. Mask will be available. In advance, thank you for your compliance so we all stay healthy and respect our frontline healthcare workers by doing our part!
Tea Pad Founding Sponsor + Sister Social Enterprise: CannabizMD
Join the mission by sponsoring Tea Pad!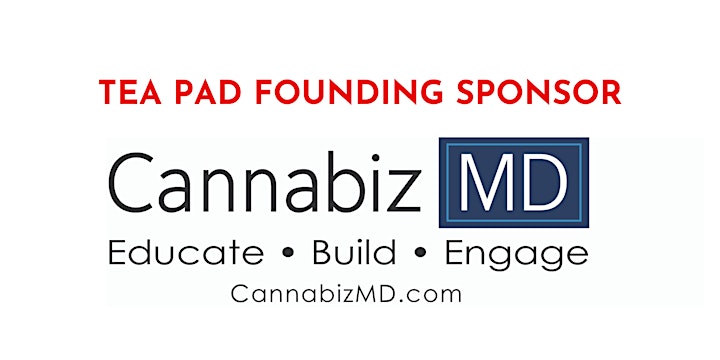 CannabizMD is a B2B medical cannabis industry platform empowering industry professionals to deliver quality patient care and client service.
REEFER MAN aspires to be visionary advocates in cultivating, shifting, and enriching the cannabis industry while addressing historical injustices. We seek to create a more equitable cannabis industry through advocacy, inclusion and community empowerment. Connecting, promoting, and partnering with, POC and women-owned businesses is the way forward.
Goodwin Recruiting has a team focused on cannabis recruiting and all of the nuances that come into play in this quickly growing market. Our recruiting team has its pulse on both the hiring trends and the demand from job seekers looking to enter the industry.
Whether you are a cannabis producer, processor, retail organization, or ancillary service, we are here to help you identify, attract and retain top cannabis talent. From executive search through technical roles, we can help you find not just qualified candidates, but the best talent to drive your business forward.
Organizer of Strategies for Success: Legalization in Maryland with Senator Brian Feldman