Strategically Mapping Your Early Career Development
About this Event
A day and a half jam packed with a professional panel, networking opportunities, educational sessions, career advice and much more!
*ATTENDANCE FOR ALL SESSIONS IS NOT REQUIRED. YOU MAY SELECT WHICH SEGMENTS TO ATTEND.*
Friday morning sessions focus on 360 degrees of wellness: our focus will be on physical movement & agility, self-care & resilience, and mindful meditation.
Thrive A didactic session which include strategies and tips for proper self-care and resilience followed by mindfulness meditation and a deep breathing demo
Come get your mind focused and ready for what's in the day ahead!
FRIDAY MORNING SEGMENT HELD IN CORNELL HEALTH, TANG CONFERENCE CENTER
110 HO PLAZA, ITHACA, NY - PARKING INFO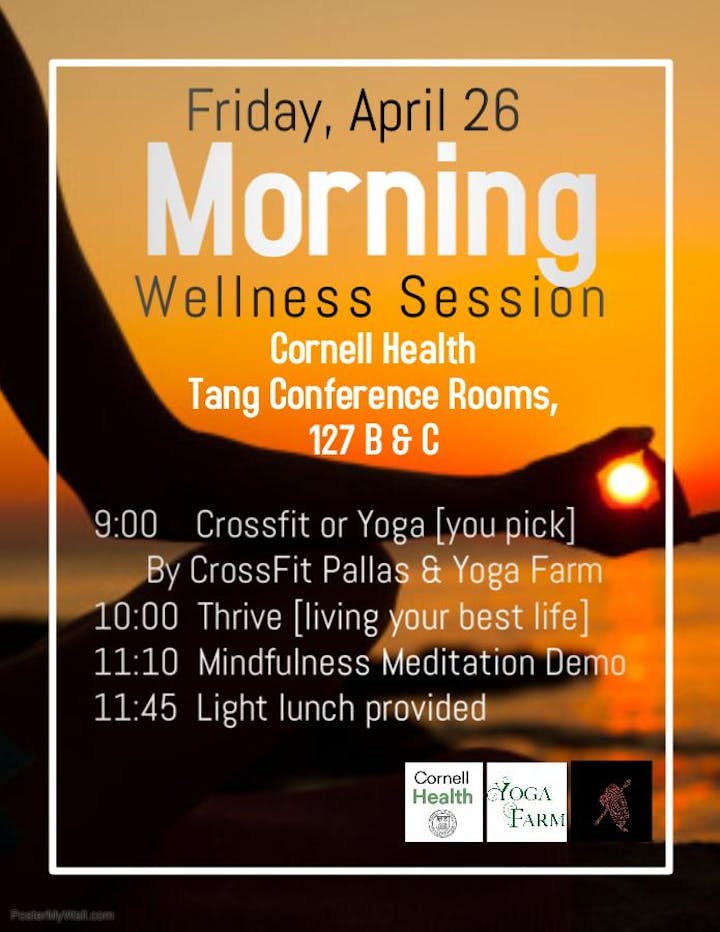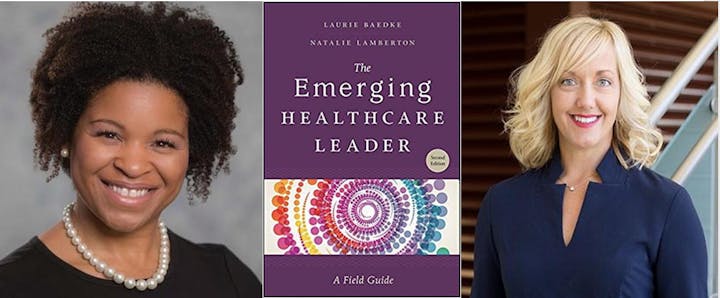 Keynote Presentation by best selling book authors, Natalie Lamberton & Laurie Baedke -- The Next Generation of Leaders
Building a successful career requires more than acquiring a particular set of skills or achieving the right credentials: It requires keen self-knowledge, performance, character and commitment
- During this session You will learn from the real-life experiences of two accomplished healthcare executives who have achieved significant success in the first decades of their careers
Executive Leadership Panel Discussion Proactively Managing Your Professional Development. Featuring Dr. Martin Stallone, Dr. Rachel Coicou, Dr. Natisa Dill, & Mike Hall
Structured Speed Networking Use the skills you've just learned and put them into practice in a structured environment. Network with local business leaders, healthcare professionals, faculty and invited guests!
KEYNOTE PRESENTATION AND LEADERSHIP PANEL HELD IN KENNEDY HALL, CALL AUDITORIUM
215 GARDEN AVE, ITHACA, NY - PARKING INFO
Book Signing Come with your personal copy of The Emerging Healthcare Leader and get it signed by the authors! Purchase your copy HERE
Reception Mix and Mingle with faculty, staff, students, locals and invited guests. Open wine bar. Catered by SERENDIPITY CATERING
BOOK SIGNING AND RECEPTION HELD IN MARTHA VAN RENSSELAER HALL, HUMAN ECOLOGY BUILDING COMMONS (HEB COMMONS),
116 RESERVOIR AVENUE, ITHACA, NY - PARKING INFO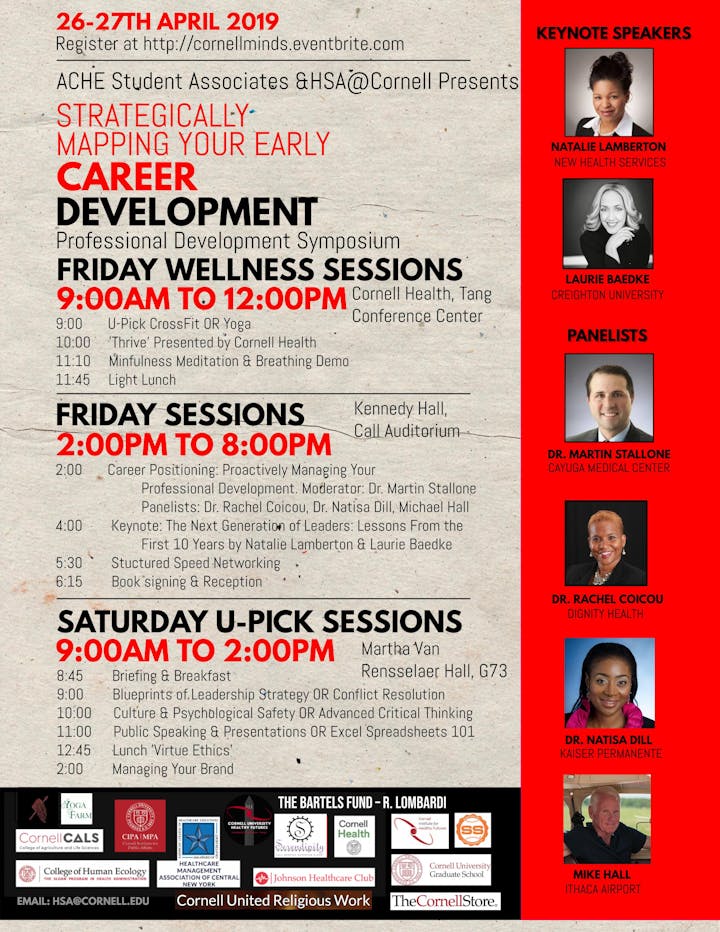 SATURDAY BREAKOUT SESSIONS INCLUDE 1 HR HANDS-ON LEARNING EXPERIENCES. PRESENTATIONS AND EXCEL SESSIONS ARE 1.5 HOURS
Blueprints of Leadership Strategy * Conflict Resolution * Culture & Psychological Safety * Advanced Critical Thinking * Financial Wellness
Management Presentations Led by Barbara Mink of the SC Johnson College of Business. Session requires a pre-assignment
Excel Spreadsheet 101 Led by Christina Homrighouse of the Industrial and Labor Relations School. Class takes place in a computer lab; attendance capped at 24
'Managing Your Brand' Led by Dr. Natisa Dill and Dr. Rachel Coicou will focus on the do's and don'ts of interviewing, resume review, and how to make your best impression
SATURDAY MORNING SEGMENTS HELD IN MARTHA VAN RENSSELAER HALL, G73
116 RESERVOIR AVENUE, ITHACA, NY - PARKING INFO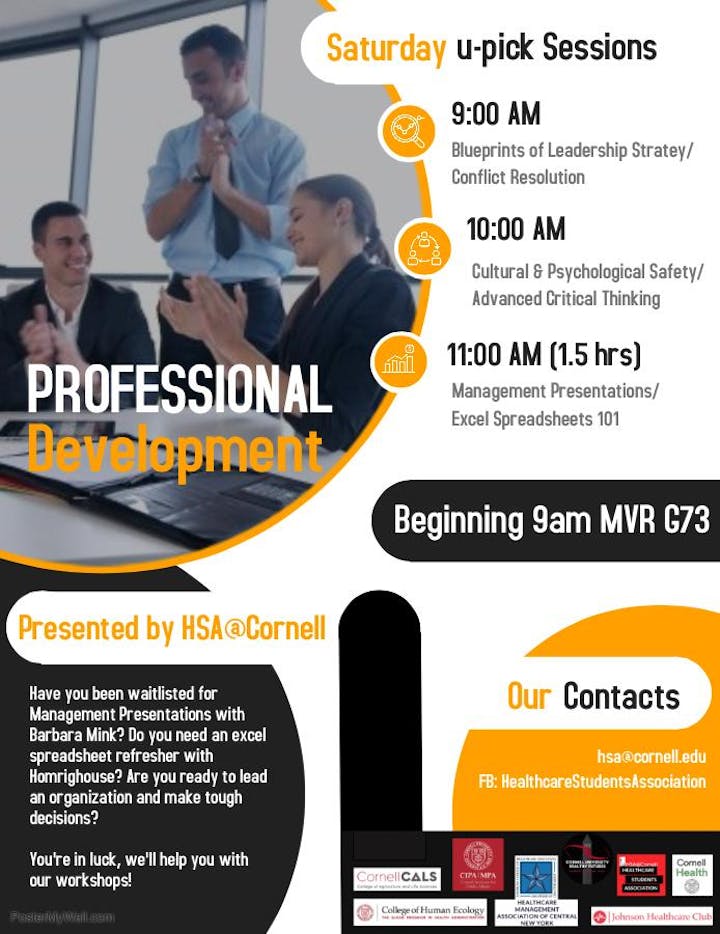 READ SPEAKER BIOS HERE
Contact: HSA@Cornell.edu or ache.student.associates@gmail.com