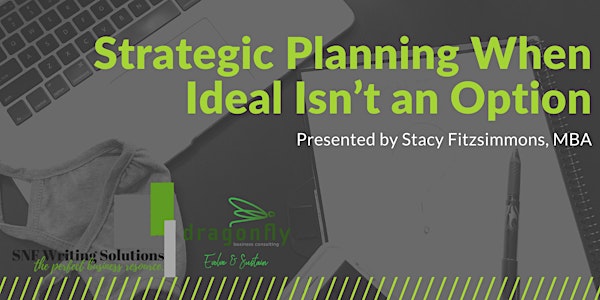 Strategic Planning when Ideal Isn't an Option
This is for those that need a strategic plan…now! A "how to" for the plan, data, monitoring, and facilitation. Be ready to learn and work.
About this event
A 4-day board retreat in a scenic lodge boasting of picturesque views and ample teambuilding opportunities – for many that's a nice daydream. For those of us that need a strategic plan…now! Let's talk about how you can develop a strategic plan – that works – while you also get your "everyday" responsibilities done.
In this session we will discuss the most important parts of a strategic plan, the data needed to create and support the plan, getting board approval of the plan, and ways to keep track of the plan components. We will also cover how to facilitate the process. You will leave with a basic template, an outline of your organization's strategic plan, and a to-do list to get your strategic plan together.
Come prepared to learn and work. Session worksheets will be needed to complete the in-session work, so check your email and have them available before you log in.
Not the Executive Director or VP officially responsible for crafting the strategic plan? That's okay! In the corporate world, even a basic strategic plan can set your division apart from the rest in productivity and delivery. For nonprofits, many grant applications now require a strategic plan to be attached to an application; be the hero when you can help make the strategic plan come together alongside the grant proposal.
This session requires extensive knowledge of organizational operations and mastery of workplan, evaluation, and logic model terms.
Stacy is the brilliant mind behind the concepts and services of SNF Writing Solutions. Harnessing her ability to remember insane detail and make intuitive and academic connections within information and systems, she is a true all-around business champion in program and organizational planning and implementation. Add her persuasion for seamless process and you just start to get a glimpse of her passion for serving the business community to make every organization more of what it wants to be.
Read her full bio at: https://snfwritingsolutions.com/the-team/stacy-n-fitzsimmons-mba/
No refunds will be issued. All registrants will receive a copy of the recording.
You must be login to Zoom with the email used for registration.