Description
Strategic and Operational Implications of the Medicare Access and CHIP Reauthorization Act
Thursday, May 10, 2018
MACRA significantly changes how physicians are reimbursed by Medicare and establishes new incentives that will drive payment and delivery reform efforts across the industry. The law will encourage clinicians to develop new care models and collaborations with plans and hospitals. The law is intended to continue the transition to value-based care, which represents a significantly different set of incentives for healthcare delivery and a different set of capabilities for healthcare providers. This long transition is fraught with new and untested strategies, investments in information technology, and new roles within the healthcare delivery team. The challenge for all healthcare providers is how to balance investment into this new system, while at the same time venturing into new models of reimbursement.
Agenda
Registration and Networking Open: 4:30 p.m. - 5:30 p.m.
Optional Tours of Moffitt Facilities: 5:00 p.m - 5:30 p.m.
Dinner: Served at 5:45 p.m.
Keynote Speaker: 6:15 p.m. – 6:45 p.m.
Panel Discussion: 6:45 p.m. - 7:45 p.m.
Q&A: 7:45 p.m. - 8:00 p.m.
Adjourn: 8:00 p.m.
1.5 Face-to-Face Credit Hours
Panel Members
Lori Foley is Principal at PYA
Lori leads PYA's Compliance and Business Support & Improvement services and is a member of PYA's Value Transformation Team. She combines industry experience in managing multiple hospital-owned practices with nearly two decades of consulting experience advising physicians, and organizations affiliating with physicians, in the areas of compensation, strategic planning, operational and financial improvement, and affiliation structures. Recently, Lori has been immersed in assisting physicians with understanding the volume-to-value transition, population health management, and deployment of chronic care and transitional care management structures so providers can use existing CMS-funded mechanisms to learn survival skills for value-based reimbursement.
Erik Pupo is Managing Director, Health Client Service Group at Accenture

Erik Pupo is a managing director in the Accenture Health Client Service Group, where he manages a large team of healthcare professionals within the Clinical and Health Management Services team. Erik develops and leads strategic and technological transformational initiatives as the Provider Technology Consulting lead for North America. In addition, as Accenture's Healthcare Blockchain lead for North America, Erik leads sales and implementation efforts with Accenture's payer, provider and life science customers on how to use blockchain technology to improve efficiencies within their businesses.
Erik has worked for over 20 years in healthcare, including senior positions in federal, state, and commercial healthcare programs and initiatives, and served in key leadership roles within the healthcare community. He holds leadership advisory positions within the American Health Information Management Association (AHIMA), the Healthcare Information and Management Systems Society (HIMSS), and the Healthcare Financial Management Association (HFMA), and regularly speaks at industry conferences on trends influencing the healthcare industry. Previously, he worked at Deloitte where he led several health IT initiatives for the Office of the National Coordinator for Health IT (ONC), the Department of Defense (DoD) and the Department of Veteran Affairs (VA).
Moderator
Terri Ashmeade, MD is Chief of the USF Division of Neonatology and Chief of Pediatric Quality, Safety and Access.
Dr. Terri Ashmeade is a neonatologist in Tampa, Florida and is affiliated with multiple hospitals in the area, including Johns Hopkins All Children's Hospital and Tampa General Hospital. She received her medical degree from University of Connecticut School of Medicine and has been in practice for more than 20 years. She is one of 32 doctors at Johns Hopkins All Children's Hospital and one of 11 at Tampa General Hospital who specialize in Neonatal-Perinatal Medicine.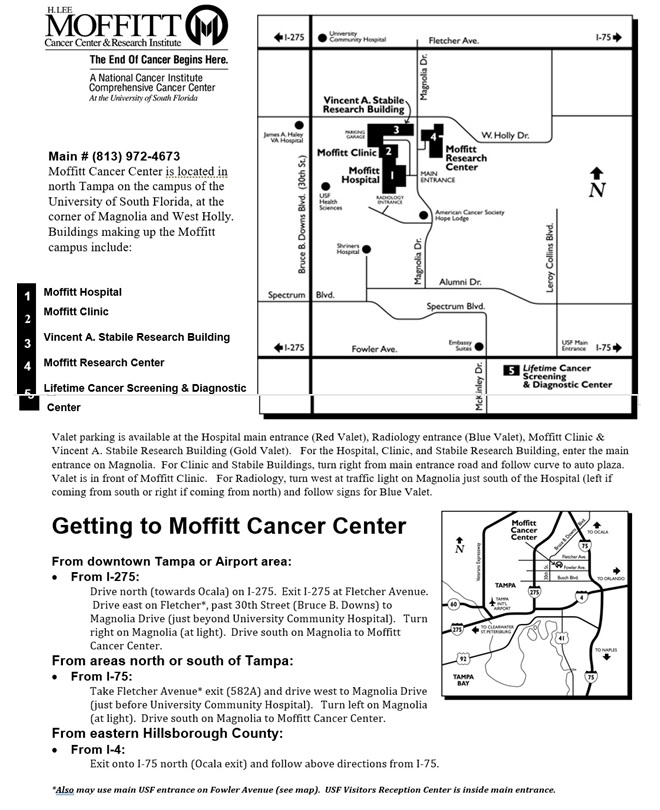 Main # (813) 972-4673
Moffitt Cancer Center is located in north Tampa on the campus of the University of South Florida, at the corner of Magnolia and West Holly. Buildings making up the Moffitt campus include:
Valet parking is available at the Hospital main entrance (Red Valet), Radiology entrance (Blue Valet), Moffitt Clinic & Vincent A. Stabile Research Building (Gold Valet). For the Hospital, Clinic, and Stabile Research Building, enter the main entrance on Magnolia. For Clinic and Stabile Buildings, turn right from main entrance road and follow curve to auto plaza. Valet is in front of Moffitt Clinic. For Radiology, turn west at traffic light on Magnolia just south of the Hospital (left if coming from south or right if coming from north) and follow signs for Blue Valet.
Getting to Moffitt Cancer Center
From downtown Tampa or Airport area:
From I-275
Drive north (towards Ocala) on I-275. Exit I-275 at Fletcher Avenue. Drive east on Fletcher*, past 30th Street (Bruce B. Downs) to Magnolia Drive (just beyond University Community Hospital). Turn right on Magnolia (at light). Drive south on Magnolia to Moffitt Cancer Center.
From areas north or south of Tampa:
From I-75
Take Fletcher Avenue* exit (582A) and drive west to Magnolia Drive (just before University Community Hospital). Turn left on Magnolia (at light). Drive south on Magnolia to Moffitt Cancer Center.
From eastern Hillsborough County:
From I-4:
Exit onto I-75 north (Ocala exit) and follow above directions from I-75.
*Also may use main USF entrance on Fowler Avenue (see map). USF Visitors Reception Center is inside main entrance.