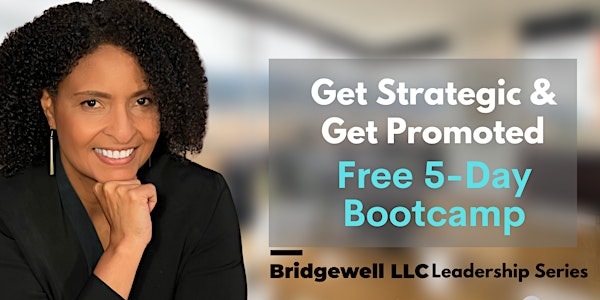 Strategic Leadership Bootcamp: How To Get Strategic And Get Promoted
Get strategic and get promoted. We have over 1400 participants enrolled on LinkedIn and we've opened the event up to the public. Join us!
About this event
Get Strategic.
Get Promoted.
Lead Yourself And Others.
The FREE 5-Day Strategic Leadership Bootcamp is coming just in time to make 2023 the year you get to the next level in title, income, and leadership effectiveness.
We have over 1400 participants enrolled on LinkedIn and have opened the event up to the public.
This particular bootcamp has a very specific focus, to empower accomplished professionals of all backgrounds to grow their income and their influence as leaders.
We want to close the pay gap, in particular for women and professionals of color where the gap is most prominent.
All are welcome.
This strategic leadership bootcamp is for you if you are...
Ready to contribute at a higher level
Tired of chasing credentials, accomplishments, and gold stickers to feel "ready"
Unwilling to compromise your values to have a satisfying career
Find yourself working really hard but not being recognized for your contributions
Committed to growing your influence and leadership effectiveness
An experienced professional with a minimum of 10-years of professional work experience
Willing to embrace discomfort and play full out with other leaders for 5 days
You're going to love the bootcamp and if you are willing to go all-in, you're going to have more personal and leadership growth in those 5 days than you've likely experienced in any other educational or leadership development experience - free or paid!
Only 30-minutes each day including lessons, workbooks, community, and strategies to quickly gain:
Clarity on how to invest your time/effort for faster promotions
Confidence in tough situations
An empowered approach to recovering from a set-back
Methods to ensure your accomplishments get noticed by the right people
Words to use to speak up powerfully even when you're terrified
BONUS: An extra "live-only" session on "how to say it"
How to ask for what you want
How to disagree tactfully
How to respond to criticism
How to ask for input / feedback / support
How to win-over difficult personalities
And more!
All are welcome.