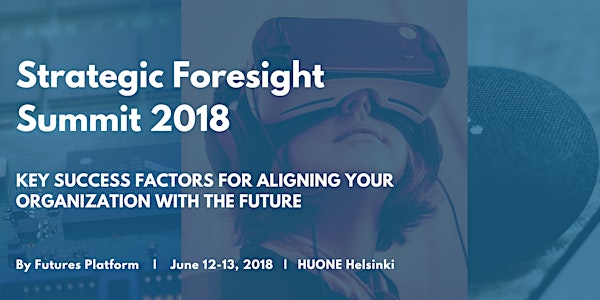 Strategic Foresight Summit 2018 - Key success factors for Aligning Your Organization with the Future
Date and time
June 12, 2018 · 8am - June 13, 2018 · 5pm EEST
Location
Huone Events Hotel Länsisatamankatu 16 00180 Helsinki Finland
Refund Policy
Refunds up to 7 days before event
Description
Is your organization prepared for the future? - Learn best practices & Get inspired!

How do leading organizations make sense of future opportunities and risks? How can managers and teams align plans with a rapidly changing world? Activities such as Horizon Scanning, Scenario Planning and Strategic Foresight in general help entire organizations navigate in a rapidly changing environment and develop future-proof strategies.

Join us for a seminar and/or workshop that brings together top experts in future foresight, and leaders and practitioners who tackle strategic planning challenges in organizations every day.

The presenters come from leading organizations in Finland and abroad, including Fiskars, Gemic, NormannPartners and Business Finland.

Sohail Inayatullah, acclaimed futurist, will be a keynote speaker! Not only will he be a speaker at the seminar, but he will also run a workshop on the second day, June 13, for those involved hands-on in strategic work.




Learn from case examples, get inspired by leading thinkers in strategic foresight – and network among like-minded people from around the world.
Expect concrete case presentations, practical tips and best practices, and down-to-earth discussions. While we will have high profile futurists and strategic thinkers on stage, this seminar is all about 'hands-on'.
You have the option to attend only the day 1 seminar or the day 2 workshop OR to attend both days (you'll make this choice when selecting your ticket type).
Your time away from office is valuable, so our concrete program will leave you with hands-on benefits:
Learn how others have explored the future and made strategic plans based on that

Make connections with people who share the interest of preparing for the future

Get inspired by some of the best brains in strategic foresight

Return home with concrete ideas

Seminar program, Day 1
08:00-09:00 Registration
09:00-09:15 Opening remarks from the seminar host - Saku Koskinen, Sales Director Futures Platform
09:15-09:45 "Key Success Factors of Building a Foresight Program" Markko Vaarnas, Chairman, Futures Platform
09:45-10:30 "Scenario planning and its use in strategy, in a turbulent world" Gerard D. Drenth, Senior Partner and Managing Director, NormannPartners
10:30-11:00 Refreshment & Networking Break
11:00-11:30 "Using strategic foresight to design the future customer experience – case Lindström & Roger Studio" Jussi Leskinen, Director, Customer Experience Management and Operations at Lindström & Mika Raulas, Business Designer at Roger Studio
11:30-12:00 "Foresight at Fiskars Corporation" Satu Kalliokulju, Head of Consumer Excellence, Fiskars Oyj
12:00-12:30 "Conducting a Future Deep Dive" Paul Hartley, PhD, Director of Futures at Gemic
12:30-13:30 Networking lunch
13:30-14:00 "Building a Continuous and Systematic Foresight Program" - Soile Ollila, Business Finland
14:00-14:30 "Success or failure? An analysis of past alternative future efforts" - John Geis, Director, Airpower research Task force for Air University.
14:30-15:00 "Case studies in the practice of foresight" - Sohail Inayatullah, PhD, Proffesor of Future Studies
15:00-15:30 Refreshment & Networking Break
15:30-16:30 Interactive Panel Discussion: "The Future of Foresight"

Panelists: Gerard D. Drenth, John P Geis, Sohail Inayatullah, Satu Kalliokulju,
Moderated by Dr. Tuomo Kuosa, Futures Platform
16:30-16:45 Conference closing
17:00-19.00 Networking event

The seminar is targeted for:
Leaders who are keen to see what's behind the nearest corner and make educated decisions based on thought-through future scenarios

Foresight practitioners and analysts who value the opportunity to meet peers and learn from the best experts

Professionals generally interested in the fascinating alternative futures and the methods to understand them
Future foresight is equally important in private companies and public organizations making plans that reach 5 to 10 years ahead, or beyond. Whether you're working in a city organization, making strategic plans for the future, or in a corporation running a foresight or strategic planning program, this seminar will give you lots of food for thought and hands-on ideas to start implementing from day one.

Are you involved hands-on in the long-term strategy work of your organization?
This is a rare opportunity to learn foresight methods and tools from a world-class expert in Helsinki!
Professor Sohail Inayatullah will run a full-day workshop on June 13 and will go through the theory of Causal Layered Analysis (CLA) and other proven methods of foresight. The workshop content is described in detail below.
Join a group of peers from other forward-looking organizations and mark June 13 already in your calendar. This workshop will be a valuable investment in your foresight toolkit. Also, spending a day with like-minded professionals will give you lots of opportunities to network and learn from peers as well.
Watch Sohails casual layering analysis talk at TedX
Who should attend?
This workshop is geared at people whose primary job it is to perform strategic analysis and present findings to decision-makers about the future opportunities and threats.
The workshop will be extremely useful for foresight or intelligence analysts, consultants, subject-matter experts, or for instance product owners who are tasked with long term product strategies. The workshop will also benefit professional working in the public sector or NGOs that are responsible for long term strategic planning and analysis to support it.
Workshop goals
Enhance the effectiveness of long range planning through the use of appropriate futures methodological tools including the futures triangle, causal layered analysis, macro and micro scenarios, visioning and backcasting.
Further enhance the capacity of those in the sector to transform their organizations toward futures-orientation
Clarify trends – particularly changes in societal values and other critical drivers - impacting the organization or sector
Clarify weights impeding the organization in its attempt to create desired futures
Empower leaders and managers to create the futures they desire and the futures the broader community desires.
Develop forecasts, emerging issues, scenarios, preferred visions and backcasts with respect to changing societal values and transport sector responses and frameworks.
Enhance the effectiveness to deliver institutional and organizational visions
Specific outcomes for participants attending the workshops are as follows:
Outcomes
Understanding and familiarity with methods used to develop preferred, probable and possible futures.

An understanding of causal layered analysis and its use in understanding core metaphors

Capacity to analyse and develop the preferred vision and policy for institutions and organizations.
Capacity to use futures methods to better understand the probable, possible and preferred futures

Day 2: Workshop on Foresight Methods
08:00-09:00 Registration
09:00-10:30 Part 1: Case studies in foresight: what works and the Six pillars approach to Futures Studies
10:30-11:00 Refreshment & Networking Break
11:00-12:30 Part 2: The Six pillars foresight process: methods and tools to map the futures 1-3/6
12:30-13:30 Networking lunch
13:00-15:00 Part 3: Foresight methods and tools 4-5/6
15:00-15:30 Refreshment & Networking Break
15:30-16:30 Part 4: Foresight methods and tools 6/6, reflections and conclusion
(We hold the right for program changes)

---
FAQs
How can I contact the organizer with any questions?
Please send an email to saku.koskinen@futuresplatform.com
Can I update my registration information?
Yes but please contact us at saku.koskinen@futuresplatform.com
Is it ok if the name on my ticket or registration doesn't match the person who attends?
No, please make sure the ticket information matches with the attendee.
About the organizer
Futures Platform™ is a web-based tool that helps organizations build a holistic view of their own future and make winning choices in a changing world. The founding team at Futures Platform has a unique combination of expertise in market intelligence, foresight work, co-design, and software to support team work in organizations. Futures Platform is often used to support work related to strategic planning, product and services innovation, marketing development and thought leadership, to name some of the most usual application areas.