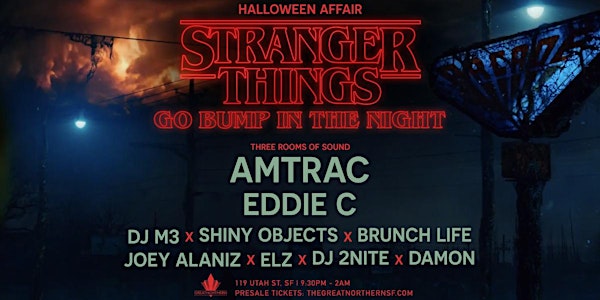 Stranger Things Go Bump In The Night w/ AMTRAC // Eddie C In The Loft
Stranger Things Go Bump In The Night: Halloween w/ AMTRAC // Eddie C In The Loft
When and where
Location
The Great Northern 119 Utah St San Francisco, CA 94103
Performers
Headliners
More Performers
Brunch Life
DJ M3 aka Makes Me Move
Elz
Joey Alaniz
Shiny Objects
DJ 2Nite
Damon
About this event
Step into the peculiar world of Stranger Things for one night with us. Enter the 1980s-era land of supernatural phenomena, gateways to other dimensions, demigorgons, Dungeons and Dragons, and extraordinary surprises.
Join Eleven and her fearless team of explorers for a night of dancefloor discoveries with three stages of sound! Get ready for Amtrac, Eddie C in the loft and more. Plus, step outside into our 80's Silent Disco Graveyard for a ghouly evening affair!
We're celebrating Halloween, and all things that go bump in the night.
// FEATURING //
~ Amtrac
https://soundcloud.com/amtrac
~ Eddie C
https://soundcloud.com/eddiec
~ Brunch Life
https://soundcloud.com/brunchlife
~ DJ M3 aka Makes Me Move
https://soundcloud.com/djm3sf
~ Elz
https://soundcloud.com/djelz
~ Joey Alaniz
https://soundcloud.com/joeyalaniz
~ Shiny Objects
https://soundcloud.com/shinyobjects111
💀80's Silent Disco Graveyard hosted by Harder, Better, Faster, Stronger with DJ 2Nite and Damon💀
***
// ABOUT AMTRAC //
Amtrac, real name Caleb Cornett, has been pushing his creative limits as a producer, DJ, musician and sometimes-vocalist since 2008. The multi-talented artist can electrify an audience, be it with a moving live music performance or by working dancefloors up to a sweat with his driving yet funk-filled DJ sets – it's his mantra to be as diverse a DJ as possible, to connect with the crowd and to keep them moving at all costs.
Raised in Morehead, Kentucky on a diet of deep cuts by Pink Floyd and Led Zeppelin, Caleb was lured to the dance realm by crossover acts such as The Prodigy and Chemical Brothers. Both sets of influences show on his debut LP, Came Along (2010), a 13-track adventure awash in post-punk influences and indie dance charm. From there, he branched out even further with Hey There Kiddo (2012), an all-sample opus with deep disco roots inspired by one of his favorite albums of all time, Since I Met You by The Avalanches; and The Scheme EP (2012) explores underground deep house vibes with dark, funky rhythms. Recently he released singles "Those Days" featuring vocals from Stevie Wonder & Marvin Gaye on legendary UK dance label Toolroom Records. In 2016 came the release of the "Lost In Motion" EP, providing a snapshot of where Amtrac is at musically at the moment. The EP includes "Long Nights" which saw Cornett once again lay down his own vocals.
But as impressive as his original works may be, one can't discuss Cornett's body of work without mentioning what may well be the calling card of his career: the remix. An Amtrac remix has become a coveted commodity in today's music business – from Majors like Interscope, Warner Bros & Sony to tastemaker labels like Kitsune, Defected, and Ministry of Sound.
Never content to settle, Amtrac's musical mood and influences change with each passing season. His ambition and curiosity keep him locked on the edge, always happy to experiment with new techniques and sounds. His music is what he feels in the moment. Simply put, his constant evolution comes from a hatred of boredom and a love for his labor. It's just not in his nature to stagnate.
// ABOUT EDDIE C //
Raised in Southern Ontario somewhere between Detroit and Montreal, Eddie C began his experiments in music some time in the late 80s. Inspired first by Hip Hop and the burgeoning Acid House scene, he began making tape edits of late night radio and shortly thereafter began visiting record shops and warehouse parties to discover the music first hand. Record collecting has since been a way of life for the man, followed closely by an opposing passion for skiing which lead him to his 10 year sabbatical in the Rocky Mountains of Canada. With plenty of time over the past decade for reflection and research in his log cabin studio, C has recently re-located and reconnected with the electronic music community in Berlin. His raw yet sophisticated approach to production has yielded countless releases and remixes since just 2009 and his now renowned eclectic and passion-fueled DJ sets have garnered a cult following world wide.
Eddie C could well be described as one of the Slo Mo/ Edits/ Disco scene's heaviest hitters. In just over three years he's featured on or been the main attraction with over 25 original EPs and singles and countless remixes. Having graced labels like Jiscomusic, Endless Flight, Crue-L, Sleazy Beats, Wolf Music, 7 Inches of Love & Home Taping, amongst others, with his deep, lush and beautiful grooves, C is constantly name checked by every major playa this end of the underground. In 2011 he released his first full length album "Parts Unknown" on Endless Flight and later that year began releasing new projects on his own Red Motorbike imprint. The fact is, the guy hardly needs an introduction.
***
The Great Northern | 119 Utah St.
21+
Void Sound System
Follow The Great Northern on social media:
www.facebook.com/thegreatnorthernSF/
www.instagram.com/greatnorthernsf/