Sometimes, fact is stranger than fiction. Curious about the weird and wonderful world around us? Indulge your imagination in a church crypt!
About this event
*** Slot B is fully booked, please book another slot ***
At St Dominic's theatre, we have a fun-packed two-day program, carefully chosen to indulge your imagination. This year, to meet COVID-19 guidelines, our program has been divided into two hour slots which can be booked individually. Grab your seats now and strap in for the ride!
Award-winning science communicator Dr Anthony Galea and S-cubed will each be performing larger-than-life science shows. Student organisation MBSA will be here with a brand new event all about the science behind your favourite Marvel superheroes. How many protein shakes did The Hulk drink to achieve that vibrant green muscle mass? Find out from the experts!
If you're fascinated by the natural world, you're in for a treat! In Meet the Aliens, we'll be introduced to some live invasive species and taught how to spot them in the Maltese islands. One of our most popular acts, The Shark Detectives, will be here to share the secrets of the mysterious fish that circle our islands. Next, we'll get down to the nitty-gritty with The Genome Wheel, where we'll see how DNA encodes the life on our planet and forms the basis of evolution.
Another highlight is the "Game of Talents", a brand-new feature for Science in the CIty 2021. If you like a challenge, you'll love this chance to get chatting to researchers and see if you can guess their field of study.
For all of this and much, much more, book your place at Stranger Than Fiction: St Dominic's theatre
---
This event is part of the Science in the City Festival running between the 24–25 September. Check out our website for our pre-Festival Events, Live Virtual Festival, Real World Festival in Valletta, and Explore the Arches content.
For the full programme of events, head to the website and our FB events tab.
For regular updates please follow our Science in the City social media pages:
Facebook: ScienceInTheCityMalta
Twitter: @SciCityMalta
Instagram: @scicitymalta
LinkedIN: Science in the City
Science in the City is part of the European Researchers' Night, an EU-wide celebration. It is co-funded by the European Union's Horizon 2020 Research and Innovation Programme, under grant agreement No 101036030, Arts Council Malta (ACM) and a number of corporate sponsors. It is recognised by Europe for Festivals and Festivals for Europe (EFFE).
This communication reflects the author's view and the European Commission is not responsible for any information it contains.
Detailed Programme for this area below
To book click on register above and select the slot you want, you can choose 1, 2, or 4 tickets.
*** Our seating system is not working properly. Book any seat to reserve a place, but your actual seat will be assigned when you arrive at the venue. We can take 80 tickets in each slot. The slots will be closed once this number is reached. If you see a slot that has more than 80 tickets booked, please choose another one. We have your safety at heart. ***
Slot A (4pm Friday 24th)
Little Einsteins (S-Cubed)
Who we Are and our Society (MMSA)
Science and Superheroes (MBSA)
Slot B (7pm Friday 24th)
Little Einsteins (S-cubed)
SciAntific (Dr Anthony Galea)
Too Hot to Handle (ESA)
The Shark Detectives (SharkLab Malta)
Slot C (9:30pm Friday 24th)
FameLab Malta (Esplora)
Slot D (10am Saturday 25th)
Science and Superheroes (MBSA)
The Shark Detectives (SharkLab)
Cars and Dancing Robots (UESA)
Little Einsteins (S-Cubed)
Slot E (1pm Saturday 25th)
Too hot to Handle (ESA)
LIght Lux and Dawl (Aquabiotech)
Science and Superheroes (MBSA)
The Shark detectives (SharkLab)
Slot F (4pm Saturday 25th)
SEA-EU's Makeathon -(SEA-EU)
Too Hot to Handle - (ESA)
Light Lux and Dawl (Aquabiotech)
Eat Right, Future Bright (MMSA)
Slot G (7:30pm Saturday 25th)
Game of talents
Who we Are and our Society (MMSA)
The Genome Wheel (UM Biobank)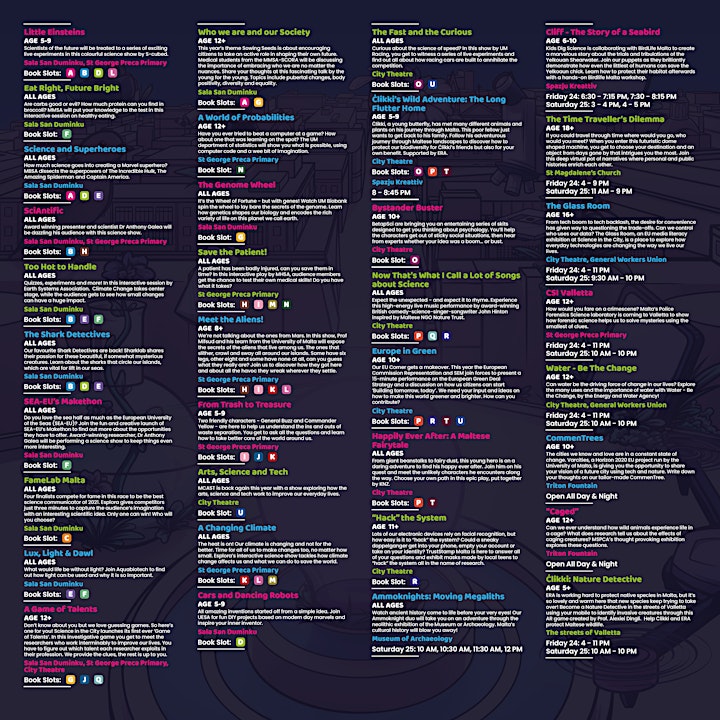 The Science in the City 2021 festival invites your feedback
We partner with Qualia Analytics (qualiaanalytics.org), a research coordinator and data processor, to help us gather important feedback about the Science in the City 2021 festival. When you book to attend this Science in the City 2021 festival event, we would like to invite your thoughts and views before and after you attend any festival events. For this purpose, we have authorised Qualia to send you an automatic invitation using the email provided at the time of your event booking, and then again after the festival ends.
To show our gratitude we will automatically enter you in a prize draw with the opportunity to win one of five €10 cash prizes. Your responses to this research will help us to better understand the diversity of those attending the Science in the City 2021 festival. We will use the information you provide to improve our programmes, services and experiences for other festival attendees like you. Your participation in this research, and any personal information you provide, is voluntary (you may withdraw at any time). Responses will be automatically anonymised prior to external reporting.
We are compliant with the General Data Protection Regulation (GDPR). You may contact us if you have any questions about the research we are conducting for the Science in the City 2021 festival, please email info@scienceinthecity.org.mt
Organizer of Stranger than Fiction — St Dominic's Theatre, Vall