Stranger Nights: Synthwave, Darkwave & Modular Halloween Party

Monday, October 29, 2018 at 7:00 PM

-

Tuesday, October 30, 2018 at 1:45 AM (PDT)
Event Details
HALLOWEEN GETS STRANGER....

WHEN? MONDAY, OCTOBER 29, 2018 7pm-1:45 am

WHERE? THE AIRLINER CLUB 2419 N Broadway Los Angeles, CA 90031
(It should be also noted that the The Airliner club with it's unique layout of 2 stages on 2 floors with 2 bars and a spacious outdoor and outdoor stage is scheduled to be sold by the owner of the Airliner. This event will be one of the last of events in it's current ownership format!)
WHAT? STRANGER NIGHTS: SYNTHWAVE + MODULAR is an event coordinated by emerging synth and modular focused artists whose music is inspired by the recent zeigeist of synthwave. Halloween seemed a like perfect excuse to celebrate not only the spooky show but the synthwave music genre all at the same time. Synthwave is readily consumed thanks to the amazing music of the Netflix show Stranger Things composed by Michael Stein and Kyle Dixon of the electronic band Survive. Synthwave often pays homage to 1980s artists and film composers such as Vangelis, John Carpenter and Giorgio Moroder to name just a few.

WHO IS ON THE SYNTHWAVE STAGE?
LUCKYANDLOVE
ELEVATE THE SKY
MORTAL BOY
MAICO
THE PROBLEM OF TIME

WHO IS ON THE MODULAR STAGE?
ANIMUS,
OSC1NATION,
PSEUDO BEAST

WHO IS ON THE DJ STAGE? DJ ALI DE MORGOLI

WHO IS ON THE PATIO STAGE? STRANGER THINGS HALLOWEEN COSTUME CONTEST!!! (COME AS A STANGER WINNER TAKES HOME CASH)

WHO IS THE SPONSOR? STRANGER SPONSORS: SYNTHPLEX
WHO ARE THE VENDERS? TO BE ANNOUNCED! 

WHO CREATED THE ART ON THE POSTER? VINCENT TRINIDAD 

COUNCIL OF SYNTH BANDS:

LUCKYANDLOVE
Recording their first vinyl LP in 2015, attending Moog Fest 2016, and rereleasing their LP with help from Southern Record Distributors UK on a global level last June 2017, the band has had some attention from the Synthwave and Dark Wave scenes alike. They recently released a single called, Summertime Frolic available for free on luckyandlove.com. They plan on releasing another 3 track EP and a 8 track LP through SRD UK (all written and recorded and just hoping to raise more funds for PR and touring). Their next planned event after Stranger Nights on Oct 29th is Dave Cantrell's Out From the Shadow's Fest in Portland, Oregon and Death Wave Records Fest in Pioneertown both scheduled for April 2019.
"Impulsive electro bliss in a similar stratosphere with Ladytron, Glass Candy or Le Tigre... This is rich intriguing synthtastic mastery" – Big Takeover Magazine
 
"Calling to mind the work of Depeche Mode and Washed Out... envelopes the listener and takes them on a sci-fi journey" – Overblown Magazine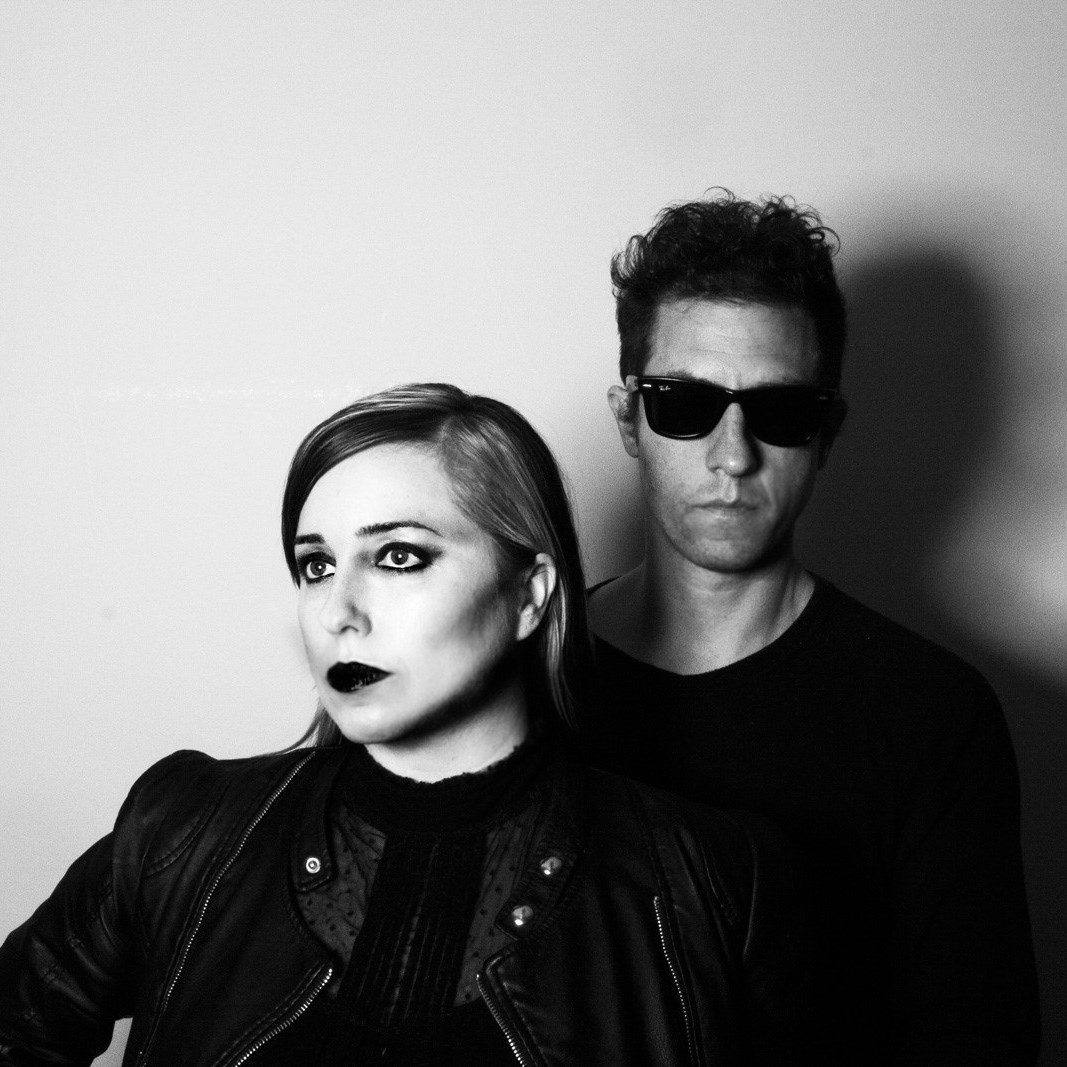 "The single "Sexy" is fuckin great"  – Mark Burgess (The Chameleons)

"Metropolitan mode vanities reach galactic new levels. The oscillation between the asphalt synth streets and interstellar outer realms feels closer than ever, as Lucky + Love ride out their Ryan Gosling film fantasies like a science fiction rocket of building emotions out to outer reaches of our galaxy & minds" – Impose Magazine
 
"Riveting… an intriguing undertaking, which somehow ends up being equal parts chaotic and comforting" – PureM Magazine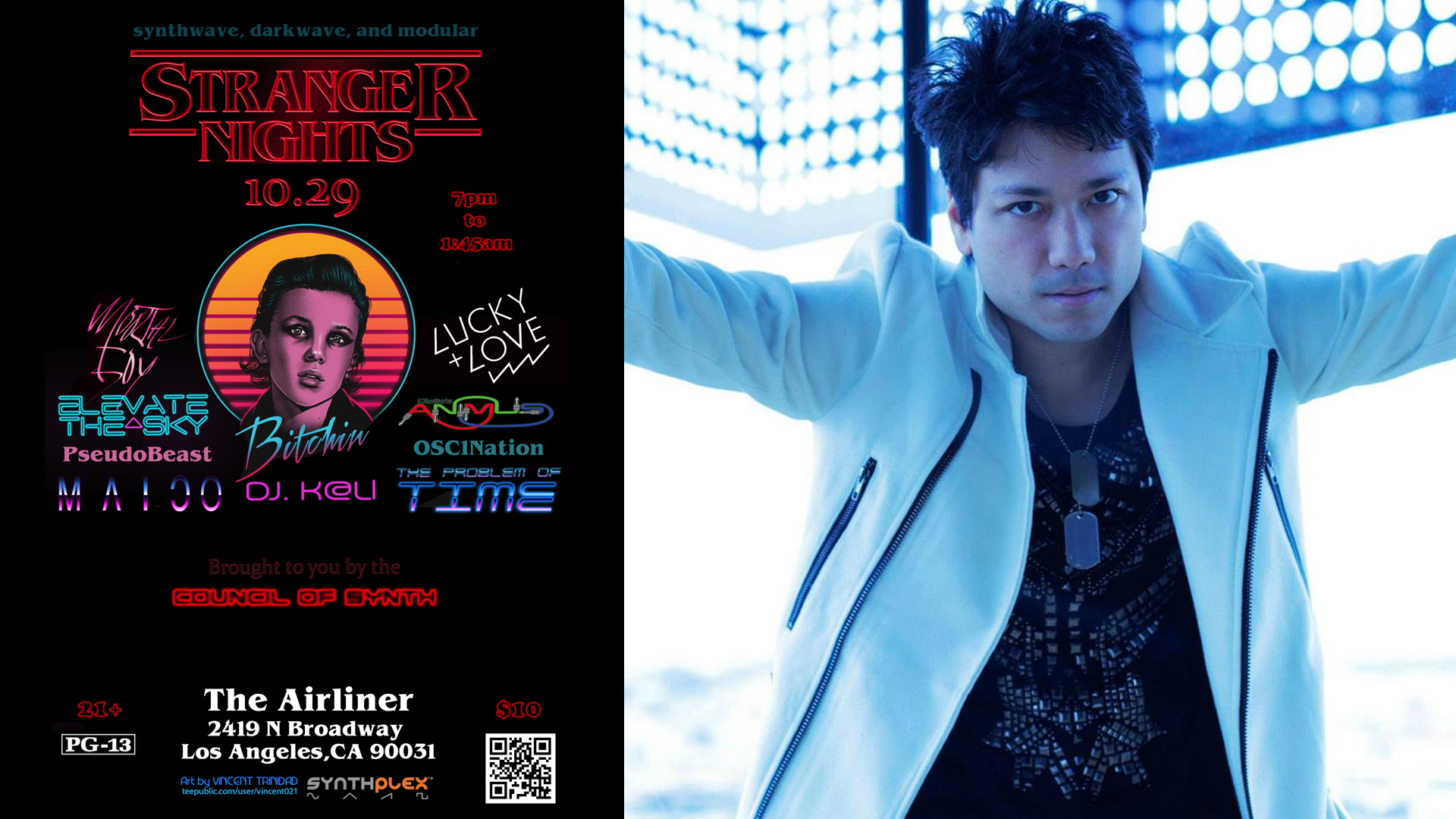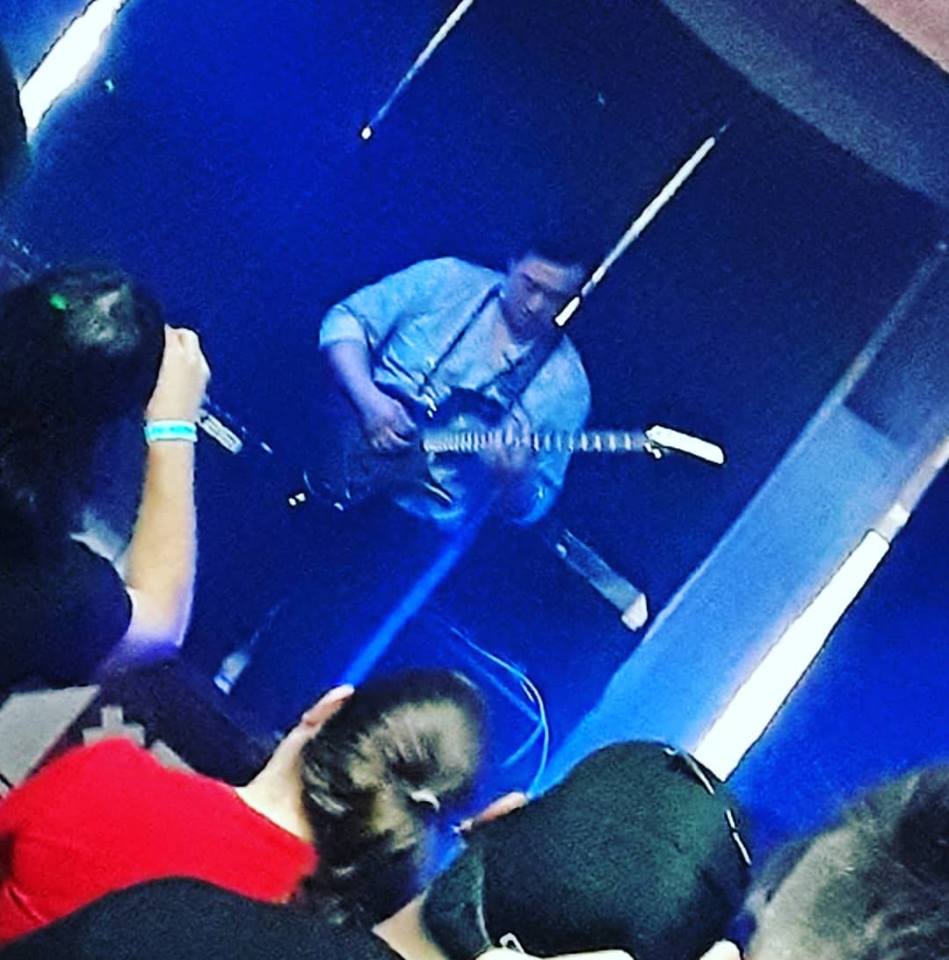 MODULAR STAGE?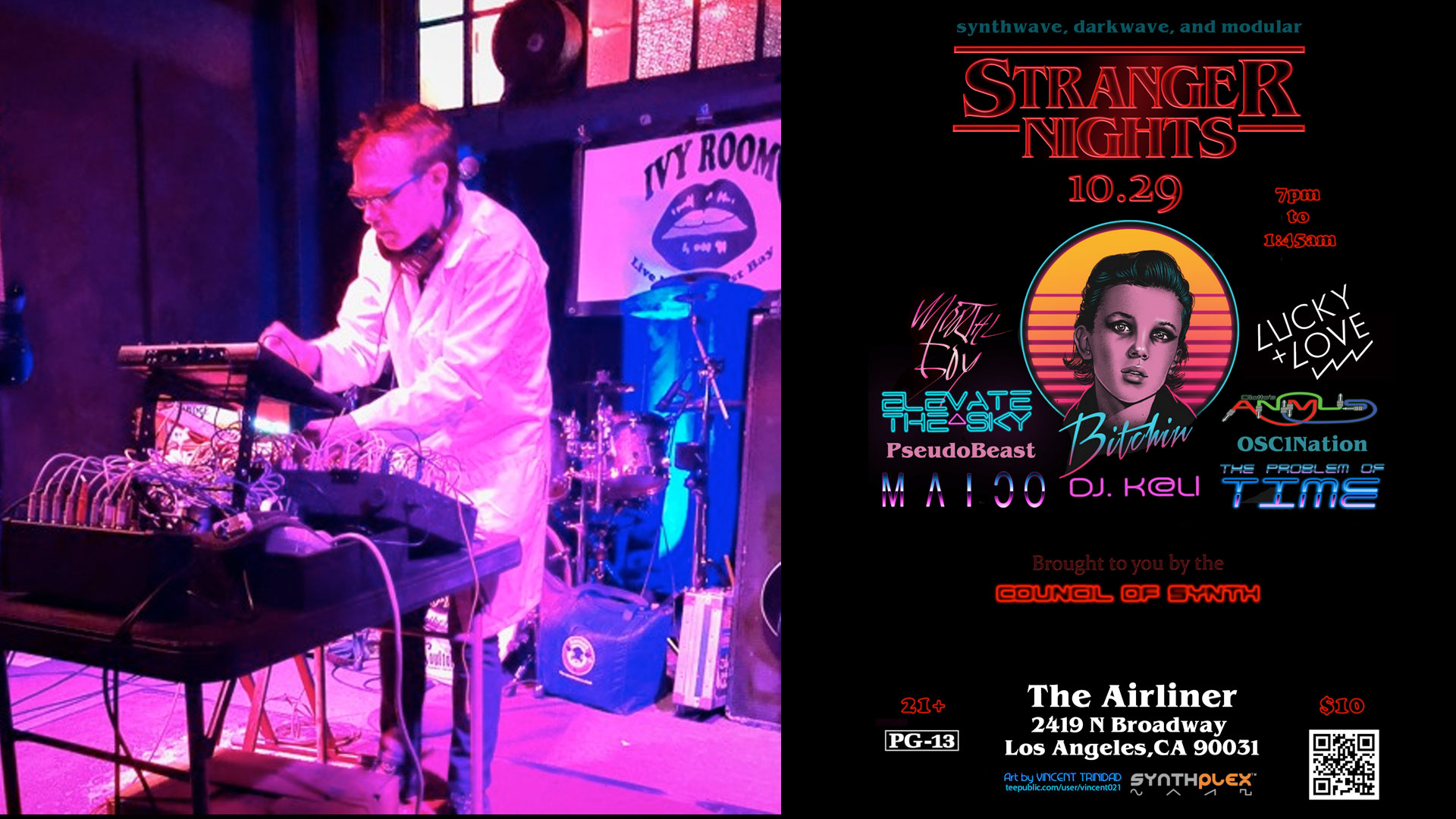 GIOTTO'S ANIMUS OSC1NATION PSEUDO BEAST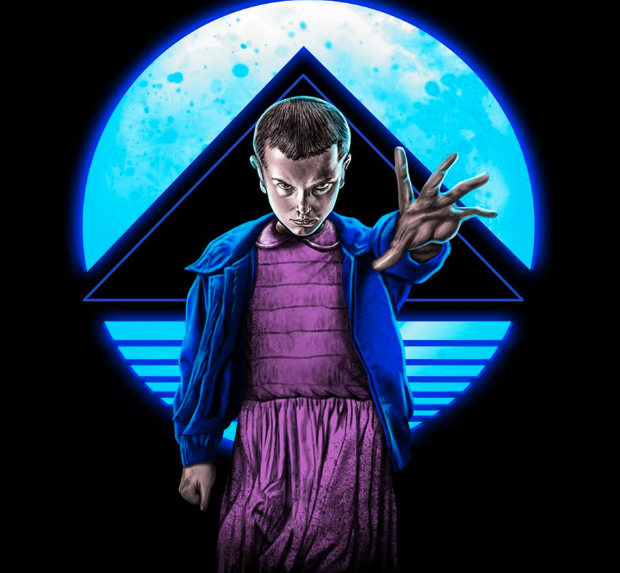 WHAT'S COOKING? COFFEE, EGGOS, WHISKEY SYRUP

WHO PUT THIS TOGETHER? ARTISTS FORMING THE THE LA COUNCIL OF SYNTH

THIS EVENT IS MADE FOR FANTATICS, TICKETS may sell out. Presale tickets will contribute to bringing the UPSIDE DOWN to the AIRLINER (decorations)

21+ only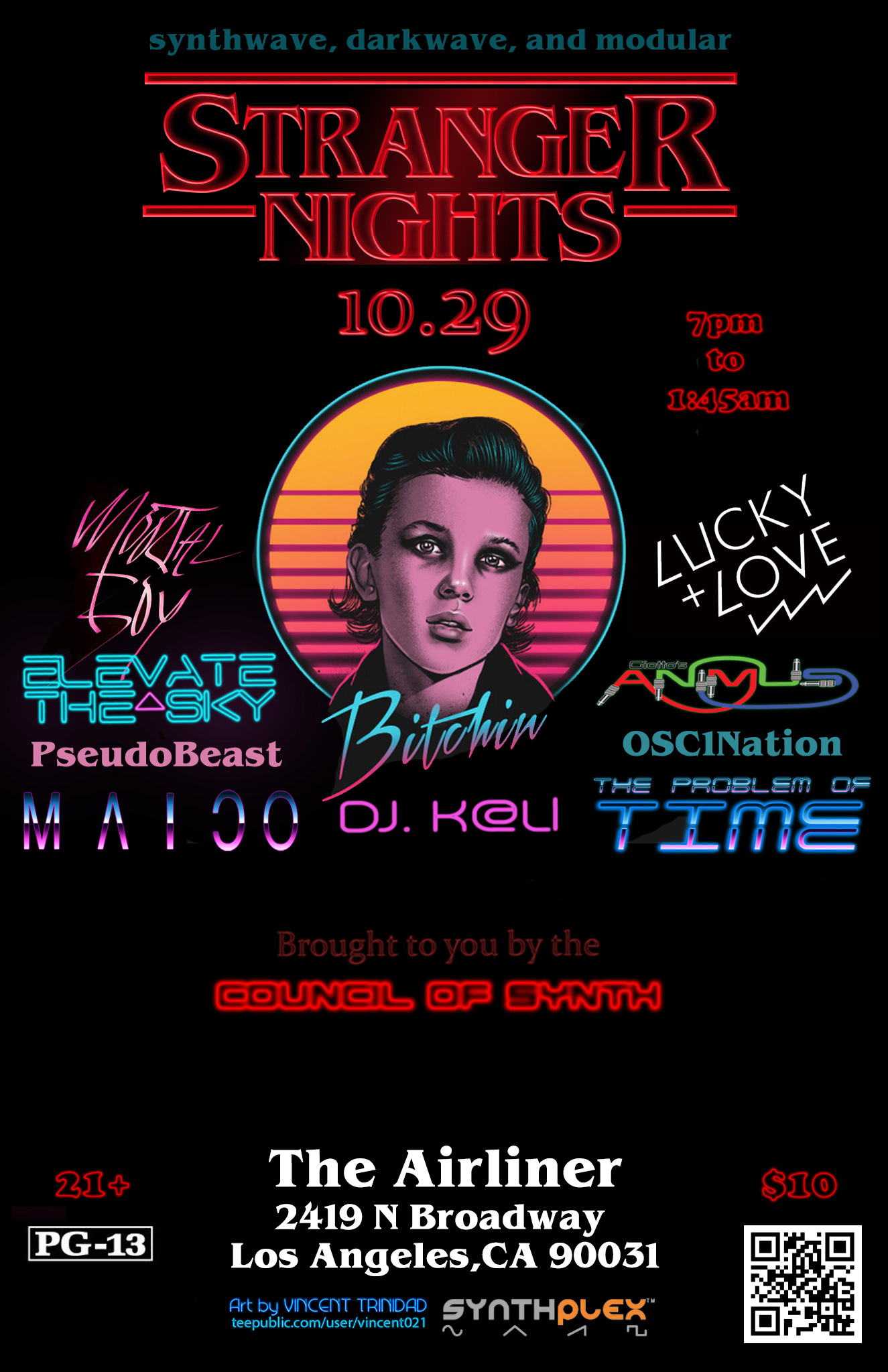 WHO IS COUNCIL OF SYNTH?

Emerging LA artists Mortal Boy, The Problem of Time and Elevate The Sky performed the first night in Ventura at this year's OUTRUN THE SUN Synthwave Festival 2018.  LUCKYANDLOVE performed ORTS's second night located at club 1720, in DTLA. The four acts (all recently contributed tracks for the latest NeoWave compliation to raise funds for promoter Neo-LA) met up to celebrate, and were all on producer John Fryer's (This Mortal Coil) guest list for his DJ set at The Airliner. Along with synthwave emerging artist MAICO and others, they began to brainstorm new show ideas, and they eventually came up with a synthwave manifesto after several rounds of drinks. Later, they invited Modular on the Spot members to the group, tapping the shoulders of follow artists: Animus, OSC1Nation and PSEUDO BEAST.

The coheasive 8 synth focused acts come together to form the LA Council of Synth, an artist-run collective and secret society of synth-focused bands all residing in Los Angeles.  Given that many acts consist of one to three performers, the eleven artists ( 8 acts all together ) come to vote democratically and make group decisions on the organization of their events with hopes to perform together as a 'collective' again for unconventional weddings, corporate events and plan on delving into some grant writing to help release future compilations.  The group comes together to help eachother, doing what they'd normally do alone like distributing event flyers, holding down the merch table, or helping eachother with lights and smoke.
Save This Event
When & Where

The Airliner
2419 N Broadway
Los Angeles, CA 90031


Monday, October 29, 2018 at 7:00 PM

-

Tuesday, October 30, 2018 at 1:45 AM (PDT)
Add to my calendar