Stranger Nights: Live Synthwave, Darkwave, Techno, Electronic artists and DJs with on 2 Stages & 2 floors. It's a Stranger Things Dance Party at The Airliner!

Saturday, January 12, 2019 at 7:00 PM

-

Sunday, January 13, 2019 at 2:00 AM (PST)
Event Details
STRANGERNIGHTS: NEW DAWN FADES returns!
Saturday Night 7pm-2am 1.12.19
General Admission $10 today / $12 in 2019
8 live sets/ glitch art projections / 2 DJ sets
tee shirt designers / mini record store/ food vendors
3 stages/ patio / 2 cocktail bars
CALICO SKY, LA/Fortworth (Moby)

New Wave / Shoegaze / Electro Cowboy

DJ FANCY FEAST (Shelina)

https://www.facebook.com/HappyHouseSubClubinLA

postdisco, krautrock, electroclash, postpunk

STEILACOOM, SF (Dave Han of Astral)

Goth, darkwave, synthwave

DJ HUMBERTONE

Spins post-punk, darkwave, newwave (Contact! Radio Host) RadioEspacio.org Saturdays. 4-6pm

LUCKYANDLOVE, LA

Darkwave Electro

MAICO, LA

Insta: @c_maico

Synthwave

MORTALBOY, LA

Post-punk, darkwave, newwave

MOON RIOT, LA

soundcloud.com/moonriotofficial

Electronic

THE PROBLEM OF TIME, LA

insta: @theproblemoftime

Synthwave

TRANSOVERLOAD

https://www.facebook.com/pg/transoverload

Electronic, Techno

BARNEY MCCANN, LONDON UK

Glitch art projections/visuals
Poster Art by
Szebeni Péter

https://www.deviantart.com/peterszebeni
Lineup and stage times, art vendors, food and other sponsors to be announced!
Find friends to carpool with, find transportation and directions with the MyFanZone page!
https://tinyurl.com/carpooltostrangernights
A word from our sponsors:
RECALL FM, synthpop, outrun and italo disco network promoter (Official Stranger Nights Sponsor)
recallfm.com
SYNTHPLEX, Synth fest at the L.A. Mariott Convention Center March 28-31 in Burbank (Official Stranger Nights Sponsor)

synthplex.com
8BitLA (Stranger Nights Sponsor)
http://8BitLA.com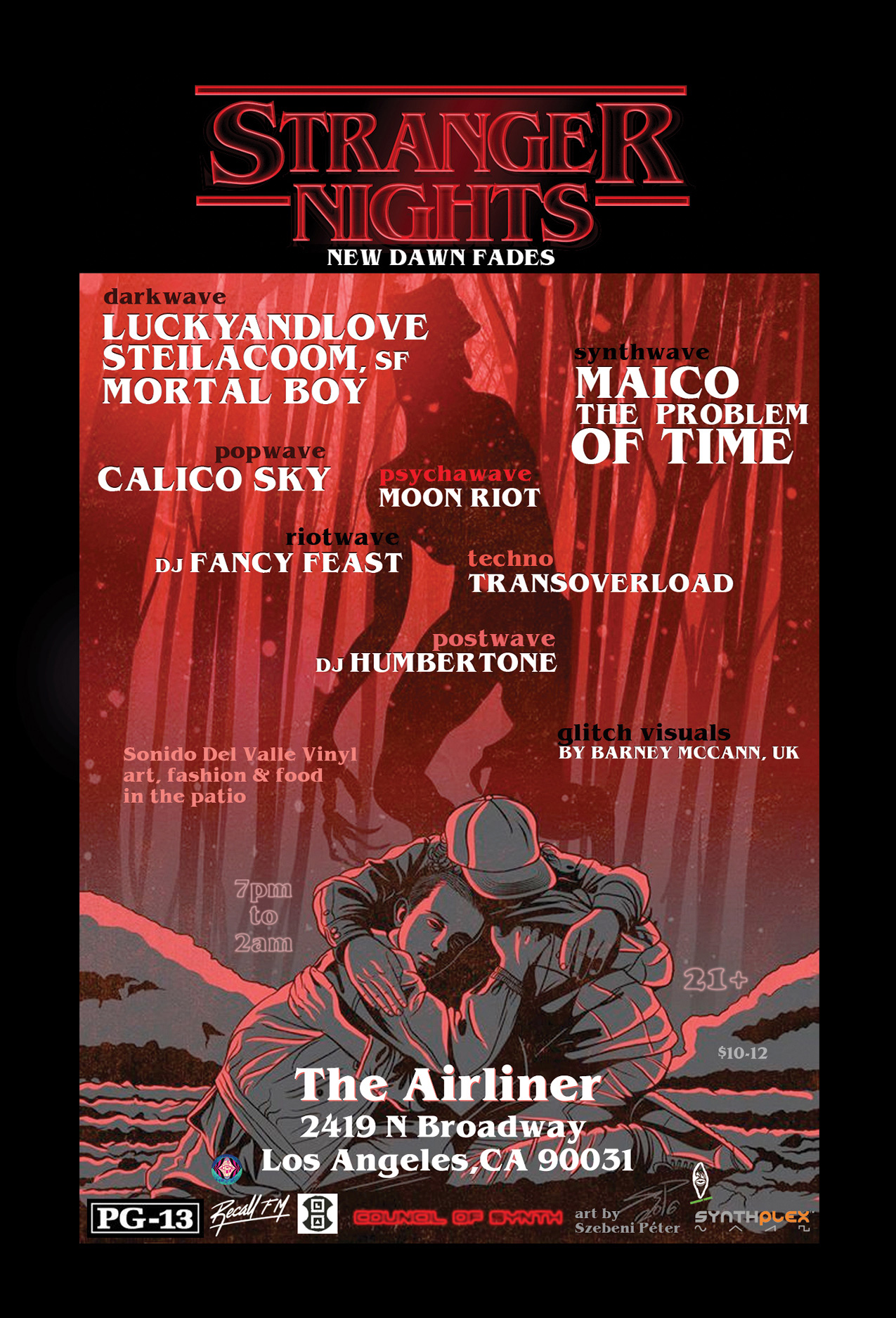 DOWNSTAIRS STAGE:
7PM: DJ Rene (with vinyl store)

10:40PM : MOON RIOT

1:00 AM: DJ Rene (with vinyl store inside)


UPSTAIRS STAGE:
7PM : ΜΛIƆO

8PM: THE PROBLEM OF TIME

9PM: STEILACOOM

10PM: MORTAL BOY

11PM: LUCKY AND LOVE
Upstairs Stage

12:14AM : CALICO SKY

1:20 AM: TRANSOVERLOAD

Have questions about Stranger Nights: Live Synthwave, Darkwave, Techno, Electronic artists and DJs with on 2 Stages & 2 floors. It's a Stranger Things Dance Party at The Airliner!?
Contact Council of Synth
Attendee List
Sort by:
Date
When & Where

The Airliner
2419 N Broadway, Los Angeles, CA 90031
Los Angeles, CA 90031


Saturday, January 12, 2019 at 7:00 PM

-

Sunday, January 13, 2019 at 2:00 AM (PST)
Add to my calendar
Organizer
WHO IS COUNCIL OF SYNTH?

Emerging LA artists Mortal Boy, The Problem of Time and Elevate The Sky performed the first night in Ventura at this year's OUTRUN THE SUN Synthwave Festival 2018.  LUCKYANDLOVE performed ORTS's second night located at club 1720, in DTLA. The four acts (all recently contributed tracks for the latest NeoWave compliation to raise funds for promoter Neo-LA) met up to celebrate, and were all on producer John Fryer's (This Mortal Coil) guest list for his DJ set at The Airliner. Along with synthwave emerging artist MAICO and others, they began to brainstorm new show ideas, and they eventually came up with a synthwave manifesto after several rounds of drinks. Later, they invited Modular on the Spot members to the group, tapping the shoulders of follow artists: Animus, OSC1Nation and PSEUDO BEAST.

The coheasive 8 synth focused acts come together to form the LA Council of Synth, an artist-run collective and secret society of synth-focused bands all residing in Los Angeles.  Given that many acts consist of one to three performers, the eleven artists ( 8 acts all together ) come to vote democratically and make group decisions on the organization of their events with hopes to perform together as a 'collective' again for unconventional weddings, corporate events and plan on delving into some grant writing to help release future compilations.  The group comes together to help eachother, doing what they'd normally do alone like distributing event flyers, holding down the merch table, or helping eachother with lights and smoke.