Strange 90's Nashville: A Benefit for The Beat of Life, Real rock-stars covering Smashing Pumpkins, Nirvana, Radiohead, Gin Blossoms + more
About this event
Use code: STRANGE90S at checkout for 2 for 1 tickets!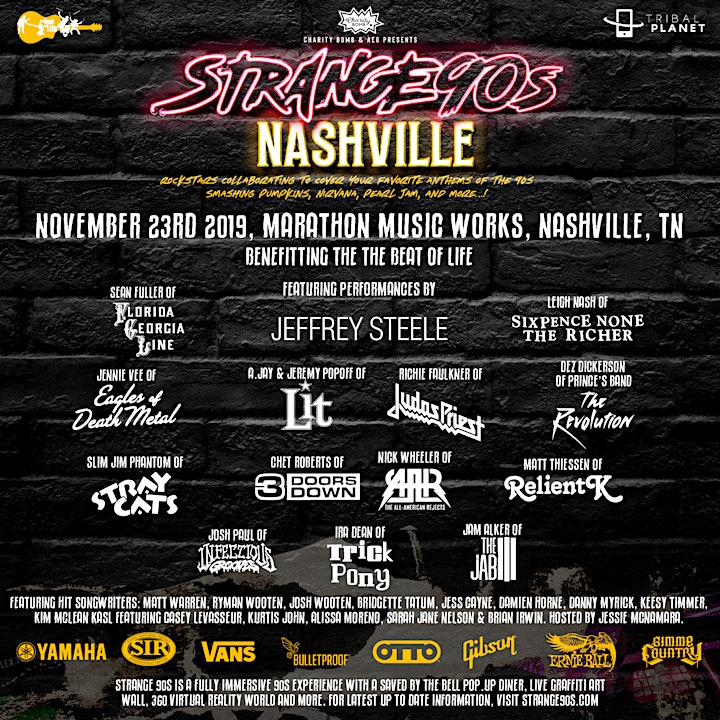 Strange 90's is a fully immersive experience that creates strange supergroups to perform the anthems of the 90's in a venue designed to recreate the atmosphere of the time. Fans are encouraged to get the flannel out, throw on a Jennifer Aniston or Kurt Cobain wig and enter the time warp to join us in the pre-digital-aged splendor of music's most exciting decade. When you're not watching your favorite rock-stars performing your favorite songs, explore our 90's playland with a Saved By The Bell Pop Up diner, fully immersive virtual reality world, a live graffiti art mural and more...
All proceeds benefiting The Beat of Life, serving the mental health/criminal justice space by enlisting songwriters to teach inmates to write and perform music.
Performing Artists:
Ajay & Jeremy Popoff (LIT)
Nick Wheeler (ALL AMERICAN REJECTS)
Richie Faulkner (JUDAS PRIEST)
Leigh Nash (SIXPENCE NONE THE RICHER)
Matt Thiessen (RELIENT K)
Sean Fuller (FLORIDA GEORGIA LINE)
Jennie Vee (EAGLES of DEATH METAL)
Chet Roberts (3 DOORS DOWN)
Sean Nelson (HARVEY DANGER)
Josh Paul (INFECTIOUS GROOVES)
Slim Jim Phantom (STRAY CATS)
Rich Redmond (JASON ALDEAN's band)
Dez Dickerson (Prince's REVOLUTION BAND)
Jeffrey Steele
Ira Dean
Bridgette Tatum
KASL
Jessica Cayne
Keesy Timmer
Matt Warren
Danny Myrick
Josh & Ryman Wooten
Kim McLean
Sarah Jane Nelson
Brian Irwin and more!
Hosted by Jessie McNamara
For latest up to date information visit strange90s.com
Don't drive and get up to $10 cash back on your Uber or Lyft ride to Strange 90's courtesy of Freebird!
Using your smartphone, just download the Freebird app for free here and your promo code, STRANGE90S will be automatically added to your account. When ready, tap your voucher and order your ride to get up to $10 cash back on your Uber or Lyft ride to Strange 90's! Then, keep using Freebird and get instant cash back offers or rewards points every time you take a ride with Uber or Lyft. Freebird partners with your favorite local establishments eager to reward you for your business with attractive cash back deals.
---
Absolutely no refunds - no exceptions. Lineups and times are subject to change. Any ticket suspected of being purchased for the sole purpose of reselling can be canceled at the discretion of Marathon Music Works and/or Eventbrite. Valid government-issued photo ID required for entry to age-restricted events. Tickets available at the door (if not sold out). No re-entry. Physical tickets available at the box office.
Organizer of Strange 90's