About this Event
DOORS: 8:00 PM, SHOW: 9:00 PM
AGE RESTRICTIONS: 21+
GENERAL ADMISSION, LIMITED SEATING
Important Notice: All tickets are nonrefundable and nontransferable with the exception of event cancellation. Support acts are subject to change
----------------------------
About Strand of Oaks:
Hard Love, Tim Showalter's latest release as Strand of Oaks, is a record that explores the balancing act between overindulgence and accountability. Recounting Showalter's decadent tour experiences, his struggling marriage, and the near death of his younger brother, Hard Love emanates an unabashed, raw, and manic energy that embodies both the songs and the songwriter behind them. "For me, there are always two forces at work: the side that's constantly on the hunt for the perfect song, and the side that's naked in the desert screaming at the moon. It's about finding a place where neither side is compromised, only elevated."
During some much-needed downtime following the release of his previous album, Heal, Showalter began writing Hard Love and found himself in a now familiar pattern of tour exhaustion, chemically-induced flashbacks, and ongoing domestic turmoil. Drawing from his love of Creation Records, Trojan dub compilations, and Jane's Addiction, and informed by a particularly wild time at Australia's Boogie Festival, he sought to create a record that would merge all of these influences while evoking something new and visceral. Showalter's first attempt at recording the album led to an unsatisfying result-a fully recorded version of Hard Love that didn't fully achieve the ambitious sounds he heard in his head. He realized that his vision for the album demanded collaboration, and enlisted producer Nicolas Vernhes, who helped push him into making the most fearless album of his career.
Throughout the recording process, both Showalter and Vernhes maintained an environment that paired musical experimentation with a mindset that defied Showalter's previous studio endeavors: the atmosphere had to be loose, a celebration of the creative process and a reinforcement of the record's core themes. "In a time of calculation and overthinking, I wanted to bring back the raw, impulsive nature that is the DNA of so many records I love." And in keeping with that loose, hedonistic vibe that encompasses so much of Hard Love, Showalter looked to his best friend, Jason Anderson, whose musical prowess and expert shredding augmented the unrelenting energy that would become the record's backbone.
This uninhibited and collaborative studio experience led to the most dynamic album in Strand of Oaks discography, moving beyond Showalter's original concept for a singularly feel-good record to something more complex and real. For as much as Showalter wants this record to seem like a party, it's more than that. It feels like living. "You went away…you went searching…came back tired of looking" is how Showalter begins the title track, a sentiment that epitomizes Showalter's own mentality in beginning Hard Love. And as the record progresses, so do the themes of dissatisfaction and frustration with love, and family, and success, and aging, both in personal experience and songwriting.
"Radio Kids," Showalter's infectious, synth-driven ode to youth and a time when music represented something pure and uncomplicated, perfectly encapsulates his desire for escapism from both his adult responsibilities and a world he no longer recognizes. But if there's a sun in the Hard Love solar system, it's "On the Hill," a psychedelic, celebratory homage to three days in the excesses of that mind-altering Boogie Festival. "On the Hill" captures the true zeitgeist of how Showalter wants this record to feel. "It's like I had to fly across the world to find out who I was…it was all about getting loose, and connecting with people on a primordial level… letting go of all the bad things, losing your inhibitions, and figuring out what it means to be alive." The accumulating intensity that Showalter crafts throughout this flagship track seems to effortlessly achieve an almost hallucinogenic ambiance, with images of lighters being lifted, concert-goers embracing, and the magnitude of the moment eliciting nothing less than mass euphoria.
And then, there's "Cry."
"Eventually there's this crushing reality of what it means to hurt someone, what you did to hurt someone…you're not the victim anymore, it's not romantic, it's not a narrative…you just realize you're the cause of problems." This noticeable shift in the tone of Hard Love-a heartbreaking, piano-laden ballad with the chorus "Hey…you're making me cry"-is a sobering reality check in Showalter's universe. And as Showalter struggles to reconcile his youthful desires with the realities of adulthood, we're eventually led into the final death rattle of his pervasive partying, "Rest of It." With its loud, raucous arrangement of sing-along vocals and searing guitars solos, "Rest of It" emerges as Hard Love's flawless manifestation of an exceedingly fun, belligerently drunk night where you try to forego life's responsibilities and have one more good time.
Much of Hard Love was either written or conceptualized during Showalter's post-tour break, as he reveled in the memory of what he considered to be life-changing experiences. But it was during this period that he received devastating news: his younger brother, Jon, had suffered massive cardiac failure. "He was 27 years old at the time…it happened out of nowhere. I flew out to Indiana and stayed in the hospital for almost two weeks. They said he had a 10% chance of surviving and they had to induce a coma to prevent brain damage. Sometimes he would start to wake up and look me in the eyes…it was the worst thing that ever happened to me. But he got better. That's all that matters." In so many ways, it only seems fitting that Showalter's psychedelic journey, his awakening to drug-fueled excess, the loss of inhibitions, the inevitable reality check, and his subsequent last hurrah be capped with his darkest, most life-affirming experience yet. The title of the record's final track, "Taking Acid and Talking With my Brother," represents Showalter's last-ditch attempt at reconciling his personal life and his impulsions, crafting a clear connection between what were previously considered trippy experiences and the now extraordinary surrealism of witnessing his younger brother's medical emergency.
And as Hard Love comes to its conclusion, it becomes that much more obvious that the singer/songwriter has grown to something larger and more momentous, crafting a passionate, brazen, and fully realized rock and roll record that captures the escapism of sex and drugs while offering an equally sincere perspective on the responsibilities, complications, and traumas that punctuate our lives and force us to evolve. "Some records are built like monuments, set in stone…I want this record to be burned in effigy, I want it to be burned in celebration of the limited time we have on this Earth."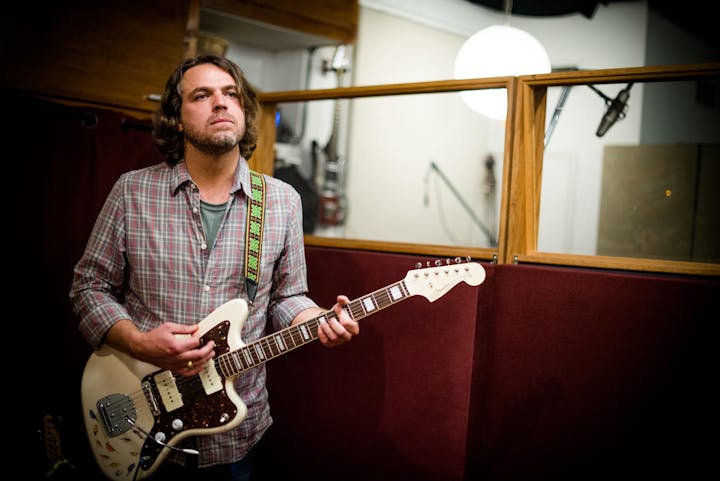 About Apex Manor:
Rehab and Pimento Cheese: Apex Manor Returns from an 8-Year Hiatus with Heartbreak City, out May 31 on Merge Records"In a strange way, pimento cheese kind of saved my life and turned things around for me." While this sentiment may sound like Apex Manor frontman Ross Flournoy is just trying to be amusingly aloof, there's certainly some truth in his assessment of what guided him through an extended period of difficulties and out the other side with everything he needed to craft his newest album, Heartbreak City (out May 31 on Merge Records).
After the buzzed-about release of Apex Manor's 2011 album The Year of Magical Drinking – which critics declared "whipsaws between pure-pop jingle-jangle, lo-fi droning, and pensive acoustics, all of it as catchy as it is manic" (SPIN) and praised for "taking influences like The Replacements or Wilco and then cranking up the 'Accessibility Dial' to 11" (Consequence of Sound) –
Flournoy's tongue-in-cheek album title turned into a bit of a self-fulfilling prophecy. "It felt like that record was cursed in a way," states Flournoy. "Tours got canceled. I almost had a nervous breakdown due to a combination of deep depression and alcoholism. I just hit a wall. At that point, I had already been a serious drinker for about 10 years. One morning I woke up and started drinking at about 10 in the morning and I thought to myself, this is not going to work anymore. I was spiraling, and I just wanted to avoid the darkness."At the recommendation of a friend, Flournoy traveled from Pasadena, CA back home to Memphis, TN to live with his parents and check into rehab. "My father had gotten sober in 2009, so I ended up going to the same place that he did," says Flournoy. "This wasn't a Promises in Malibu kind of place. It had more of a One Flew Over the Cuckoo's Nest vibe. But I really wanted and needed to go, and it was probably the best thing that ever happened to me." After a week of in-patient treatment, Flournoy started a six-week out-patient program with plans to head back to Los Angeles upon its completion. However, his father – who Flournoy playfully calls his "sober Sherpa" – had just started a homemade pimento cheese business that was quickly taking off in the local farmers markets and grocery stores. "My dad showed me how it was possible to live without drinking – which was an impossibility in my mind – and I started helping out with the business," says Flournoy, who ended up staying in Memphis for two and a half years. "It was the most profound shift in my life and I never saw it coming."Even with his newfound sobriety and the success of the pimento cheese business taking up a lot of his time and energy, Flournoy never stopped making music while in Memphis.
He got work composing instrumental music, scoring a web series, and he even wrote the theme song for the CNN daily news show "The Lead with Jake Tapper." The music-without-lyrics part came easy for Flournoy and the anonymity was an enticing draw as he learned to navigate a life without alcohol. "I always knew I wanted to make another Apex Manor record though," revels Flournoy. "It was always on the table, I just didn't know when it was going to happen."
However, there seemed to be a disconnect between the ease with which he composed instrumental music and the "previously overcome with alcohol" obstacles he faced every time he tried to write a new song for an Apex Manor album. "When I first got out of rehab, I tried writing songs, but something wasn't working. I didn't have much experience writing songs being fully sober." Finally, in 2016, two years after moving back to Los Angeles and scoring a couple of movies and a short film, Flournoy wrote his first new Apex Manor song since The Year of Magical Drinking. "It took me five or six years to learn how to rewrite songs or at least how to write them sober. But in a span of nine months I wrote something like 35 songs," smiles Flournoy. Just a few short months into that prolific writing process, Flournoy reached out to his label Merge Records and set everything in motion to record a new album. "It's funny, very few of those songs from that period actually ended up on the record," laughs Flournoy. "But I had been involved with Merge for like 12 years at that point. They've always felt like family to me and I feel so lucky to be involved with them."After a short stint in the recording studio with producer Rob Barbados, Flournoy emerged with a vibrant and energetic collection of songs he's titled Heartbreak City. But just in case you're expecting songs about the existential insights uncovered in rehab, the unique power of familial bonds, or even pimento cheese, Flournoy wants to save you some time: "My records don't really have direct themes or concepts. They're just a snapshot of where I am at that point in my life."
Instead, the 11 tracks on Heartbreak City feature lyrics that deal with universal topics (break-ups, selfishness, relationships) and extemporaneous abstractions, both of which are parameters that welcome listeners in and allow them to apply their own meanings: "Some songs I write are more about a feeling or an atmosphere that I'm trying to evoke. The clarity of the narrative is not as important to me as how the sound of the words dance with the melody and the music."However, the most notable exception to that rule may be the title track: "The song 'Heartbreak City' is a love letter to Los Angeles. It's my favorite city on the planet. It can feel like a very lonely place because it's not teeming with humanity like New York. In LA, there are days where you can go without seeing anyone at all if you'd like."The songs on Heartbreak City furiously rumble with Dinosaur Jr.-esque guitars ("Asked & Answered," "Nervous Wreck," "Where My Mind Goes," "The Long Goodbye") and float on the synth-work of bands like The Killers ("Sara Now," "Diamond in the Dark").
Flournoy also invited two friends to help flesh out some of the extra sonic splashes on a few of the songs. Singer-songwriter Courtney Jaye can be heard adding ethereal background vocals to "Diamond in the Dark," "Sara Now," and "Nervous Wreck," while talented multi-instrumentalist Meg Duffy (Hand Habits, The War on Drugs, Kevin Morby) added some shimmering guitar work to "Diamond in the Dark" and "Sara Now." For Flournoy, the release of Heartbreak City is not so much a literal culmination of the dramatic twists and turns that transpired over the last eight years between Apex Manor albums, it's more about celebrating the place that those events led him to: "I didn't want to try to track the journey verbatim. Rehab, the pimento cheese business, living life without alcohol – all those things were means that allowed me to get to the end result of being in a place where I could write songs again. This thing that I feared might be gone forever finally reemerged and I feel profoundly lucky."
Performers
Date and Time
Location
Refund Policy