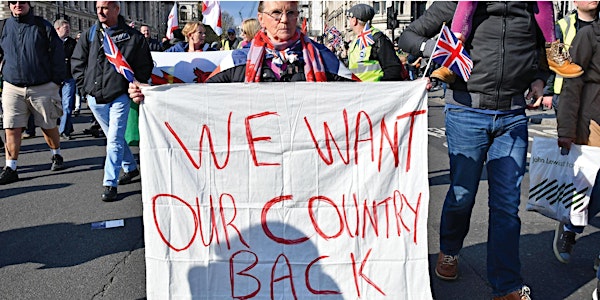 StraightTalk 2019: Nationalist Fervor on the Rise
When and where
Location
Furman University 3300 Poinsett Highway Greenville, SC 29613
Description
Please note: Tickets are still available for StraightTalk Session 3 on Thursday, September 12 in McAlister Auditorium. StraightTalk Sessions 1 and 2 are sold out.
Nationalist Fervor on the Rise in the U.S. and Europe
StraightTalk 2019 Series, presented by the Osher Lifelong Learning Institute and the Riley Institute at Furman
Thursdays: August 29, September 5 and 12, 2019
6:30 – 8:00 p.m.
Free for Furman students, faculty and staff. Spouses and community members pay $35 for the series ($25 for OLLI members) I $15 per session ($10 for OLLI members).
For questions, please call 864-294-2998.
We are experiencing a nationalist fervor that is energizing to some but alarming to others. The rise in the U.S. and Europe of populist nationalism is considered by many to be the single-most important political development of the 21st century. The election of Donald Trump, who was sent to the White House on a wave of right-wing populism, England's Brexit movement, and the rise of the far-right in many European elections point to a phenomenon that is unmistakably tied to white identity, immigration, and demographic change.
Over three weekly sessions, we will look at the rise in nationalist fervor from three distinct points of focus. On August 29, we'll examine nationalism's connection to populism and authoritarianism and how this influences our politics and our democracy. On September 5, we will consider how white group identity and changing demographics are having an impact on our politics and our public discourse. Finally, on September 12, we will shift our focus to white nationalism as we hear one man's journey from heir apparent in the white nationalist movement to critic of the movement's toxic ideology, false narrative and racist views.
Are we witnessing a moment in time that soon will pass, or are we at the beginning of a new era? Join us as we delve into this topic which greatly affects us as a nation and as individuals.
Session 1 l August 29 l Younts Conference Center
(Sold Out)
Nationalist Fervor, Authoritarian Rule, and the Future of Democracy
Nationalism comes in various forms, and when it embraces authoritarianism, it can have a negative impact on a democracy. Are Western democracies strong enough to withstand the force of a nationalist fervor that seeks authoritarian rule as an answer to the many problems that exist without easy solutions?
"Nationalism, Populism, Authoritarianism and Democracy: Making Sense of It All"
Bart Bonikowski, Ph.D., cultural and political sociologist who focuses on the political implications of nationalist beliefs
Retired Army Maj. Gen. Chris Ballard, former deputy director of operations at the National Security Agency and former commanding general of U.S. Army Intelligence and Security,will join Bonikowski to discuss what these trends might mean for democracy in the U.S. and Europe.

Recommended Reading: Fascism: A Warning by Madeleine Albright
Session 2 l September 5 l Younts Conference Center (Sold Out)
Culture Wars: Multiculturalism and the Future of White Identity
People who identify strongly with their whiteness can feel threatened by shifting majorities. Should conservatives be able to express a sense of loss without being labeled as racists? How is demographic change transforming Western politics and how should we think about the future of white majorities?
Eric Kaufmann, Ph.D., leading voice on white identity, white majorities, and demographic change

Ashley Jardina, Ph.D., expert on how racial attitudes and group identities influence political preferences and behavior
Khalilah Brown-Dean, Ph.D.
,
author of forthcoming
Identity Politics in the United States
Recommended Reading: Whiteshift, by Eric Kaufmann, Ph.D. and White Identity Politics, by Ashley Jardina, Ph.D.
Session 3 l September 12 l McAlister Auditorium
Blood and Soil: When Nationalist Fervor is Racism
"Why I Left the White Nationalist Movement"
Derek Black, the godson of David Duke and former heir apparent to the white nationalist movement, will share his story of transformation from leader in the white nationalist movement to outspoken critic of the movement.
Sarah McCammon, NPR national correspondent
Recommended reading: Rising out of Hatred: The Awakening of a Former White Nationalist by Eli Saslow