Straight Up & Toasted with CLE Cigars & Jim Beam Bourbon

Wednesday, March 18, 2015 from 8:00 PM to 11:00 PM (EDT)
Event Details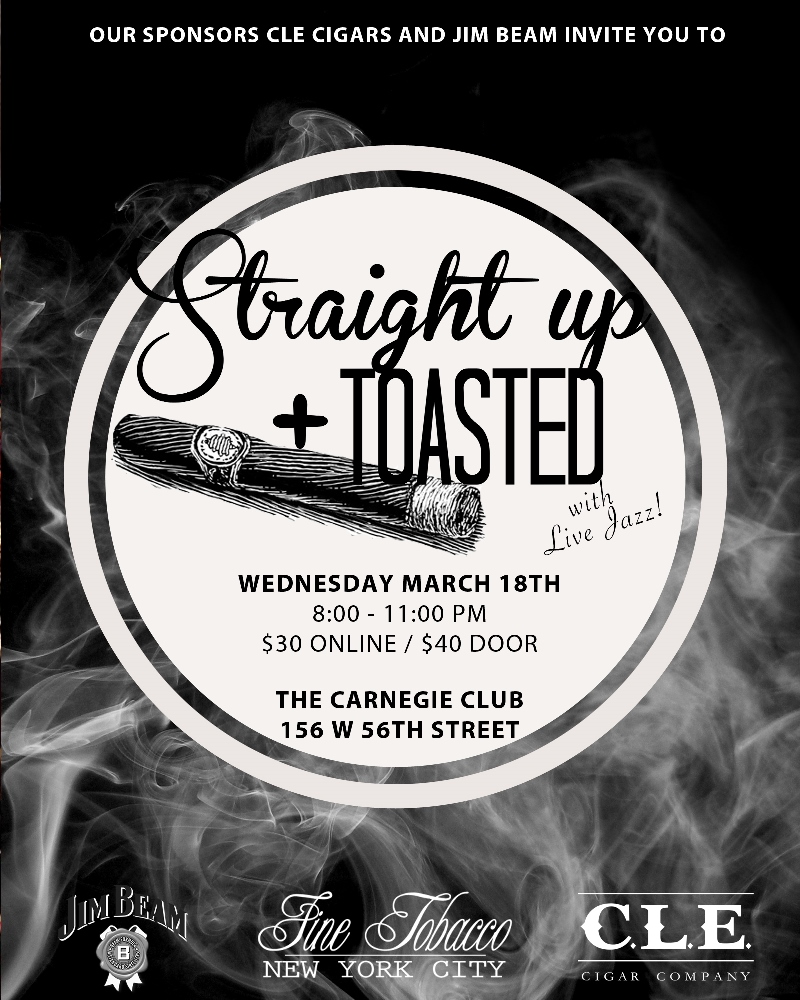 Our next event is here! On Wednesday, March 18th, New York City cigar and spirits aficionados are invited to join us for a tasting of the powerhouse triple maduro from CLE Cigars: the Eiroa CBT Maduro.  Paired with the triple maduro will be the newest Jim Beam whiskies: Jim Beam Bonded Bourbon and Beam Pre-Prohibition Rye. 
Guests will also enjoy live music and other surprises.
This will be a blowout event, so don't miss it!
Tickets: $30 online, $40 at door.
Ticket includes:
One glass Jim Beam Bonded Bourbon

One Glass Jim Beam Pre-Prohibition Rye

Eiroa CBT Maduro

Live Jazz
Dress code: Business casual. No shorts/t-shirts please.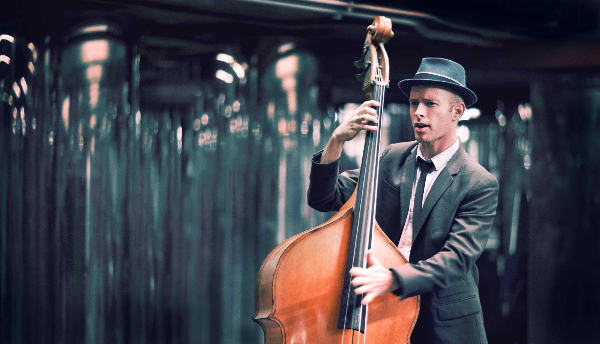 We feel it, we dance to it, but often times we don't even know what it is that is making our feet move and our hips shake.  Peter Maness brought his upright and electric basses with him from North Carolina to New York City in 2006 and devoted himself to making others sound great.
After a few years as a freelancer, Peter moved in a new direction by not only playing bass but singing at the same time!  Becoming a leader allowed him to perform the songs he had always loved like those by Ray Charles, Howlin' Wolf, Johnny 'Guitar' Watson and innumerable other blues and soul artists.  At the same time he began incorporating some of his own material into his live performances around NYC.  The singing, the grooving bass and the other fantastic musicians that he works with all come together to make for a fantastic, fun, and soulful sound that gets folks on their feet.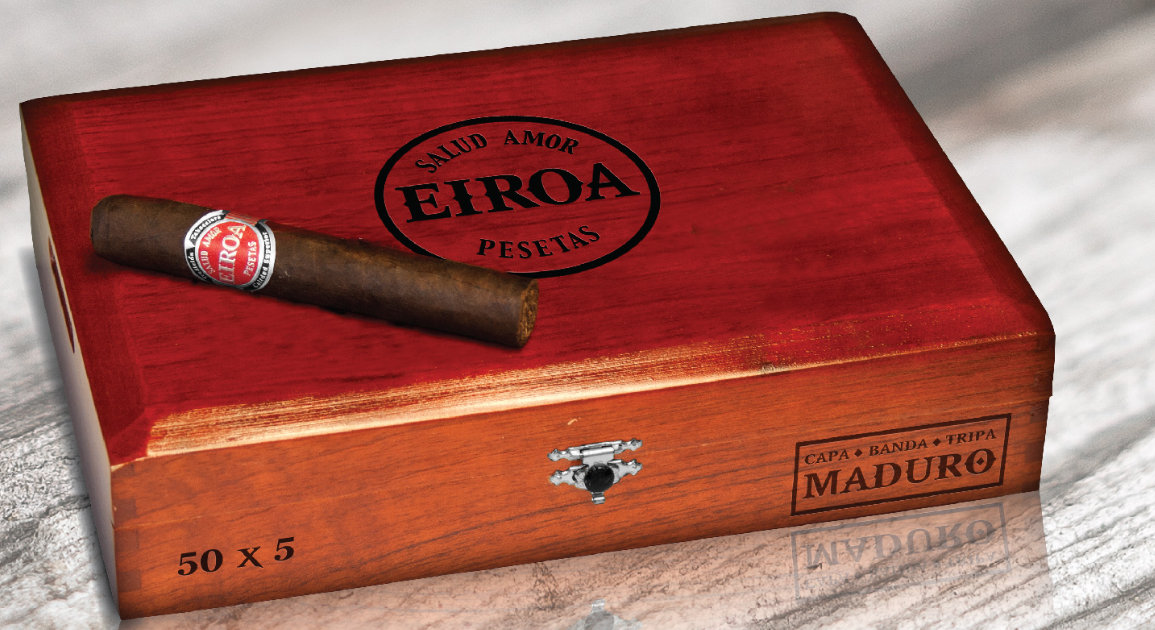 From Cigars International:
Eiroa CBT Maduro: capa, banda, tripa maduro. Or, en inglés: maduro wrapper, binder, and filler. That's 3 times maduro. A triple, if you will. Think about Christian Eiroa's past. You feel me yet? If not, don't worry, this is one helluva cigar that needs no back story.
Hailing from Eiroa's El Aladino factory in Honduras, CBT Maduro makes use of 100% maduro leaves – the wrapper, binder, and filler are all maduro leaves harvested from only the plant's top primings. An extremely difficult-to-blend combination, but Eiroa nailed it…again. CBT Maduro is smooth and ultra-rich with hearty, charred notes of wood, pepper, espresso, dark chocolate, and a long, bold, and meaty finish. It's unique, it's complex, it has flavor to spare. Indeed, if you like rich n' bold cigars, Eiroa CBT Maduro easily sits at the top of the list.
Spirits Selection

Jim Beam Bonded Bourbon

DrinkHacker.com writes of Jim Beam's newest whiskey:
Bonded whiskey must be produced in accordance with strict Federal law and under official Federal oversight, so consumers could be sure of what they were getting: Bonded whiskey has to be 100 proof, spend at least four years in barrel, and be produced from a single season at a single distillery. Bonded, or "bottled-in-bond," whiskey has to be stored at a Federally monitored warehouse, where it is essentially kept under lock and key for those four-plus years. For a bonded whiskey to be a bonded bourbon, it also has to meet all the standard requirements for bourbon, too (at least 51% corn, barreled in newly charred oak, and so on).
On first whiff, it's just like the whiskey dad used to drink. Sharp and woody, it's austere, with a frontier-style nose. As the body unfolds, intense butterscotch and deep vanilla notes emerge, on top of notes of charry burnt marshmallow and thick wood oils. The finish coaxes out some bitterness in the form of rich pipe tobacco, possibly even cigars. Sweet and almost syrupy at the start, the hefty level of alcohol makes for an interesting juxtaposition on the back end.
Jim Beam Pre-Prohibition Rye

DrinkHacker.com describes the new Jim Beam Pre-Prohibition Rye thus:
Deep butterscotch notes hit the nose first, ringed with hints of dark chocolate. It's common to describe the body rye as "spicy," but that's often misconstrued to mean spicy with hot red pepper. What spicy often means, as it does here on Beam, is more akin to baking spice: Cloves, cinnamon, ginger, all wrapped up with some smoky bacon and just a touch of licorice. It's lightly sweet with a vanilla custard note to it, but not as powerful as the punch of bourbon. Initially quite light on the body, it grows on you with its gentle notes of apple pie, caramel, and that slightly savory, almost smoky lacing. The finish is modest, almost short, but engaging and more than pleasant as it fades away.
---
* You must be 21 or older to purchase tickets to this event. Those under 21 will not be allowed entrance into the club.
**By signing up for this event, you give FineTobaccoNYC permission to send future cigar event invites via email.
*** A full refund in the form of credit toward a future Fine Tobacco NYC event is available until 24 hours before an event.  
Attendee List
Sort by:

Date

|

First Name
When & Where

The Carnegie Club
156 W 56th St
Manhattan, NY 10019


Wednesday, March 18, 2015 from 8:00 PM to 11:00 PM (EDT)
Add to my calendar