Location
CoBiz Richmond, Inc.
1503 Macdonald Avenue
#Suite A
Richmond, CA 94801
We've partnered with CoBiz Richmond to bring STR8 Mental to the Bay Area. STR8 Mental is our group therapy safe space for black men.
About this event
Dear Fathers, The Premiere Media Platform for Black Fatherhood partners with CoBiz Richmond to create Mental Health safe spaces for black men to in the Bay Area. During our STR8 Mental Roundtables, we will unpack various mental health topics related to being a black man and father. STR8 Mental has connected over 800 black man to mental health specialist through our virutal space, now it's time to bring these conversations up in-person as we fellowship and grow together, SALUTE!
Follow Dear Fathers on IG @dear.fathers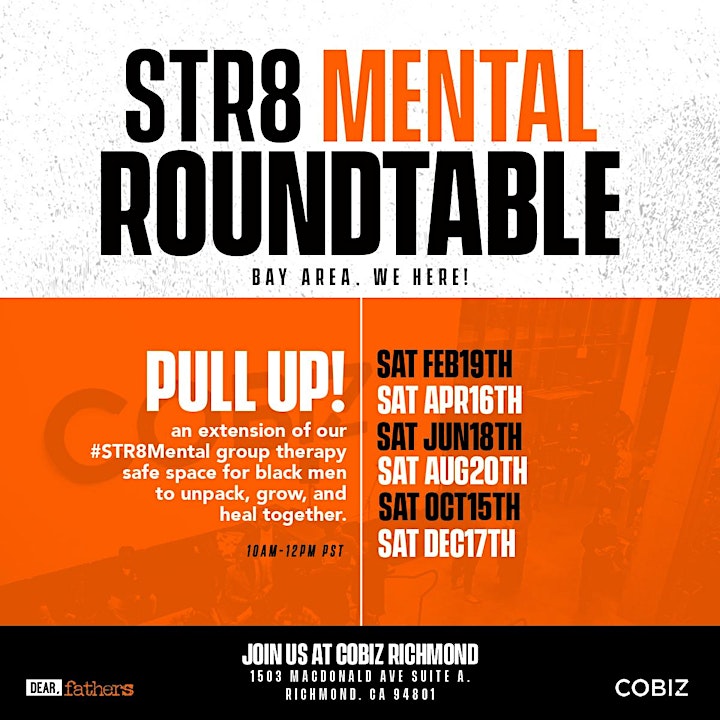 CoBiz is a 9,000 square foot co-working and business incubator space located in Downtown Richmond, CA where it serves as an innovation hub for entrepreneurs, non-profiteurs, creatives, students and professionals of diverse backgrounds.
The mission of Cobiz is to disrupt the debilitating spirit of poverty that sabotages the potential of under-invested communities throughout the world by providing an infrastructure for people to receive hope, know-how, support, resources, and space. Learn more at www.cobizrichmond.com or schedule a tour.