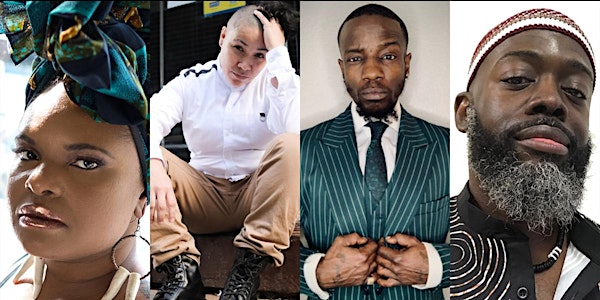 Storyville-Got to be Reel: LGBTQ/SGL Lives through a Black Lens
Please join us at Scribe, for this special screening of short films from emerging Black LGBTQ/SGL filmmakers.
Date and time
Thursday, February 9 · 7 - 9pm EST
Location
Scribe Video Center 3908 Lancaster Avenue Philadelphia, PA 19104
About this event
This screening works to facilitate community dialogue around undiscussed or misunderstood topics central to the Black queer experience, exploring self-identity, dating, housing justice and body image.
BODY LANGUAGE (Odu Adamu)
BODY LANGUAGE is a candid conversation about body image and body experience for Black gay, queer, and same gender loving men. Men share their personal journeys through childhood, coming into the gay community, and acceptance and rejection based on body type. BODY LANGUAGE is an authentic dialogue about pain, heartache, healing, and self-love. This film speaks directly to Black g/q/SGL men but the ideas around body perfection, and what influences our perspectives, are universal.
Running time: 10 minutes
I IDENTIFY AS ME (Monick Monell and Tina Colleen)
I Identify as Me" is a chorus of Trans non-binary people and masculine-presenting women who are QTBIPoC. Their stories allow us to reflect on the truth that gender is infinite; honoring this brings us a step closer to liberating ourselves from damaging social constructs. This short previews the "I Identify as Me" doc series.
Running time: 12 minutes
MY FTM JOURNEY (Payton Royce)
MY FTM JOURNEY is an intimate look at the beginning of Payton Royce's female to male transition. Through interviews and self-recorded testimonials, Royce shares his thoughts and feelings about the early stages of his new life. MY FTM JOURNEY is a rich, raw experience that exposes the viewer to Payton's real world.
Running time: 12 minutes
If you can't attend in person please register to attend online here at- https://www.crowdcast.io/e/got-to-be-reel-lgbtqsgl
About the organizer
Scribe Video Center was founded in 1982 as a place where emerging and experienced media artists could gain access to the tools and knowledge of video making and work together in a supportive environment. Scribe provides training in all aspects of film, video and audio production. We also offer classes in computer-based interactive media to individuals and community organizations as well. We give emerging and mid-level video makers the skills and opportunity to use video and film as tools for self-expression and for representing and supporting their communities.