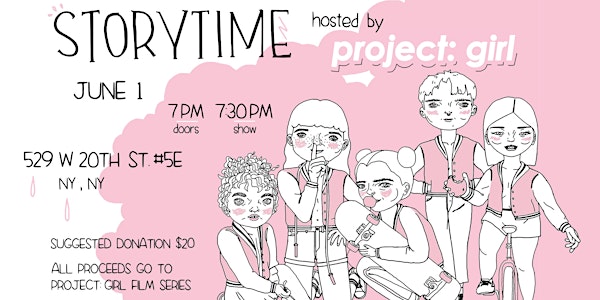 Storytime! with Project: Girl
When and where
Location
ACA Galleries 529 W 20th St #5E New York, NY
Description
**UPDATE: Hey friends! Tonight is the night - make sure you mark yourself as coming as we are almost sold out of RSVPs. Can't wait to see you there! Love, Project:Girl
---
It's Storytime! Join us for an all-female showcase of storytellers and spoken word artists followed by an intimate screening of Project: Girl's first two films, all exploring the enigma of GIRLHOOD.
Project: Girl is the heart behind a new film series based on real stories revolving around themes of girlhood, adolescence, and female identity. We will be accepting donations and selling art from female artists to help support the series.
Our strength is in our stories. Let's recognize that strength and use it to create a meaningful conversation around what it means to be a girl! 'Cause... it's complicated.
Schedule:
7 PM // Doors open. Enjoy wine and snacks and art.
7:30 PM // Show starts. Enjoy compelling and funny performances from storytellers and spoken word artists.
9 PM // Screening begins. Enjoy the premiere of the first two films of our series.
9:30 PM-11 PM // Mingle, chat, take photos, buy art, talk about when you lost your virginity, hang out with us and be a part of our community!
Please note: this event is open for all genders! $20 suggested donation at the door.
For more information: www.projectgirlseries.com ♥