Storytelling is a powerful way for children to express themselves and begin a journey of bringing their imagination to life!
About this event
Got a great idea for a book and don't know where to start?  Do you love creating characters and telling stories?
The Storytelling Workshop Young Voices Matter is a great opportunity for young people to learn about the process of storytelling and creating engaging characters that will be remembered way after the workshop. Now is the time to get creative and unleash our imaginations and start penning that book!
On this 3-day workshop, you will learn how to:
Plan and write your story
The 5 steps to creating unforgettable plots
Create engaging characters
Write a successful blurb that sells your book!
Share your story with confidence.
Run by former English teacher, Author, Book Journey Mentor and Publisher, Daniella Blechner, you will get to ask questions about writing and publishing and who's knows, you may just become Conscious Dreams Publishing's next young author!
We will be joined by special guests Melissa Phillip, author of 'My Invisible Superhero Vest' and Founder of The Superhero Academy as well as our 10-year-old author Tiana, author of 'My Afro' due for release soon.
Our 15-year-old author Naya-Simone will also be on hand to inspire your child with her powerful and funny story and illustrated book 'The Oher Side' and answer their questions about being an author.
Don't miss out! Summer is here!
Who is this workshop for?
Any young person who is passionate about writing and storytelling or who wants to learn how to tell unforgettable. All ages welcome, ideally 9-13. Differentiation available.
Worksheets will be sent after enrolling. 
Booking the full three sessions advisable. Buy 2 and get the 3rd FREE!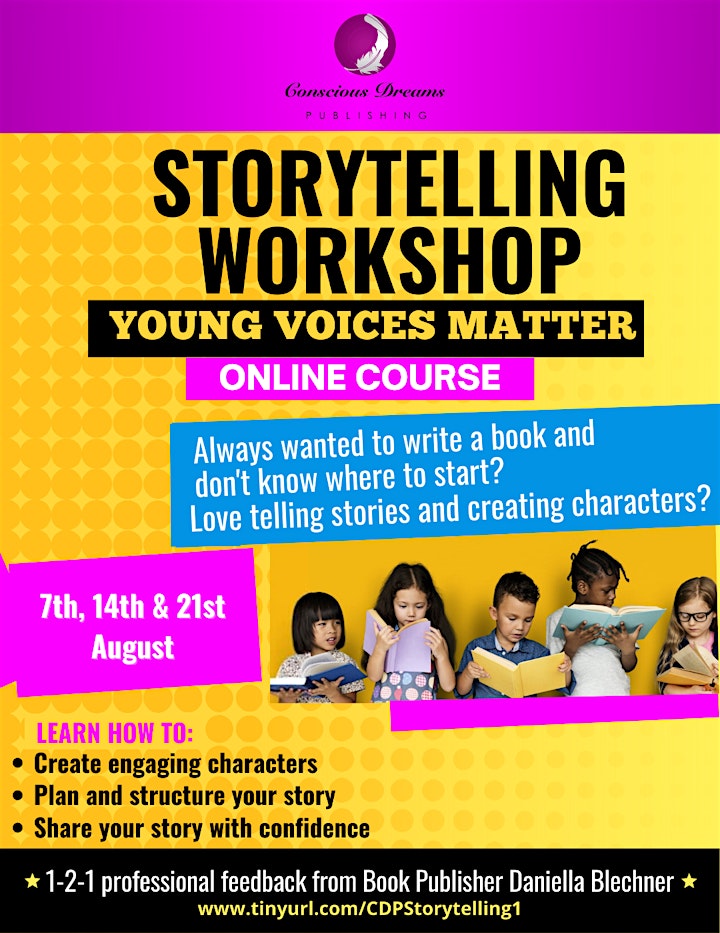 Organizer of Storytelling Workshop: Young Voices Matter
Conscious Dreams Publishing is passionate about publishing manuscripts that inspire and empower others. We provide bespoke coaching and publishing services for authors with powerful messages and stories to share with the world and are ready to start their publishing journey. Our aim is to demystify the publishing process and help you create a clear vision for your book. We provide professional services tailored to each author to ensure that your book is of a professional and high quality standard.
Publishing a book is a major achievement so it's important that you get it right. We want to hear from fiction authors who have unique and original stories to tell; ones that transform, inspire and empower. We want to read non-fiction manuscripts from authors who can offer new and fresh ways of exploring new ideas and provide information that heals and elevates.