Event Information
Refund policy
Contact the organizer to request a refund.
Eventbrite's fee is nonrefundable.
Snake River Storytelling is back with another crop of amazing storytellers! Join us for an incredible day of workshops and entertainment!
About this event
Snake River Storytelling Presents:
VIRTUAL STORYTELLING CONFERENCE
A one-day storytelling conference and concert.
We are bringing the BEST in the business right to you. Enjoy five incredible workshops from nationally-acclaimed storytellers. Later that evening, sit back and listen to these incredible storytellers from the comfort of your own home.
Still hungry for more? Stick around for our after-hours party where you can enjoy a virtual meet-and-greet with the storytellers. Each ticket holder will also receive a signed CD album from the storyteller of your choice by mail after the event!
OUR TELLERS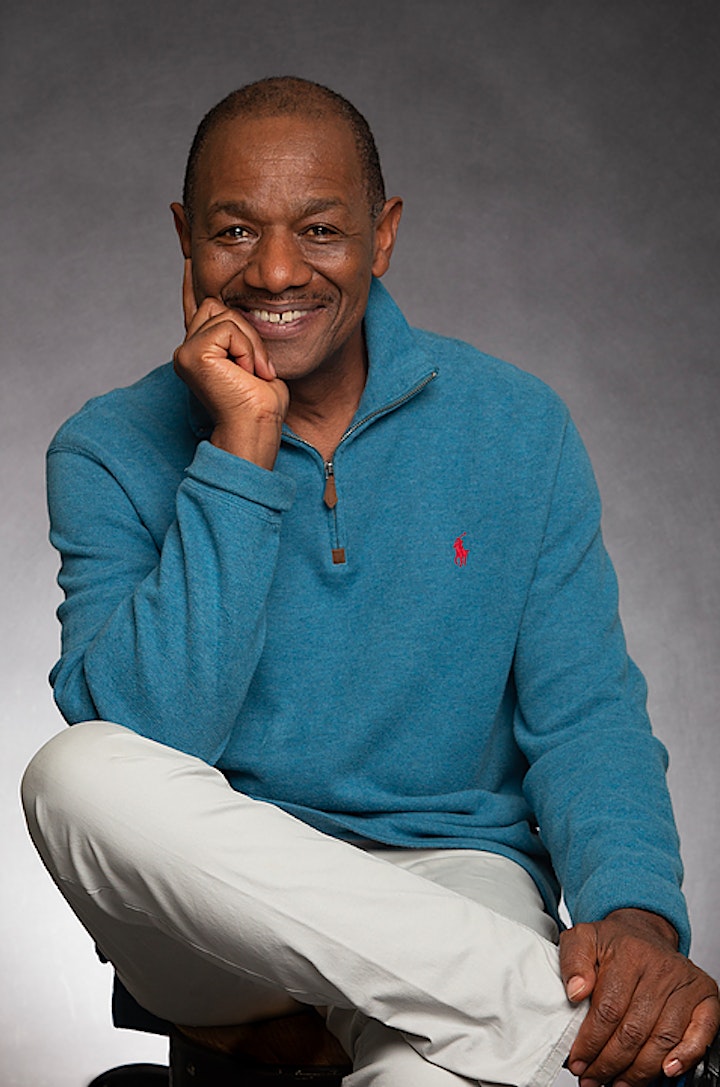 BOBBY NORFOLK
An internationally known story performer and teaching artist, this three-time Emmy Award winner, multiple Parents' Choice Gold and Silver Award winner, and a National Storytelling Network Oracle Award recipient is one of the most popular and dynamic story-educators in America today!
Many people describe Bobby as an adventure story come to life! His high energy performances combine lively animation, unique sound effects, amazing facial expressions and laugh out loud humor to engage, entertain and educate audiences of all ages. His performances promote literacy, cultural diversity, living history, music and character education. Truly, Bobby is a gift for your imagination!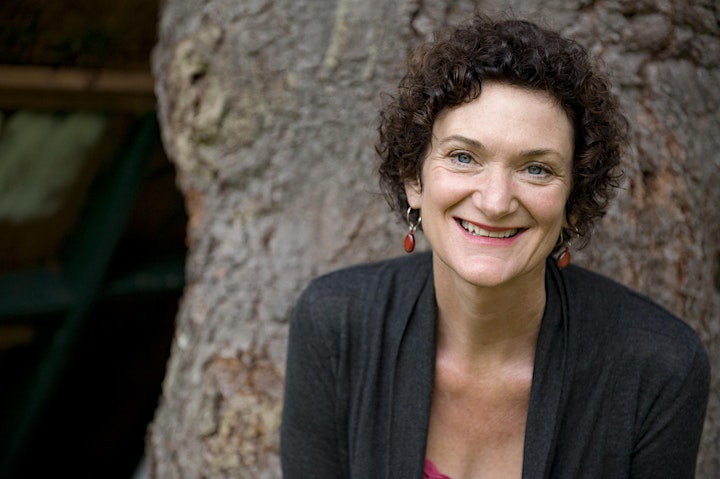 REGI CARPENTER
For over twenty years Regi Carpenter has been bringing songs and stories to audiences of all ages throughout the world in school, theaters, libraries, at festivals, conferences and in people's back yards. An award winning performer, Regi has toured her solo shows and workshops in theaters, festivals and schools, nationally and internationally.
Regi is the youngest daughter in a family that pulsates with contradictions: religious and raucous, tender but terrible, unfortunate yet irrepressible. These tales celebrate the glorious and gut – wrenching lives of four generations of Carpenters raised on the Saint Lawrence River in Clayton, New York. Tales of underwater tea parties, drowning lessons and drives to the dump give voice to multi-generations of family life in a small river town with an undercurrent.
SAM PAYNE
Sam's fill-the-room stage presence, craftsmanship, and his soaring tenor voice have established him as a favorite with audiences and critics alike. Sam hosts The Apple Seed – the UBEE award-winning national radio show on the art of storytelling – and serves as the Weber State University Storytelling Fellow. He was part of the Peabody-nominated team that created Treasure Island 2020, the serial podcast based on Robert Louis Stevenson's classic novel, and the team that created the Soundcheck Series, connecting independent songwriters with Grammy-winning music professionals. A widely performing storyteller and musician with an award-winning catalog of albums, Sam has brought his stories and songs to halls in Canada, Bulgaria, Tokyo, and from coast to coast in the United States, including performances at the Will Rogers Auditorium in Dallas, Texas, the Kennedy Center for the Performing Arts in the nation's capitol, the National Storytelling Festival in Jonesborough, Tennessee, and the Timpanogos Storytelling festival in Lehi, Utah. Sam has authored periodical publications for children with a regular readership of more than a million elementary school students, and has written books and stage pieces including Sanctuary: The Story of Zion for the centennial of the National Parks Service, Echoes of Hammers and Spikes (With Suzanne Christensen) for the sesquicentennial of the completion of the first transcontinental railroad, and One of a Million Stars, commemorating the 14-year mission of the mars rover Opportunity.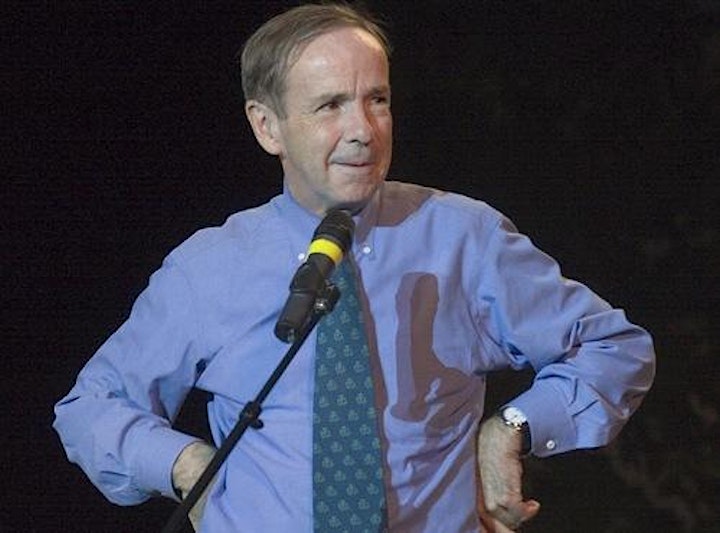 ED STIVENDER
In reviews of his work, Ed Stivender has been called "the Robin Williams of storytelling" by the Miami Herald and "a Catholic Garrison Keillor" by Kirkus Review.
Since 1977, when he left his day job as a high school teacher in Connecticut and turned to storytelling full-time, Ed has fabulated his way around the globe --appearing in schools, churches, coffeehouses and theaters, as well as at major storytelling festivals. He has been a featured performer at the National Storytelling Festival, the Cape Clear Island International Storytelling Festival in Ireland, Graz Festival, Austria and our own Philadelphia Folk Festival. Ed enjoyed narrating: "Paddington Bears Special Day" with the Harrisburg Symphony, "Ferdinan the Bull" with a violinist for the Philadelphia Orchestra, and "Peter and the Wolf" with the LaGrange Symphony.
The National Storytelling Association inducted Ed into its Circle of Excellence in 1996.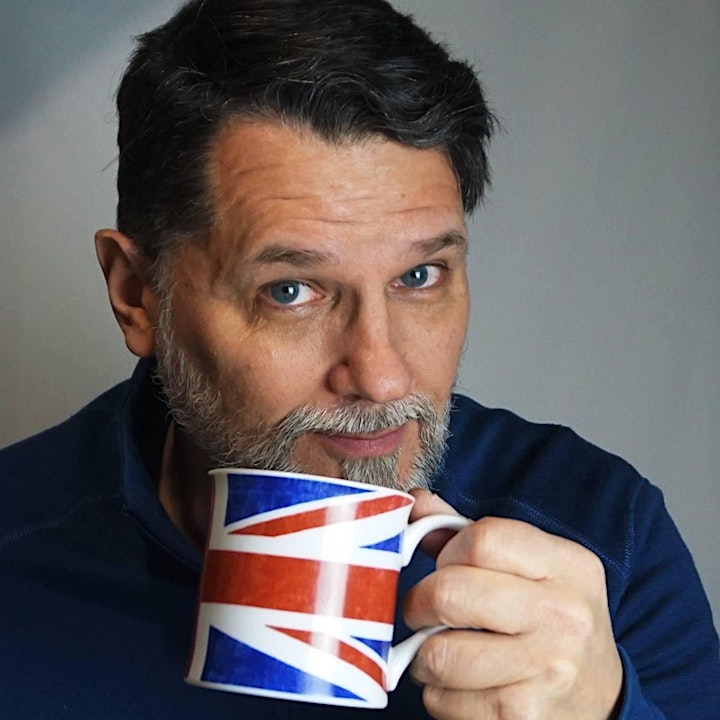 SIMON BROOKS
British storyteller Simon Brooks was raised on stories and taken to the places where these stories began. Ancient hills, standing stones, and castles were Simon's upbringing. As an acclaimed storyteller Simon Brooks has engaged and transfixed with his powerful performances all over New England. As a master storyteller, Simon has taught and performed at libraries, schools, collages, festivals, camps and at museums! With his bodhrán and stories, Simon combines the intensity of a solo performance with the intimacy of a face-to-face conversation whether on CD or live. People all over New England seek Simon for his storytelling. He is popular with kids, being so kid-like himself, and the twinkle in his eye has adults laughing, too. Like a one man show, comedian, storyteller, raconteur Simon is one of the most popular storytellers the Northeast has.
Please visit https://snakeriverstorytelling.weebly.com/events.html to download a full-size copy of the schedule.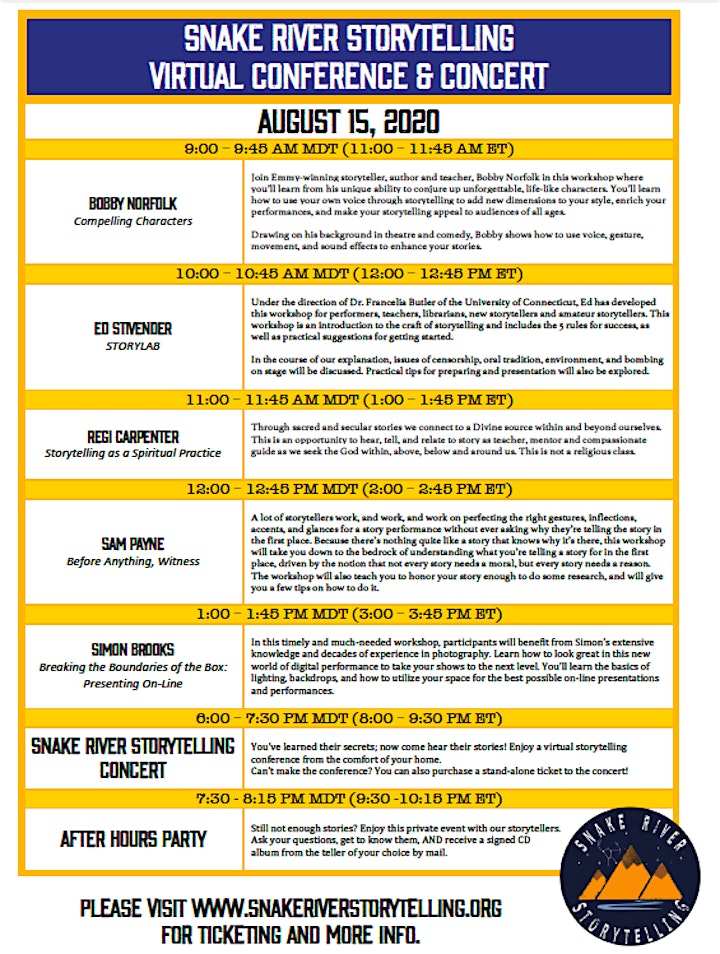 Date and time
Location
Refund policy
Contact the organizer to request a refund.
Eventbrite's fee is nonrefundable.