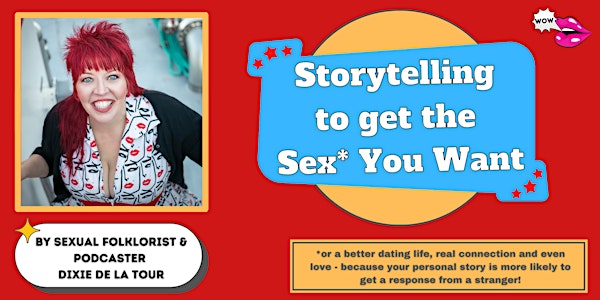 Storytelling to get the Sex* you Want
Ready to connect in a whole new way? If you love podcasts, you'll enjoy this fun, innovative way to spice up your dating life.
Refund Policy
Contact the organizer to request a refund.
Eventbrite's fee is nonrefundable.
About this event
Sunday January 8th, 2022
11 AM - 1 PM PST
90 minutes plus Q&A
Virtual Workshop /Available Online, wherever you are
•••••••••••••••••••••••••••••••••••••••••••••••••••••••••••••••
* Note: if you're not interested in mere sxxual gratification, the methods you'll learn in this class work equally well for a better dating life, real connection and even love - because your personal story is much more likely to get a response from a stranger!
For the very first time, award-winning podcaster, live performance stage and livestream host Dixie De La Tour will share how telling your own stories (in the same way that storytellers on her podcast do) can make dating and connecting :
• more fun and engaging for you, and for the people you meet online and in person
• into something you can do with your friends (story parties, anyone?)
• a more creative way to introduce yourself to someone new (in a way that reveals the real you)
•••••••••••••••••••••••••••••••••••••••••••••••••••••••••••••••
"The Moth for Pervs" - LA Weekly
•••••••••••••••••••••••••••••••••••••••••••••••••••••••••••••••
"Best Erotic Podcast" - Oprah Magazine
https://bit.ly/BawdyOprahBestOf2020
•••••••••••••••••••••••••••••••••••••••••••••••••••••••••••••••
Testimonials for Dixie's story coaching:
"Dixie De La Tour's coaching is brilliant, and her unique system will absolutely boost your storytelling skills. Whether you are incorporating narrative into your corporate presentations, telling sexy tales at Bawdy or just want to gain confidence in public speaking, you'll definitely benefit from this workshop!"-
Artist & Globetrotting Educator Midori
Reviews from Dixie's most recent workshop, How to be Fascinating: Dixie's Secret System for Brilliant Storytelling:
As a long-time listener and lover of storytelling, I always wondered if I could put together my own story. I finally decided I had to try it for myself, and signed up for Dixie's How to Be Fascinating. It was such a great decision!
Before the second week of the course, my cat passed away. I was devastated and didn't think I'd be able to focus at all in class. Instead, it got me briefly out of my grief. Each night was so stimulating, fun, and enlightening that it became my favorite distraction during such a rough time. I always left feeling hopeful and experiencing a strong sense of connection with myself, my classmates, and storytelling in general.
I believe anyone could benefit from this course. Dixie is a direct, fearless, and compassionate teacher, which helped me get out of my own way and start telling stories. She also provided office hours which gave me the invaluable opportunity to get real-time story coaching. The best part about this class is that Dixie beautifully combines her passion and love of the art of stories with her mechanical knowledge of them. This helps her students create compelling stories full of heart that also have technical finesse. The whole experience was a 10/10. Let yourself be fascinating, take this class. - Colleen
I just got a job with the 3rd largest company in the world - and doubled my salary!
Dixie De La Tour's storytelling class helped me with finding my voice, and to tell compelling stories that weren't rambling. Throughout the interview process, I told 20 stories about my experience - 15 in the last round! I could not have been prepared for this without Dixie's storytelling method, and you can bet Dixie was one of the first 5 people I called when I learned I would be offered the role.
Now, I can't promise you'll get a new job, but I will say you'll definitely be more fascinating.
- Barbie Ariel
"Dixie De La Tour understands stories, full stop. She understands stories because she understands people. Regardless of who you are or what story you're trying to tell you've got to access a scary place in yourself to tell a story truthfully. Dixie knows how to lead you to that place and celebrate with you once you're there. This is aside from the nuts and bolts of structuring a story and putting the right words in the right order, Dixie can do that too, but ultimately she makes your stories come alive because she makes you come alive."
- Eric Czuleger, Creator of the Howl Podcast, author of Immortal LA and Eternal LA
"Working with Dixie is a rare joy and powerful gift that everyone deserves to experience. I have worked with her to tell both funny and heartbreaking stories on stage, and there is no one else I would rather trust my experience and vulnerability with first before I share it publicly. She has a masterful talent for helping you weave your own raw experiences into a story that can move hundreds strangers to laughter, tears, or both. However, more importantly, she coaches storytellers in a way that can transform the very experience of storytelling into an act of radical self-love and acceptance. We all have stories to tell. Dixie can make yours a legend."
- Doctor & Storyteller Ben Colburn
"If you've ever wanted to tell a story but weren't sure how to go about it -- or if you've told a story that got a lukewarm response and you want to tell it again and make it really sing -- I have very simple, surefire advice: Dixie De La Tour. Dixie knows her audience, and she has an innate sense of what about your story will have the most impact. She knows, down in her pores, that it's not so much about the art of storytelling as it is about the heart of storytelling. Yes, she's smart, and funny, and fun to work with, but that just disguises the soul-searching -- one might even say soul-searing -- work she inspires you to do on behalf of your story. By the time Dixie's done with you, it's not just you that's speaking to the audience -- it's your story, your heart, your soul that's doing the talking. And it is a powerful transmutation indeed.What's more, whenever possible Dixie makes herself available to you to answer questions or give a quick take on another draft to help you feel secure you're on the right track. She's not an aloof guru -- she's an involved partner. I'm hard-pressed to imagine how any story coach could be more impactful, more insightful, and more inspirational than Dixie. She is storytelling's De La Tour de Force.
- Jerry Franklin, solo show performer who's been heard on the Risk! podcast & the Bawdy Storytelling podcast
About Your Instructor:
Dixie De La Tour is a storytelling coach, sexual folklorist, professional storyteller, podcaster, teacher, impresario, community builder and most of all, a facilitator. She is also the Founder, Curator & Host of the Award-winning storytelling series, Bawdy Storytelling ("The Moth for Pervs" - LA Weekly, "The Original Sex and Storytelling series" - Playgirl) that's been lauded for its transformational, relatable, empowering performances. Dixie has been a featured storyteller for the National Storytelling Conference, and in addition to story and public speaking coaching for her own Bawdy series, she coaches for events such as TEDx, Women in Technology, and offers How to Be Fascinating: Dixie's Secret System for Brilliant Storytelling (her acclaimed new storytelling workshop) and Storytelling for Self-Discovery, her unique personal and professional one-on-one coaching system.
Bawdy Storytelling is the original sex and storytelling series; we're a live stage performance series, an award-winning Podcast and a Livestream. We use true stories of se,x kink, gender and body image to reduce stigma and eliminate shame, and to build open-minded community. The Bawdy Storytelling series is almost 16 years strong, the Bawdy Storytelling podcast has over 600 5 star reviews, our livestreams are viewed around the world - plus we've won 'Best Of's from Oprah Magazine, Buzzfeed, Forbes, Mashable, GQ Magazine, Marie Claire, Uproxx, Women's Health, Bustle, Cosmopolitan, Esquire Magazine and more. You can learn more at Instagram.com/BawdyStorytellling, at Twitter.com/Bawdy or at BawdyStorytelling.com
Ultimately, this story-loving southerner is passionate about storytelling's ability to keep people safe, reduce social anxiety and connect us with strangers. Dixie has also been Sainted by the Sisters of Perpetual Indulgence ("Saint Kiss & Make You Tell") for her work to reduce stigma and eliminate shame, and in her free time, she enjoys being a Muppet. Discover more about Dixie De La Tour and Bawdy Storytelling at Facebook.com/BawdyStorytelling, on Instagram at https://www.instagram.com/bawdystorytelling/ on Twitter at @Bawdy and always at www.BawdyStorytelling.com Remember, Stories help you find your people!
Want more Bawdy?
www.BawdyStorytelling.com
Listen to the Bawdy Storytelling podcast at http://bit.ly/bawdypodcast
On Twitter: @Bawdy
On Instagram: https://www.instagram.com/bawdystorytelling/
On Facebook at www.Facebook.com/BawdyStorytelling
Support us on Patreon at https://www.patreon.com/Bawdy
Subscribe to our YouTube Channel at http://bit.ly/BawdyTV
•••••••••••••••••••••••••••••••••••••••••••••••••••••••••••••••
"The Original Sex + Storytelling series, featuring Real People & Rockstars sharing their Bona Fide Sexual Exploits, Live Onstage" - Playgirl
•••••••••••••••••••••••••••••••••••••••••••••••••••••••••••••••
Forbes Magazine calls Bawdy Storytelling the Best:
http://bit.ly/BawdyForbes
•••••••••••••••••••••••••••••••••••••••••••••••••••••••••••••••
1 of Esquire's 10 Best Sex Podcasts, no matter your taste:
http://bit.ly/BawdyBestOfEsquire (for 2018, 2019 - & 2020!)
•••••••••••••••••••••••••••••••••••••••••••••••••••••••••••••••
1 of GQ Magazine's Best Sex Podcasts (to make you Better in Bed):
https://www.gq.com/story/best-sex-podcasts
•••••••••••••••••••••••••••••••••••••••••••••••••••••••••••••••
#1 on Marie Claire's 14 Best Sex Podcasts:
https://www.marieclaire.com/sex-love/news/a21284/best-sex-podcasts/
-----------------------------------------------------------
1 of Uproxx's 10 Best Sex Podcasts to listen to right now:
https://uproxx.com/life/best-sex-podcasts-right-now/
•••••••••••••••••••••••••••••••••••••••••••••••••••••••••••••••
Buzzfeed says Bawdy Storytelling is a Sex & Relationship podcast you should be listening to:
http://bit.ly/BawdyBuzzfeed
•••••••••••••••••••••••••••••••••••••••••••••••••••••••••••••••
Hustler Magazine says "Dixie De La Tour is elevating
dirty talk to an art form…" ow.ly/Laab50wC0KH
•••••••••••••••••••••••••••••••••••••••••••••••••••••••••••••••
Bustle says Bawdy Storytelling is a "Sexy Date Idea for a Long Term Relationship"
https://www.bustle.com/p/9-sexy-date-ideas-for-long-term-relationships-8624566
•••••••••••••••••••••••••••••••••••••••••••••••••••••••••••••••
Winner of Best Storytelling Show (SFist.com), Best Storytelling Show (SF Weekly), Best Storytelling Show (LA Weekly) & 2-Time Best Literary Event (SF Bay Guardian)
•••••••••••••••••••••••••••••••••••••••••••••••••••••••••••••••
"Dixie De La Tour's scandalous, over-the-top Bawdy Storytelling series" - SF Weekly
•••••••••••••••••••••••••••••••••••••••••••••••••••••••••••••••