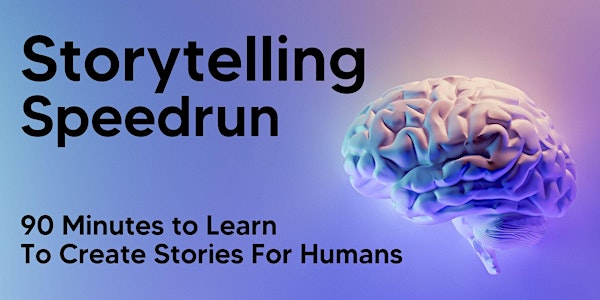 Storytelling Speedrun -- 90 Minutes to Create Stories for Humans
If you're selling, teaching, or persuading, you can do it better with a story. Harness the power of story & communicate more, better, faster
Refund Policy
Contact the organizer to request a refund.
Eventbrite's fee is nonrefundable.
About this event
I tried to sell my ideas with fact and features, but I failed.
Once I tried to communicate the way humans are built to understand--with a story--things changed.
If you're trying to get a human to hear your point, agree with you, buy your thing, or invest their money, you need a story.
When correctly constructed, stories are the shortcut to:
- Understanding
- Empathy
- Simulation
- Inspiration
But, here's the secret...
Crafting an impactful story is not as complicated as you think.
Once you learn the cheat code for telling a good story, you'll be able to successfully build them into your pitches, sales conversations, presentations, birthday party speeches, eulogies--essentially anywhere you are talking to humans.
Here's what people say about this Speedrun:
Brenda, Senior Director:
"I was rapt from the beginning! Your intro story helped me to understand who you are and what your "why" is. Your intro exercise was dual-purposed and effective. Your examples were insightful, thought-provoking, and humorous. I especially liked the graphic on change, because the triangle (delta) is the symbol of change!! The interactions with the other students were very relevant and gave more context. The pace was good and I could listen to your radio-quality voice all day. I have nothing negative to say, and I apologize for that because I know that can help improve the outcome. (I wasn't always like that!)"
About the instructor:
Dan Manning
Dan is a former speechwriter and the Founder and Lead Instructor of #HumanIntelligence, a problem-solving framework designed to help individuals and teams improve their critical thinking, creativity, and collaboration skills. He is the author of Thinking Better—Critical Thinking and Creativity Through Trusting Collaboration. He combines his career of military problem solving with the latest scientific research to unlock the power of better critical and creative thinking. James Madison University adopted his #HumanIntelligence curriculum as a Certificate Program in Leading Human-Powered Innovation.