Storytelling Salon with Edith de Belleville - Paris Tour Guide and Author
Event Information
Refund policy
Refunds up to 1 day before event
Eventbrite's fee is nonrefundable.
Storytelling Salon with Edith de Belleville - Lawyer turned Paris Tour Guide, Author and passionate Storyteller. Event is online & onsite
About this event
Breaking News! The Storytelling Salons are now hybrid. For this 78th Storytelling Salon featuring Edith de Belleville, I will welcome guests online via ZOOM, and onsite in Paris where the salon will start with a 5-course dinner and champagne. Edith de Belleville is a French Attorney, Licensed Tourguide, Author and Lecturer with an overarching passion for Paris. She will tell stories of the Parisian Salons of the 17th, 18th, 19th and 20th centuries, moreover, the salons of Ninon de  Lenclos, Madame de Sévigné, and Madeleine de Scudéry. These women were all contemporaries of Louis XIV. We will view their salon locations in the Marais. To set the ambiance during the salon, Barbara Arnould (pianist at the Ritz and Hotel Four Seasons George V), will provide interludes.  
This is the new hybrid timeline to welcome guests from across the globe and in Paris.
19:00 - Onsite guests arrive for dinner (see 5-course menu below) at private residence in the 10th arrondissement. Location details sent with RSVP
20:15  - Online guests join via ZOOM for mingling (link sent 24hours in advance)
20:30  - All join for the program
22:00  - Wrap up
With Edith as our expert guide we will discover:
How the Parisian Salons evolved over the 17th, 18th, 19th and 20th centuries.
The most famous women who held the role of Hostess or Saloniere.
What took place at these salons and who attended.
How Proust and his questionnaire featured at the salons.
How the salons were integral to the Enlightenment.
Additional themes she covers on virtual and onsite tours include:  the Courteseans of la Belle Époque, Fashion & Passion at the time of Marie-Antoinette, the Roaring Twenties in Paris, Women of Impressionism, the Women of Moulin Rouge, and Literary Saint-Germain-des-Prés. She is author of "Belles et Rebelles, á l'ombre des Grandes Parisiennes" (The Beautiful Female Rebels of Paris), and an upcoming book titled "Tea with Coco Chanel".               
SAVE THE DATES for the upcoming monthly salons: Saturdays - June 19th, July 17th, August 28th, September 25th,  and October 23rd. For more information: Storytelling Salon site,  Instagram,  YouTube and Facebook,                   
 I look forward to welcoming you at a Storytelling Salon.                                      
Your Host in Paris,
Bernadette                                                                            
Edith is found here: Site: edithdebelleville.com  Facebook: La Vie Parisienne Instagram : EdithdeBelleville  Email: edithsparis@yahoo.com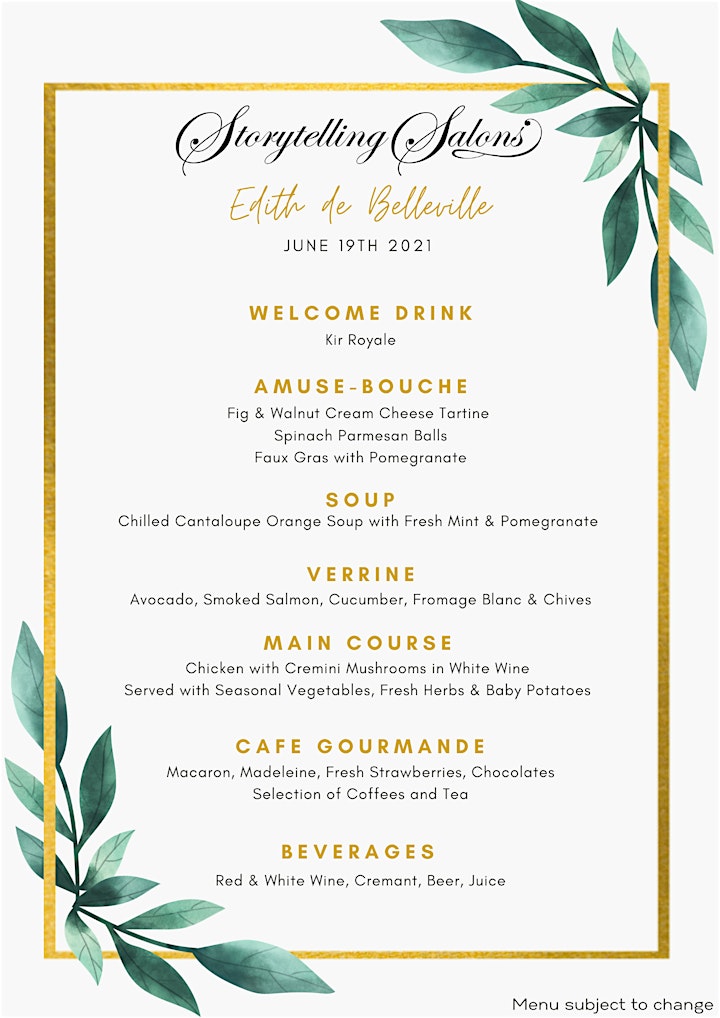 Date and time
Location
Refund policy
Refunds up to 1 day before event
Eventbrite's fee is nonrefundable.
Organizer of Storytelling Salon with Edith de Belleville - Paris Tour Guide and Author
Hello, bonjour and thank you for your interest in the Storytelling Salons. Launched in 2016 (with almost 100 to date), the Storytelling Salons are a modern-day reflection of the 17th and 18th century Parisian Salons, adapted to the 21st century. Storytelling Salons gather online and in Paris, storytelling enthusiasts from across the globe featuring a Storyteller (performers, musicians, artists, writers), who entertain, enthrall, enlighten AND share their story.
My story - I am originally from Los Angeles of Irish, German, and French descent and have lived and worked in Asia, Europe and the US.  Since 2002, I call Paris and Seattle home and feel truly "Euro-American". As host of the Storytelling Salons, I am delighted to welcome virtually and in Paris, guests from all walks of life and nationalities who share a common thread and passion for storytelling.

Yours in story,

Bernadette