Storytellers will speak to the triumphs & challenges still being faced by the lack of representation behind the scenes in the LGTBQIA+ Comm
About this event
This year marks the 52nd anniversary of the Stonewall uprising and so much has changed for the LGBTQIA+ community since then. For over 52 years we have witnessed the fight for same sex marriage, the transformation of LGBT to LGBTQUIA+, the fight for basic rights and the expression of the community through its talented artists and leaders across many platforms. While there is so much to celebrate, there is still more work to be done when it comes to equal rights and discrimination towards members of the community. This year, NAMIC NY would love to focus on the creatives and works that is being showcased for the purpose of leading us into a society that is more inclusive, safe, and welcoming for the LGBTQIA+ Community.
Moderated by:
Anise Davis
Panelist Include:
Elegance Bratton
Amara Cash
The Team Behind Pritty not Pretty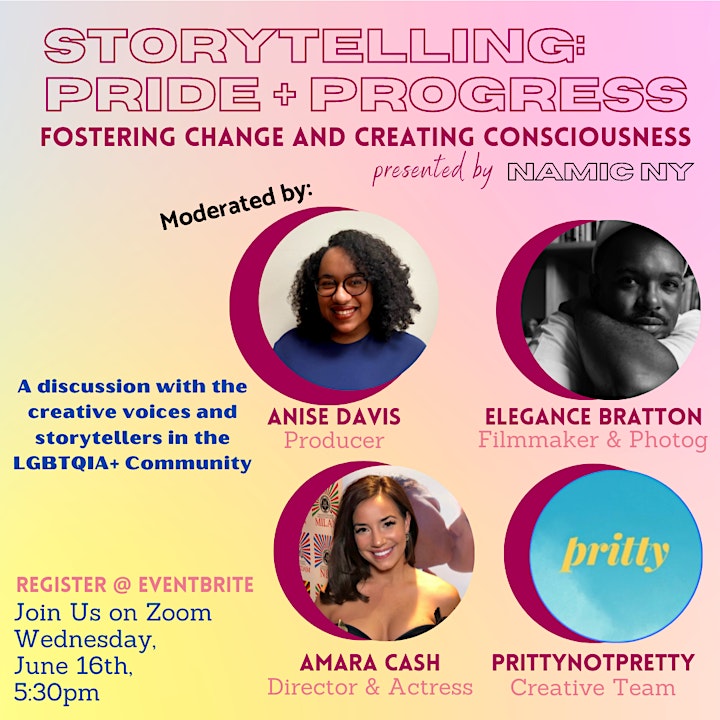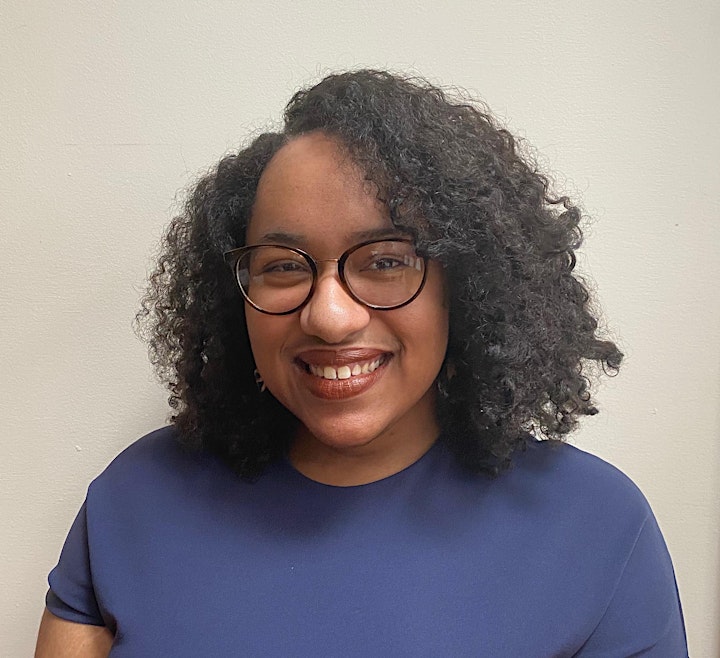 Meet our Moderator:
Anise Davis is a multi-media producer driven by activism. Her first vehicle was research; dissecting history to reveal today's truths. Anise's first area of study was the history of Black representation in American media. Her curiosity and wanderlust led her to complete a Bachelor's in Practical Filmmaking at Central Film School in London, England. Film producing provided her a valuable platform to highlight underrepresented voices. Additionally, she served as a BIPOC and O18 Course Representative to ensure all students were recognized at her university. She's delighted to bring her insight to A/B as a Project Management Intern.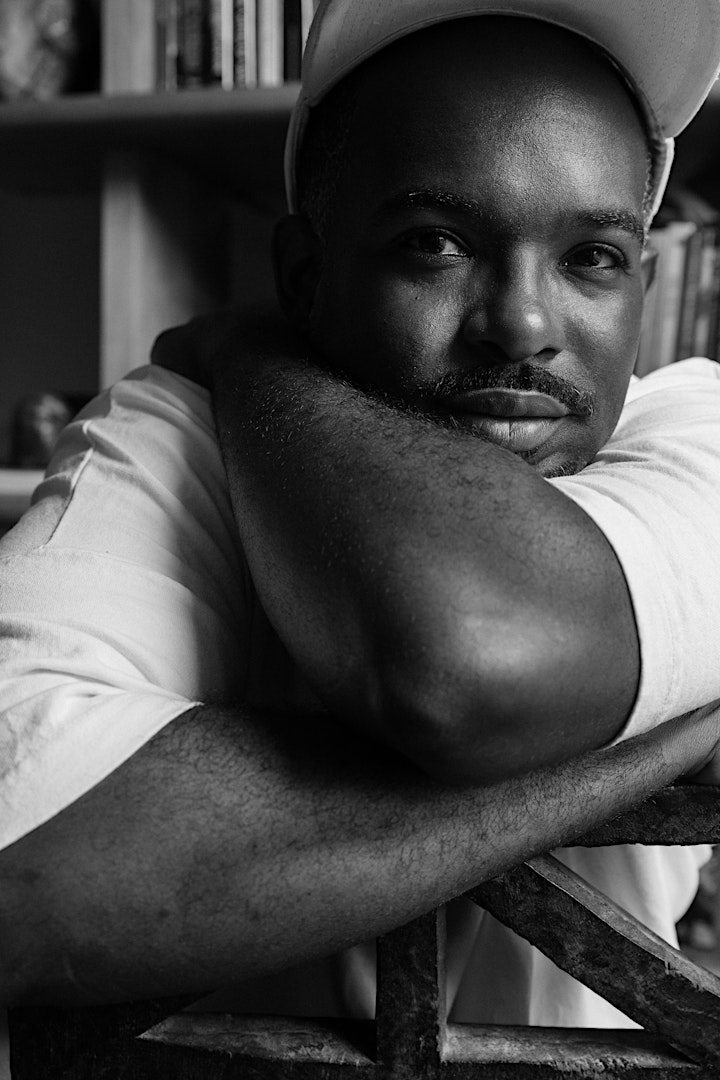 Elegance Bratton is an award-winning and boundary-breaking director, writer and producer. He began making films as a US Marine after a spending a decade homeless on the streets of New York and has grown into one of the most trailblazing artists of his time. As a member of the LGBTQ+ community, his work captures stories untold with honesty and verité.
  In 2021, Bratton won the Film Independent Truer Than Fiction Spirit Award which is presented to an emerging director of non-fiction features who has not yet received significant recognition. The recipient of this award also receives a significant grant and becomes a Film Independent Fellow. He was also included on IndieWire's 2019 list of LGBT faces to watch.
  His nonfiction feature debut, "Pier Kids" has played more than 50 film festivals worldwide and received praise for its raw and truthful portrayal of survival and self-preservation on the streets of New York City as seen through the eyes of three LGBTQ+ young people of color. It will make its television and streaming debut in mid-2021.
  Upcoming, he and his frequent collaborator Chester Algernal Gordon are in post-production on their documentary feature, "Hell Fighter," a co-production with Five Fifty Five Films that highlights the story of African American Jazz pioneer and music mogul, James Reese Europe, who was a lieutenant in the 369th Infantry Regiment, known as the Harlem Hellfighters. Europe started the first musical unions for African Americans in the United States, The Clef Club and The New Amsterdam Music Association Harlem. As a Black veteran himself, this story resonated heavily with Bratton and made for a uniquely familiar storytelling perspective.
   He made his television debut as the creator and executive producer of the Viceland television series "My House." The 10-episode series was nominated in the category for Outstanding Documentary at the 2019 GLAAD Media Awards. The series is currently available on Hulu.
  His short film, "Buck," premiered domestically at Sundance 2020 and the London Film Festival (BFI) 2020. His short film debut, "Walk for Me" was the winner of the 2017 Mexico International Film Festival Gold Palm Award and is available on Amazon Prime Video. 
  Bratton holds a BS from Columbia University (2014) and MFA from NYU Tisch Graduate Film (2019). He resides in New York.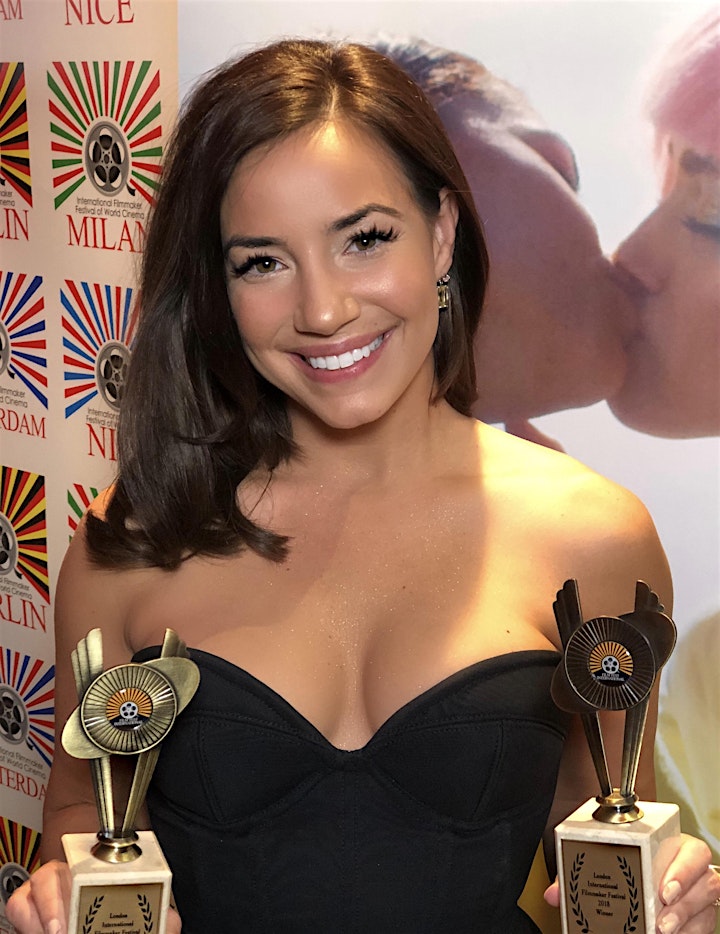 Amara Cash is an award-winning queer filmmaker. Her films include: OUT OF THE CLOSET, I'LL EAT YOU ALIVE, and DADDY ISSUES, which won Best First Feature at Outfest Los Angeles.
After many years working in front and behind the camera, Amara started directing in 2012 and co-founded Under 1 Roof Productions to create all kinds of content from concept to execution through delivery. With her immersive, script-to-screen style, Amara brings every aspect of filmmaking together in such a way that each project is its own complete and unique world.
She's a proud member of the community and has more LGBTQAI+ projects in the works!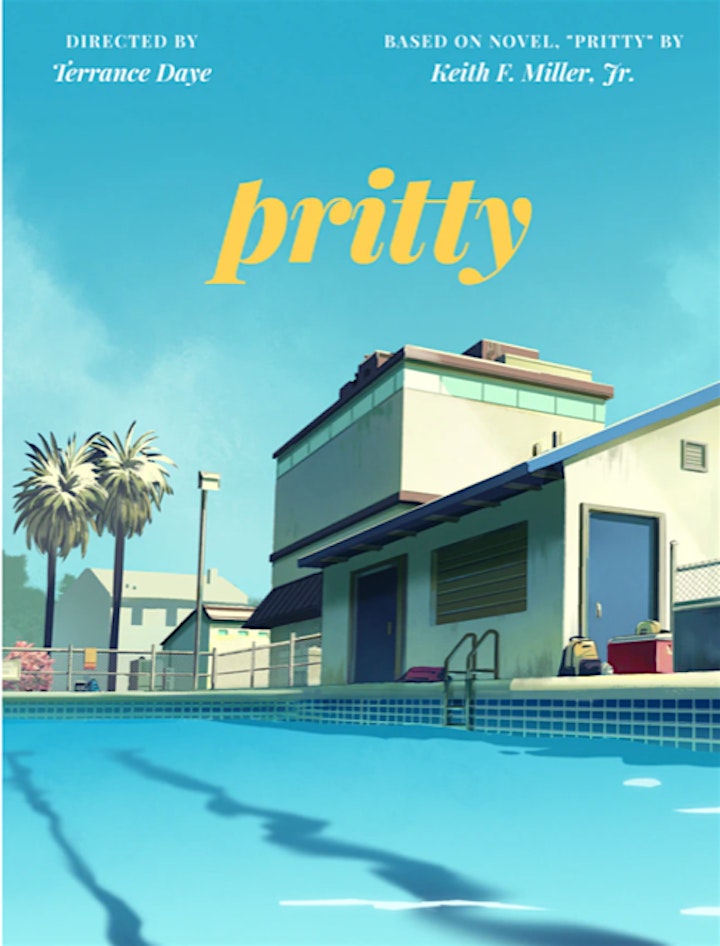 Meet the team behind the animated film...
Terrance Daye is an award-winning poet and filmmaker from Long Island, New York. His creative work reimagines traditional representations of black masculinity and male identity and invests strongly in destigmatizing mental illness within the black community. Terrance received his Bachelor's degree from Morehouse College and his Master's in Fine Arts in filmmaking at NYU Tisch School of the Arts. Terrance is a two-time Spike Lee Production Fund recipient, a 2018 Sundance Ignite Fellow, the recipient of the 2020 NewFest Film Festival Emerging Black LGBTQ+ Filmmaker Award and the 2020 Outfest Film Festival Programming Award for Emerging Talent. His most recent film project -Ship: A Visual Poem was awarded a Short Film Jury Award for U.S. Fiction at the 2020 Sundance Film Festival. Terrance is currently developing his original hour-long drama, Mandingo, with the 2020 Sundance Episodic Labs
Keith F. Miller, Jr., The Executive Producer, is an award-winning educator, storyteller, artist-researcher, and village-builder/raiser with nearly 10 years of experience in education, spearheading youth arts, leadership, social justice, and community engagement initiatives. Additionally, he is the managing editor and creative director of The Pillow Talk Project, a rapidly growing blog and social movement dedicated to sharing the fearless stories of men--and those who love them--redefining masculinity and rediscovering the healing power of everyday intimate conversations.
Jeremy Truong, Producer, is a San Francisco transplant working as an LGBT film producer in New York. Attracted to films with socially impactful themes, Jeremy hopes to move the needle on timely and urgent issues by exploring them in subversive ways on screen. His work has screened all over the world including the Sundance Film Festival, SXSW, BFI London, and the Tribeca Film Festival. His first feature film, 'Cicada' was acquired for distribution after a 2020 festival circuit and is currently in development on another feature length LGBT film.
Natalie Jasmine Harris, Producer is a filmmaker from Maryland. As a producer, she is dedicated to uplifting underrepresented narratives about people of color, womxn, and LGBTQ communities. Natalie received her BFA from NYU's Tisch School of the Arts in May 2020, where she graduated with Honors and received her department's award for Excellence in Community Service. Passionate about the intersections between filmmaking and social justice, Natalie worked for Elizabeth Warren's Presidential Campaign in 2019 as a Video Intern and recently created a short documentary in collaboration with TIME Magazine and the Biden/Harris campaign. Over the years, she has produced films that have received recognition from The Directors Guild of America, Sundance Ignite, Outfest, Vimeo Staff Pick, Short of the Week, The British Film Institute, and The National Film Festival for Talented Youth (NFFTY).
My name is Terrance Daye, the director of Pritty: The Animation. In 2019 I completed -Ship: A Visual Poem, an award-winning short film that significantly impacted my film career. For all of its success, however, I felt dissatisfied with filmmaking. Every day, the world seemed to grow more hateful and unjust. I asked myself, "What is the point of art-making if we're all saying the same things and nothing is changing?"
Then I remembered a 300-page unpublished manuscript by the name of Pritty that was shared with me by a close friend and soon-to-be collaborator: Keith F. Miller, Jr. I remember being floored by the audacity of Keith's words. His complex depiction of black men coming of age was the very hope I now needed.
There are too few stories that simply feature black boys at play, discovering their full humanity and vulnerability—and learning to heal because of it. I longed for my own work to engage more intentionally in this practice. I changed my perspective on filmmaking and committed to bringing a new question to the big screen: "What would it mean to visualize the softer, more intimate sides of black men without fear of consequence?"
With renewed vision and a devoted team by my side, I set about bringing Pritty to life. Visualizing this world and now getting to animate it has given me permission to hope again. It has been one of the highlights of my year and has taught me that filmmaking is just another form of dreaming. The world may be chaotic now. But it won't always be. Black lives may exist on the cusp of constant peril now. But somewhere there must be joy and laughter. The media can't imagine this for us. But we can imagine it for ourselves. Can't we?
Organizer of Storytelling, Pride & Progress: Fostering Change and Creating Consciousness