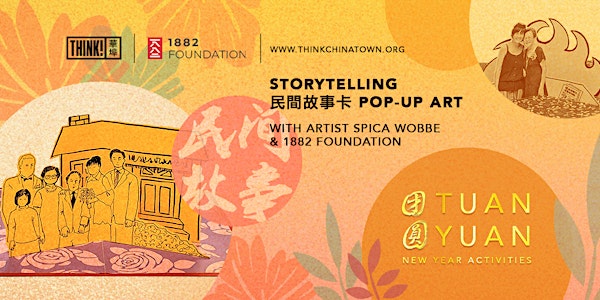 Storytelling 民間故事卡 Pop-Up Art
Join artist Spica Wobbe and 1882 Foundation for an inventive pop-up art workshop and learn how to make your own "Tuan Yuan" greeting card
Refund Policy
Contact the organizer to request a refund.
Eventbrite's fee is nonrefundable.
About this event
Join artist Spica Wobbe for an inventive pop-up art workshop and learn how to make your own "Tuan Yuan" greeting card to send to loved ones this Lunar New Year, hosted in collaboration with 1882 Foundation.
Pop-up art has been around since the 13th century and is an art form that brings people curiosity, joy, and surprise. The idea of the "Tuan Yuan" card is to transform a family photo into a pop-up card that reflects the theme of "togetherness" which is what the New Year reminds us of the most. Through the process of making the card and seeing the characters and scenery pop-up when you open the card, the story within the photo will come to life.
This event is part of Think!Chinatown's series: New Year Activities from Chinatown. This workshop is free/pay-as-you-wish and the materials, all proceeds will go directly toward supporting our non-profit so we can continue our work of storytelling, arts, and neighborhood engagement.
What you'll need for the workshop:
A family photo printed or sketched on copy paper. Make sure the people in it are 3"~5" tall.
cardstock
construction paper
origami paper
scissor
pencil
eraser
ruler
fine point black marker
glue stick
Please consider purchasing our Tuan Yuan 團圓 Homecoming Box, which includes sheets of card stock and patterned origami paper for this class, materials and ingredients for our other virtual T!C Lunar New Year events, and additional goodies from our partners. Available through Pearl River Mart for a limited time. www.thinkchinatown.org/tuanyuan-box
Everyone is welcome to join the event. If you'd like to attend but you cannot donate, please send an email to hello@thinkchinatown.org to register at least a day in advance of the event.
--------
The 1882 Foundation, a non-profit, non-partisan organization approved by IRS, seeks to broaden public awareness of the history and continuing significance of the Chinese Exclusion Act of 1882. It does this through projects and activities associated with three overlapping initiatives: building collaborations nationally focused on organizing an annual 1882 Symposium in Washington D.C., recording oral histories and preserving sites guided by Talk Story concepts, and strengthening public education about the Chinese and Asian American experience by promoting attention to curriculum content and resources, encouraging teacher workshops, and making material more easily accessible for educators and researchers.
Spica Wobbe (Shu-yun Cheng) is a puppetry artist originally from Taiwan. Her work has been seen in Taiwan, Hong Kong, Korea, Japan, Holland, Germany, Israel, Austria and the U.S. Now based in NYC, she works as a puppetry designer, performer and educator since she received her M.A. in Educational Theater from New York University in 2003. She established Double Image Theater Lab (www.doubleimagetheaterlab.com) in 2011 to create cross-cultural productions that explore the world of the past and the present. Spica received the Exemplary Teaching Artist Award from New York University in 2014. She is a two-time recipient of the Jim Henson Foundation grant and is a 2015 Sandglass Theater New Vision Series Resident Artist. Spica was the featured artist in "Shadow, Light... Hide & Seek Exhibit" at WenShand Theater in Taipei in 2015 and "Heaven of Puppets Exhibit" at Taipei Puppet Museum in 2016. Spica co-created "The Memory Project: storytelling through visual arts, theater and puppetry" (www.facebook.com/thememoryproject.storytelling) with Karen Oughtred in 2016 for culturally diverse senior centers. The project received LMCC SU-CASA and Creative Learning grants in 2017.
Think!Chinatown, a 501(c)(3) non-profit based in Manhattan's Chinatown, is here to listen, to respond, and to build Chinatown's capacities as a strong & vibrant immigrant neighborhood of NYC. Our mission is to foster inter-generational community through neighborhood engagement, storytelling & the arts. We believe the process of listening, reflecting & celebrating develops the community cohesion and trust necessary to take on larger neighborhood issues. Our aim is to overcome barriers of community organizing where socio-economic factors, language, and cultural barriers create challenges for immigrant communities' autonomy to make decisions in their own neighborhood. We've built Think!Chinatown to push from within our neighborhood to shape better policies and programs that define our public spaces, to celebrate our cultural heritage, and to innovate how our collective memories are represented.