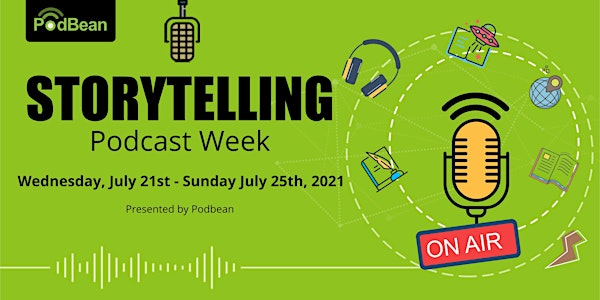 Storytelling Podcast Week
Join us for LIVE podcast episodes, panels, interviews, story salons and more featuring top audio drama and non-fiction narrative podcasts!
Refund Policy
Contact the organizer to request a refund.
Eventbrite's fee is nonrefundable.
About this event
We believe in the power of stories to inspire, entertain, educate, empower, inform and bring us all together.
Storytelling Podcast Week celebrates across our world and our imaginations as we live stream Wednesday, July 21st through Sunday, July 25th and you're invited to join us!
Featuring 15 live streams on the art of storytelling, women in sci-fi, non-fiction travel stories , audio drama and fandoms, finding the stories within our daily lives and more.
Storytelling Podcast Week features podcasters and shows from audio dramas such as the team from Rusty Quill, Cryptids, Wooden Overcoats, Welcome to Night Vale and The Hidden People to non-fiction podcasts including BBC's The Comb, Lemonada's Last Day, The Council on Foreign Relations' Why It Matters, and Grammar Girl, for a special 15th anniversary live episode.
Here's the Full LIVE Program:
Wednesday, July 21st, 2021
3:00PM EST The Short Story Salon
4:00PM EST The Stories We Wish We Didn't Have to Tell
5:00PM EST Life on the Road: Travel Stories
Thursday, July 22nd, 2021
3:00PM EST Why It Matters: Behind the Stories
4:00PM EST Improv on Tape: The Live Episode
5:00PM EST The Hidden People: Hidden in Plain Sight
Friday, July 23rd, 2021
3:00PM EST Pulling the Thread: Finding the Stories within our Daily Lives
4:00PM EST Women at the Helm: Female Driven Sci-Fi
5:00PM EST Queer As Fact: LIVE
Saturday, July 24th, 2021
3:00PM EST Grammar Girl's 15th Anniversary Live Episode
4:00PM EST Rainbow Dads' Live Episode
5:00PM EST Patron of the Arts: The Fandom and Communities of Favorite Fiction
Sunday, July 25th, 2021
3:00PM EST The Horror Short Story Salon
4:00PM EST The Interview
5:00PM EST Audio Drama-Rama
Tune in to join daily live-streamed sessions in real-time on the Podbean App, along with downloadable episodes of the sessions to replay some of your favorite storytellers.
There's also an episode showcase to highlight some of the work and art that many of these podcasters create.
Storytelling Podcast Week is $49 to join all of the livestreams in real-time and listen to the replays.
We also offer discounts leading up to the event for the Podbean community so keep a look out to join with a special discount code.
We look forward to seeing you there!