Description
Topic: Storytelling for Marketing and Sales
Why and how Stories function for faster recognition

New understanding of the human brain and how it reacts to Story

Story structures that are age-old and translate to concrete Marketing messaging frameworks
Description:
With 4,000 - 10,000 marketing messages assaulting consumers each day, there is too much cognitive load for most consumers to process your normal marketing messages. In looking at the simple structures of Stories everywhere, we can see how to craft messages that are more impactful, memorable, and emotional. We discuss a framework to "tell your story" in a way that helps customers actually care about who you are, what you do, and why you do it.
Our speaker: Christopher Foster: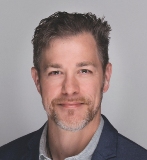 Chris Foster is currently VP New Business Development at Modern Postcard, where he leads efforts to add new strategies, services and business ideas to the organization.

He has been teaching Brand Strategy and Positioning at UCSD Extension since 2009. He is an ongoing contributor to Target Marketing Magazine with his "Branding With Purpose" blog, leads professional workshops and presentations, and presented at numerous San Diego Direct events as well as national events for the Direct Marketing Association; been guest lecturer at SDSU Marketing Courses; participated in numerous professional panels.

For the past 20 years he has worked in all aspects of branding, marketing and creative direction for start-up, growing, and established business environments. He has a passion for helping any-sized business transform their brand so they can more authentically connect with their audience.

Numerous speaking engagements with SDDMA, SD Direct, Sales and Marketing Leadership Alliance, DMA Roundtables, NonProfit Pro Roundtables, and teaching at UCSD Extension since 2009
Register today!