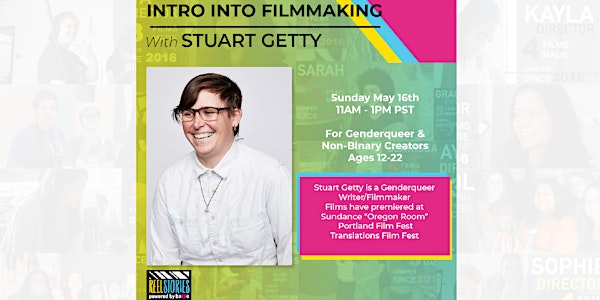 Storytelling for Genderqueer & Non-binary Youth Creators - May 2021!
Calling all budding filmmakers! Come learn the basics of authentic storytelling, as taught by a non-binary writer & filmmaker.
When and where
Date and time
Sunday, May 16, 2021 · 11am - 1pm PDT
Refund Policy
Contact the organizer to request a refund.
About this event
**To receive the Zoom conferencing information, please register on Eventbrite and the link will be sent in the confirmation email. You will need to enter the Zoom password to join.**
*To attend we ask that you identify as genderqueer and/or non-binary to create a safe space for all students*
Do you have a story burning inside of you that you need to tell the world? Do you need help with learning how to bring your story to the big screen? Are you looking to join a community and connect with likeminded creators who identify like you? Together, in a genderqueer shared space, we will discuss story ideas and how to find your voice. Come join our two-hour intro workshop to get inspired and start creating!
Goal:
Leave this class with a personal film piece that you are proud of and an understanding of telling stories. Alongside your classmates & under the guidance of the instructor, you will create your story arc. In the end you will have a better understanding of how to tell your story through an authentic lens.
Teacher: Stuart Getty - writer & filmmaker
Stuart Getty is an artist, a writer and a filmmaker, and overarchingly, just someone who has to make things.
By day, they work as a consultant at global design company IDEO, where they are a brand strategist, sr. design lead, and workshop facilitator. Their main focuses are designing for: inclusion, play, and purpose. On the side, they write books (first one How to They/Them, 2020, Sasquatch books) and make films (thegettybrothers.com) (Sundance "Oregon Room," 2016, Portland Film Fest, Translations Film Fest) and also do speaking engagements about gender, identity, and all things they (Creative Mornings, SXSW, Pecha Kucha). But pretty much, Stu is on this planet to have a good time finding the authentic stories in all of us. Everywhere.
What you need:
A curious spirit and writing utensils! As well as a cell phone with video-shooting capabilities.
What you will learn:
-How to tell YOUR story: Together we will do visualizations and writing exercises aimed at exploring the intersection of identity and authentic storytelling. How can only you tell your story?
-How to make your own short films using your cell phone video camera
-The basic 3-Act structure of storytelling
-Form connections with other students in the class & cultivate a safe learning community
-Watch films created by genderqueer filmmakers
WHO: AGES 12-22
We ask that students who enroll in this workshop are currently exploring their gender identities, and who might already identify as gender fluid and/or non-binary. We will be creating a safe learning environment for all students who are interested so we ask that you be respectful of each other's journeys. If you have any questions please reach out to Program Manager Alexandria Bordas at alexandriabordas@bavc.org.
WHEN: SUNDAY, MAY 16, 11AM -1PM PST
PRICE: $50
We offer all of our classes on a sliding scale. We ask that if you are able to pay the full price of the course that you do, and if you need any type of financial assistance please reach out to Program Manager Alexandria Bordas at alexandriabordas@bavc.org. We never turn anyone away due to lack of funds.
Who we are:
Reel Stories is an Oakland-based nonprofit that aims to train, mentor and support the next generation of female/non-binary filmmakers and creators. Our small yet mighty team has been working relentlessly to transition all of our in-person workshops into a digital-friendly format for people of all ages, genders and backgrounds. We encourage you to share and enjoy access to our content no matter where you are in the world - welcome to our online community! No one is turned away due to lack of funds.
After registering, you will receive a confirmation email with instructions on how to access the Zoom chat.
For questions, please email Program Manager Alexandria Bordas at alexandriabordas@bavc.org.
About the organizer
Reel Stories believes that when women and gender-expansive people are better represented behind the scenes in the media, they will be better reflected on the screen. We are a non-profit organization that empowers young women and gender non-expansive youth with the skills to create their own media, to view current media critically and thoughtfully, and to aspire to leadership in their field.