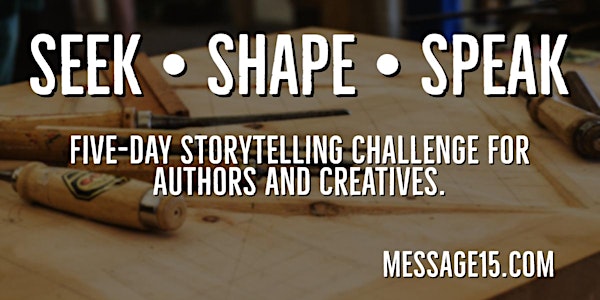 "Storytelling for Authors" Five-Day Challenge (August 2022)
5-Day Challenge to help you learn to seek, shape, and speak important stories as an author and creative.
About this event

A Fun, Five-Day Challenge to help authors and creatives!
Find, craft, and tell an influential five-minute business story. Five-day August 22-26. Monday-Friday. Watch missed sessions until Sunday night the 28th, if needed.
Your stories are in demand!
Authors, Speakers, Healers, and Teachers! Yes, you have stories! In a few short sessions over five fun days, we'll teach you to remember, discover, create, and tell one of your life's great stories. Follow the steps each day and by the end of the week, you'll have your first powerful and flexible tool that is 1000% better than any "elevator speech" that you have ever tried to build.
Stories are critical to your relationship with your audience.
You still need STORIES and content to connect with your audience, no matter which latest guru you are following to learn some tricks about selling your books. Your readers are waiting for you. What will you say? Just hem and haw, umm and ahh, hope and pray the earth swallows you up before you have to speak to a person?
Of course not! You DO have the stories you need, somewhere buried in your brain. Let's seek them out, shape them into stories, and speak them to the world!
Audiences are looking for that para-social relationship with you and your work as a coach, leader, entertainer, and creator. Videos, blogs, social media, presentations, in-person events, and more are FUELED by great stories. Do you have yours ready to go?
When and Where?
August 22-26, 2022. Online in our private FB group. 45-minutes per day. Sessions will be presented via FBLive in the group each day at 12Noon Pacific Time (California) / 3pm Eastern Time (New York). You can attend live for the session, the brief Q/A time, and then the assignment of your homework. Do your homework each day and post it before the next day's session.
Can't make it to the live sessions?
No worries. The recordings of the sessions will be posted nearly instantly and will then be available for you to watch all the way through the Sunday night of the challenge week. Get caught up on your schedule each afternoon or binge them all in the middle of the night. Up to you! See the schedule below .↓

What's the schedule?
Every day at NOON (U.S Pacific (California) Time, Sean Buvala will be LIVE in the private FB group. He'll review the previous day's homework, teach a new subject for the day, and assign the next day's homework. Based on time, he'll take your questions on FB Live.
Monday - SetUp MindUp KnowUp (who what when where how why)
Tuesday - Seek (find your stories)
Wednesday - Shape (take the first steps)
Thursday - The Author Mindset.
Friday - Speaking Tips + A fun new opportunity.
Cost?
Free. This is a fun, easy challenge. We're offering this round at no cost to you, as a gift from "The Small-Tooth-Dog Publishing Group." Don't let "free" distract you; this is real learning. We've offered and sold this workshop content for HUNDREDS of dollars in the past. Come have some fun with us, and build your career.
Seriously, the tiny cost keeps out the tire-kickers and lets us know you are committed to participating. There are no refunds on this amount. You'll have access to the group until 10:00pm California time on Sunday night at the end of the challenge week.
How do you join?
Enroll with your free ticke and within 24hours, we will send you an EMAIL with the link to the private FB group. Join that and follow the directions once you are on the inside.
You should be familiar with being a FBGroup to see live videos.