Storytelling Evening with Kristin Eager Killion - Sustainable Artist and Designer

Saturday, October 10, 2015 from 7:30 PM to 10:30 PM (CEST)
Event Details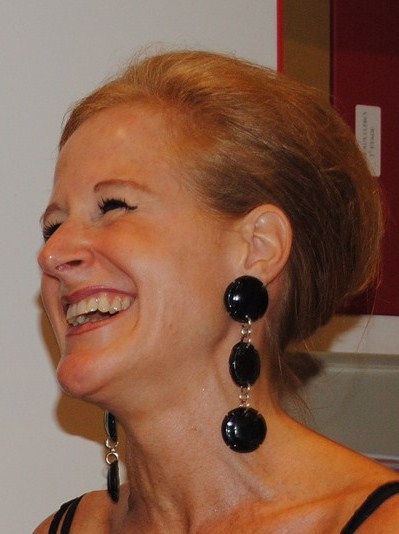 "In all things, I try to recognize the unlovely as the lovely disguised. As an artist and designer I seek to make something from what seems to be nothing: a discarded box, old clothing, broken glass, or reflector lights…the list is endless. What I love about working with found objects is that the seemingly useless becomes useful; discarded items breathe a new life."
                                                            
                                                                                Kristin Eager Killion


                                                                                                                                                                             
                                                                                                                                                                     photo: Jade Thomas-Hermes
For the Love of Art and Champagne
A Journey into Sustainable Art and Champagne Cap Accessories

This Storytelling Evening features Kristin Eager Killion, a multifaceted and interdisciplinary artist and designer whose work is generated from found and abandoned objects. Hailing from the Midwest of the United States, Kristin has always been drawn to the idea of renewal and rebirth, as well as the complexity of combining the mundane with the unexpected. But it is perhaps the fundamental question of what constitutes 'value' that inspires her the most – what is a 'useless' object? What defines something that is 'broken' or 'meaningless'? Moreover, what defines the intrinsic 'worth' in a piece? Join us as Kristin shares how she became impassioned by the unlovely, the stories behind her pieces, her passage into the land of champagne, and the eventual creation of her thriving line of unique accessories.

Kristin lived and worked in Paris, France for a total of eight years. At the end of 2013, she returned to the Washington, DC area after spending four and a half years in Paris where her husband, David Killion, served as the US Ambassador to UNESCO.

Kristin's work has been shown both in one-woman-shows and as part of group exhibitions at international shows, museums, galleries and embassies worldwide; her work has also been acquired as part of several esteemed private collections. Her creations include a collection of intricate sculptures and wall art as well as a line of high-end jewelry and handbags made out of champagne caps and boxes. She will have her line of jewelry with her at the event and items will be available for purchase.

The dinner and dessert, always a tantalizing feature of every Storytelling Evening,  will include a vast array of delightful, delectable and delicious surprises. Bubbly, wine and other beverages will be served. Space is limited. Please RSVP by October 10th.
                                      
                                                                             Yours in story,

                                                                                Bernadette
                                                                Founder - Visibility Branding

Kristin Eager Killion on   LinkedIn   Facebook   Instagram  Site

P.S. As many of you may know these Storytelling Evenings are not my "day job" but a delightful extension that speaks to my passion for Storytelling. In a nutshell, as Founder of Visibility Branding, I help professionals identify, clarify and message their personal brand (online & offline) using STORYTELLING. To learn more please visit my site and/or click HERE to view short 2 min video.
FAQ's
1) WHAT ARE THESE STORYTELLING EVENINGS? 
Events at a private residence where a storyteller (author, entertainer, artist, musician, author, magician, opera singer, dancer, actor, expert in a particular field) tells a story around culture, lifestyle, entertainment, travel or the arts. The idea is to ENTERTAIN, AMUSE, EDUCATE, ENLIGHTEN or any combination thereof.

2) WHO ATTENDS? 
25-30 Storytelling aficionados who hail from across the globe and understand English.

3) WHAT IS THE DINNER MENU?
 This varies with cuisines from the "four corners of the globe" and have ranged from Mexican, Italian, Lebanese, Thai, Canadian, French, Cajun, French, regional French and oftentimes fusion. Vegetarian options are available. Wine, juice, and other beverages are served as well as a selection of teas and coffee with a delightful dessert.

4) WHAT IS THE COST?
  28 Euros which includes presentation, dinner, wine, beverages, juice, dessert, coffee
5) HOW OFTEN ARE THESE STORYTELLING EVENINGS? 
Once a month usually on a Saturday

6) DO YOU WELCOME SUGGESTIONS FOR STORYTELLERS?
 Yes!  This could be you, someone you know in Paris or someone who may be passing through.

6) WHO HAVE BEEN THE PREVIOUS STORYTELLERS? 
For a full list and description go to this link under past events            www.visibilitybranding2015.eventbrite.com 

\
7) WHAT IS THE REFUND POLICY?
FULL refund 48 hours in advance or if event is cancelled by organizer.

When & Where

Private Residence (codes given with RSVP)

55 Blvd Richard Lenoir
75011 Paris
France


Saturday, October 10, 2015 from 7:30 PM to 10:30 PM (CEST)
Add to my calendar