Storytelling Evening & Dinner with Owen Lean - British Magician, Street Performer and Stand-up Comedian

Saturday, August 29, 2015 from 7:30 PM to 10:30 PM (CEST)
Event Details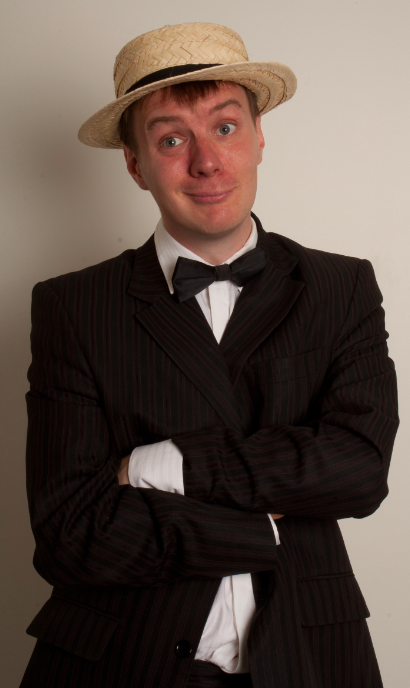 Storytelling Evening with Owen Lean
Magician, Street Performer Stand-up Comedian
British born Owen Lean is a Street Performer, Magician, Stand-up Comedian, Writer, Director Journalist, Editor, Documentary Filmmaker, Actor, and Producer. He can in fact pull quite a few titles "out of his hat" but all with real (not imaginary) experience across Europe the US and Canada. Add to his experience, a credential that backs up his claims, he studyied Drama and Theatre Studies at Trinity College in Ireland where he convinced the Academic Board to create a specialized (and first ever in the world) Bachelors Degree in Street Magic. Yes….it is on his diploma!!!! This means that in addition to his ability to quote Shakespeare, Brecht and Aristotle, he is a master at card tricks, sleuth of hand, telling jokes and making all kinds of things disappear.
As the featured Storyteller, Owen will not only amuse us by "pulling a few rabbits out of a hat" (he can't resist entertaining an audience), but will also delight us with extraordinary stories and insights from his colorful career weaving in answers to these questions.
What sparked your interest in magic and street performance?

What are the challenges of managing a crowd?

What is your favourite place in Paris to "busk" as a street performer?

What is the competition?

What does it mean to be a professional street performer?

What do you need to be a street performer…. qualities, tools, props?


The dinner, always a tantalizing feature of every Storytelling Evening, will be a fusion Greek Lebanese cuisine with a decadent triple chocolate angel food dessert. Rest assured that dinner and dessert will include a vast array of delightful, delectable and delicious surprises that are sure to disappear (without a sleuth of hand). Wine and other beverages will be served. Space is limited. Please RSVP by August 29th. Attendees will also receive a copy of my book "Storytelling about your Brand Online & Offline".
Hope to see you at this Storytelling Evening, which is sure to amuse, entertain, educate and delight.

                                                                                                          Yours in story,
                                                                                                                Bernadette
                                                                                             Founder - Visibility Branding

Owen Lean
S: bachelorofmagic.com
FB: owenleanpage
TW: @owenlean
P.S. As many of you know these Storytelling Evenings are not my "day job" but a delightful extension that speaks to my passion for Storytelling. In a nutshell, as Founder of Visibility Branding, I help professionals identify, clarify and message their personal brand (online & offline) using STORYTELLING. To learn more please visit my site and/or click HERE to view short 2 min video.


 
  Brand Strategist * Speaker * Author * Storyteller * e-Reputation Analyst
Book: Storytelling about Your Brand Online & Offline Amazon link
T: 33 (0) 6 33 41 70 01   E: bmartin@visibilitybranding.com 
www.visibilitybranding.com



When & Where

Private Residence
55 Boulevard Richard Lenoir
Codes sent with RSVP
75011 Paris
France


Saturday, August 29, 2015 from 7:30 PM to 10:30 PM (CEST)
Add to my calendar
Storytelling Evening & Dinner with Owen Lean - British Magician, Street Performer and Stand-up Comedian