Storytelling Evening & Dinner with Olena Yashchuk. The Story of Ukraine through its Music, Crafts & Cuisine

Saturday, January 21, 2017 from 7:30 PM to 10:30 PM (CET)
Event Details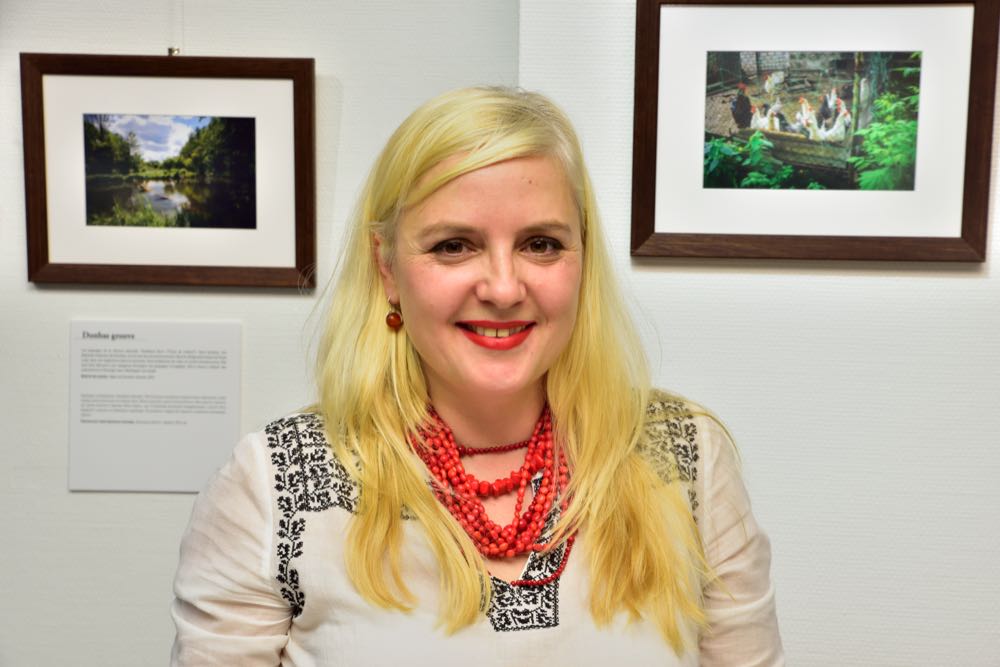 Ukraine through the eyes of Olena Yashchuk Codet 
Artist, Graphic Designer, Illustrator and Journalist
        
This Storytelling evening features Olena Yashchuk Codet, artist, graphic designer, illustrator and journalist. A Ukrainian living in Paris, Olena takes an active part in Ukrainian cultural life in the French capital. Her personal mission is to create enriching experiences and connections between Ukrainian and French cultures. To this end, Olena is delighted to present her motherland with stories that reveal the beauty, richness, talent and soul of Ukraine. This will unfold through the traditional crafts, art, music, costumes and cuisine as well as stories of key women who played an important role in the history of this country.
Olena holds a Masters in Anthropology with additional degrees in International Trade and Marketing Communications. As a graphic designer and artist, her work has featured in personal and international expositions and salons in the UK and France such as the International Art Fair, Chelsea Art Fair, Edinburgh Art Fair, Ukrainian Art Exhibition, and the New Art Gallery. As a journalist, she conducts interviews in English, French, Russian and Ukrainian for various French, British and Ukraine publications on Ukrainian culture and the arts.

The menu, a key part of the evening, will include the famous Ukrainian Borsch soup, stuffed peppers, various appetizers and the traditional Kutya- a delightful holiday dessert of berries, poppy seed, honey, raisin, apricots and almonds. As a special touch, Olena is offering a taste of the traditional Ukrainian Gorilka (vodka) with honey & hot pepper. As usual, it will be a complete dinner with choice of red or white wine, beer, cremant and other beverages served. This Storytelling Evening will be chez moi. Codes sent when you RSVP.
                                                                Yours in story,
                                                                                        Bernadette          

 If you have never been to a Storytelling Evening here is an FAQ
WHAT ARE THESE STORYTELLING EVENINGS? 

Events at a private residence where a storyteller (author, entertainer, artist, musician, magician, opera singer, dancer, actor, expert in a particular field) tells a story around culture, lifestyle, entertainment, travel or the arts. The idea is to ENTERTAIN, AMUSE, EDUCATE, ENLIGHTEN or any combination thereof.
WHO ATTENDS?

25-30 Storytelling aficionados who hail from across the globe and understand English.
WHAT IS THE DINNER MENU?

The menu varies and is a very important part of the evening. With advice from a Chef, cuisines from the "four corners of the globe" have ranged from Mexican, Italian, Lebanese, Thai, Canadian, Spanish, Indian, French, Cajun, French, regional French and oftentimes fusion. Vegetarian options are available. Wine, juice, and other beverages are served as well as a selection of teas and coffee with a delightful dessert.

WHAT IS THE COST?
 
28 Euros which includes presentation, dinner, wine, beverages, juice, dessert, coffee.

HOW DO I REGISTER?
On this site    
www.visibilitybranding2015.eventbrite.com

HOW OFTEN ARE THESE STORYTELLING EVENINGS? 

Once a month usually on a Saturday
DO YOU WELCOME SUGGESTIONS FOR STORYTELLERS?
 Yes!  This could be you, someone you know in Paris or someone who may be passing through.

WHO HAVE BEEN THE PREVIOUS STORYTELLERS?
 For a full list and description of the past 25 plus Storytelling Evenings, view on this site   
www.storytellingevenings.com

When & Where

Private Residence Codes sent with RSVP
55 Boulevard Richard Lenoir
75011 Paris
France


Saturday, January 21, 2017 from 7:30 PM to 10:30 PM (CET)
Add to my calendar