Storytelling Evening & Dinner with Massimiliano Donninelli - World Class Conductor

Saturday, January 19, 2019 from 7:30 PM to 10:30 PM (CET)
Event Details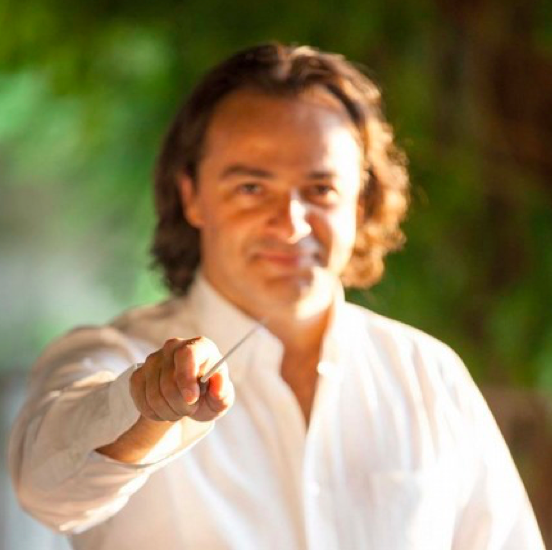 Massimiliano Donninell

         This Storytelling Evening features Massimiliano Donninelli, world-class Italian conductor and composer whose career journey has spanned the globe from Italy, US, Canada, France, Croatia, Germany, Slovenia, Finland, Colombia, Portugal, United Kingdom, Serbia and Spain. He has been an Artistic Director, Jury member, Chief Conductor, and taught International Master Classes. His story will be about the different periods, progression and transformation of his career with projected media excerpts from selected symphonic performances.
              A bit about his youth……Massimiliano grew up in the small town of Jesi, Italy. He was inspired by his father Franco who loved music and was a percussion player in a famous group of traditional music. His father only started to study music at 35 years, possibly too late to become a professional. Perhaps wanting to experience vicariously what he lacked in his own youth, his father placed percussion instruments in the small hands of Massimiliano at the age of 6. The year after it was the saxophone, which became Massimiliano's favorite instrument. With his father as his teacher and a great flutist who lived locally, he was weaned on the music of Beethoven, Brahms, Chopin, Gershwin, and became a classical saxophonist. As a youth, he yearned to be exposed to music all the time with little interest in school, homework, soccer, and tv. In his own words " I felt the need to travel, to discover the beauty in life, to be in touch with the mood of the world through knowledge, art, philosophy, and music".  Join us at this Storytelling Evening to hear the rest of his story.
                 Dinner will be a sumptuous Italian 5-course meal starting with champagne and canapes, followed by soup, main course, side dishes and dessert. Beverages will also include red and white wine, cremant, beer, tea and coffee. The location is at my residence and will be livestreamed on Facebook.
                                                                Yours in story,
                                                                                  Bernadette 
S: www.massimilianodonninelli.com 
T: twitter.com/DonninelliM 
Y: www.youtube.com/user/mdonninelli 
F: www.facebook.com/massimiliano.donninelli                     
If you have never been to a Storytelling Evening here is an FAQ
WHAT ARE THESE STORYTELLING EVENINGS? 

Events at a private residence where a storyteller (author, entertainer, artist, musician, magician, opera singer, dancer, actor, expert in a particular field) tells a story around culture, lifestyle, entertainment, travel or the arts. The idea is to ENTERTAIN, AMUSE, EDUCATE, ENLIGHTEN or any combination thereof.
WHERE DO THESE EVENTS TAKE PLACE?
Usually in Paris at the private residence of Host Bernadette Martin. However, with the launch of Storytelling Evenings Las Vegas in 2017, events can be held at any location across the globe.
WHO ATTENDS?

25-30 Storytelling aficionados who hail from across the globe and understand English.
WHAT IS THE DINNER MENU?

The menu varies and is a very important part of the evening. With advice from a Chef, cuisines from the "four corners of the globe" have ranged from Mexican, Italian, Lebanese, Thai, Canadian, Spanish, Indian, French, Cajun, French, regional French and oftentimes fusion. Vegetarian options are available. Wine, juice, and other beverages are served as well as a selection of teas and coffee with a delightful dessert.

WHAT IS THE COST?
 
45 Euros  which includes presentation, 5 course dinner, champagne, wine, beverages, juice, dessert, coffee.

HOW DO I REGISTER?
On this site    
www.visibilitybranding2015.eventbrite.com

HOW OFTEN ARE THESE STORYTELLING EVENINGS? 

Once a month usually on a Saturday
DO YOU WELCOME SUGGESTIONS FOR STORYTELLERS?
 Yes!  This could be you, someone you know in Paris or someone who may be passing through.

WHO HAVE BEEN THE PREVIOUS STORYTELLERS?
 For a full list and description of the past 50 plus Storytelling Evenings, view on this site   
www.storytellingevenings.com

When & Where

Private residence. Codes sent with RSVP
55 Boulevard Richard Lenoir
75011 Paris
France


Saturday, January 19, 2019 from 7:30 PM to 10:30 PM (CET)
Add to my calendar